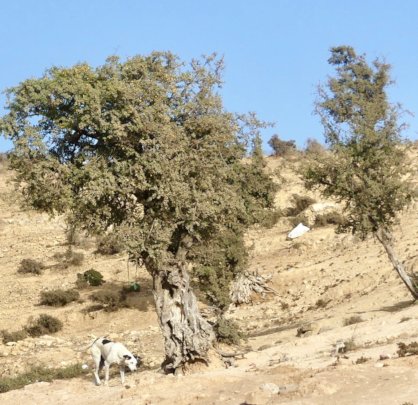 We started to address the One health challenge represented by zoonotic disease in the argan forest last year by conducting rabies awareness campaigns in schools and dog vaccination campaigns in villages. This has led to a much better understanding by the local population of the risk represented by stray dogs and it allowed them to know what to do to avoid being bitten by dogs and to avoid the transmission of this fatal infection.
When visiting villages last year, the One Health team was able to identify that some another zoonotic disease affected the population: leishmaniasis. This parasitic infection is transmitted through the bites of infected sandflies, which are tiny insects found in mud wall cracks and animal burrows. Contrary to mosquitoes, sandflies are able to live in a multitude of environments as they do not need water to complete their life cycle. They bite from dusk to dawn and are silent flyers, making their bite going unnoticed. After a few weeks, skin lesions develop and can take a very long time to heal, leaving affected people with disfiguring scars and psychosocial trauma. This disease is largely unknown from the local population.
As a first step in our task to improve people and animal health while conserving natural ecosystems, our One Health team started to investigate the role of stray dogs in the transmission of leishmaniasis so that adapted preventive and control measures can be developed accordingly. Once we know more about disease transmission in the argan forest, we'll be able to inform and protect both human and animal populations in the most effective way, helping to reduce a health burden which is already considerable in the area.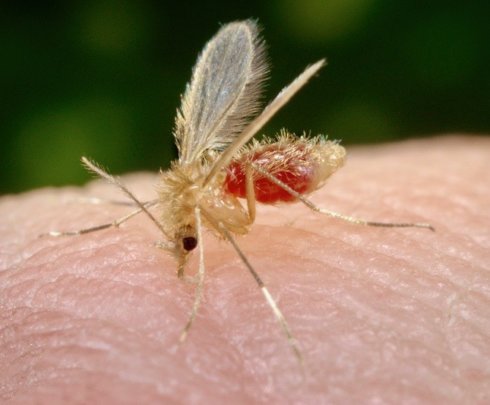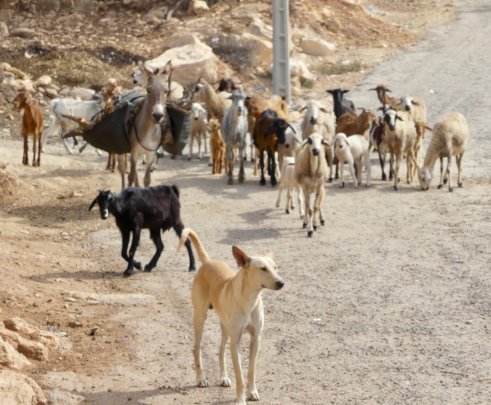 Our dedicated One Health team is in action again in the argan forest to investigate the population ecology and health status of feral dogs which now roam free in this ecosystem.Traditionally, domestic dogs are kept by farmers and families with a role of guarding the house and of accompanying herds of famous argan goats to browse in the trees.
But there is now a new "type" of dogs: large packs of dogs which roam free in the forest and come occasionally to villages where they represent a threat to people and their livestock. They can attack people and byte them, they sometimes kill their livestock and they can also carry diseases which represent a huge risk to humans, like deadly rabies.
But the reality is that we will not be able to bring sustainable solutions to these problems without gaining a better understanding of the issues: Where do these dogs come from and where do they stay? What are the exact risks they represent in term of disease transmission? How often do they interact with other animals and people?
Our project is committed to finding answers to these new challenges so our team isnow conducting a scientific One Health investigation by questioning local people in villages, taking biological samples from these dogs and making observations of their behavior. This is a long-term investigation in which trust building and awareness raising with local communities is pivotal. But the dedication and expertise of our team will undoubtedly overcome these challenges. Now more than ever, we need you to support our team!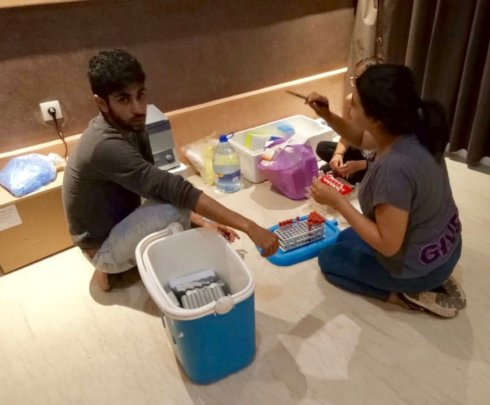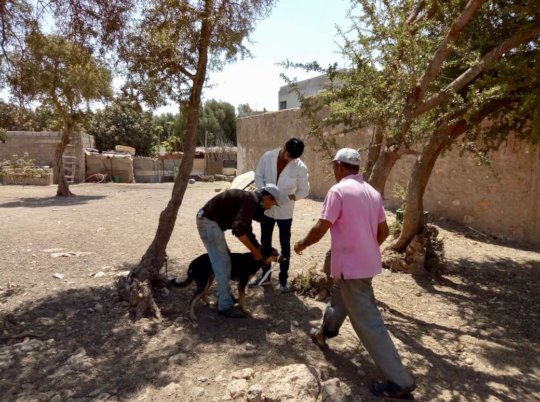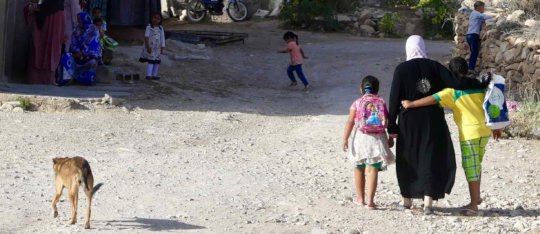 Families living in the argan forest now face a new challenge of attacks by uncontrolled packs of feral dogs which roam free in the forest and which represent a real threat to people and their livestock. They can transmit zoonotic diseases such as deadly rabies by biting people and especially children, and have also started to prey on people's precious livestock or on endangered gazelles living in the region. Addressing the challenge of zoonotic diseases is one of the components of our One Health project in the argan forest, which objective is to improve the health of local people, the health of their animals and the health of their unique and threatened argan forest.
We started to vaccinate domestic dogs against rabies and conduct awareness campaigns on rabies in schools and women's associations in local villages last year but now need to develop a long-term method for controlling this new and potentially fatal risk. However, the presence of feral dogs packs is a new phenomenon in this threatened ecosystem and no long-term solutions will be effective until this challenge is better understood.
We have therefore initiated a multi-disciplinary project of the conflict with feral dogs involving vets, doctors and ecologists to understand better how this new dog population functions and what triggers these dogs to now attack people and their livestock. The team will work in villages with key people to monitor feral dogs movements, population dynamics and behavior and will also conduct awareness campaigns with local families on methods to protect themselves and their animals against feral dogs.
The control of vital health challenges such as rabies and other zoonotic diseases can only succeed if we develop strategies based on scientific evidence of the root cause of the problems, and not on what we think might be happening. We have to integrate the understanding of feral dog populations, their dynamics and ecology, which in turn is closely linked to domestic waste management and interactions between all dog populations. People and their animals are part of a wider ecosystem in which all elements are inter-connected. It is fascinating to think that some domestic dogs may have returned to a completely wild and free-roaming stage but these once so-called "man's best friend" now represent a real risk to people's lives and health and it is our responsibility to control them.
WARNING: Javascript is currently disabled or is not available in your browser. GlobalGiving makes extensive use of Javascript and will not function properly with Javascript disabled.
Please enable Javascript
and refresh this page.