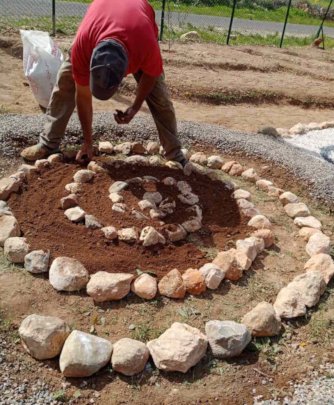 Yes, we have finally been able to go back to the field despite the pandemic as movement restrictions have been lifted.
We were able to resume work to develop our first Village Garden for Aromatic and Medicinal Plants. This garden will be managed by a group of women from the village in order to improve families' health, disseminate good practices about these plants and transmit very valuable environmental knowledge to young generations.
We first organized a workshop with women in the village of different generations, in order to assess their knowledge in relation to these plants and to have them to decide and agree on which plants needed to be planted in the Village Garden. This workshop also allowed also to identify which women had the most knowledge about these plants and a student will continue to explore and document their environmental knowhow.
After having fenced and installed the terrain which encompasses 400m2 and installed a water tank, our technician started to plants different species with other villagers along beautifully designed patterns. School children will have education sessions there as well as practical training into permaculture.
We managed to get started with limited funding and really need further support to continue to develop this activity. The transmission of traditional environmental knowledge to the young generation is a key component of our one Health programme in the argan forest, in order to improve health of all in this exceptional biodiversity hotspot.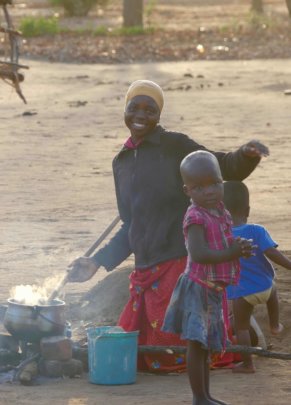 Southern Africa has now been hit by a second, more severe wave of COVID-19, with the reinstating of tougher restriction measures limiting people's movements and closing borders. This has again compromised access to income for many rural families, especially as this is the peak of the lean season. More than 4 million people face severe food insecurity in rural area and more than 1 million women and children require nutrition assistance.
A tougher lockdown also means that tourism activity at Chilo Gorge Safari Lodge is greatly reduced, with very little income to support Mahenye community. This is a time when food emergency aid is vital to assist the most vulnerable families, especially women-led households, while also preparing plans for the nutrition garden this year. This is One Health In Action to build resilience of the most vulnerable communities in the face of great uncertainty and to protect one of the most iconic elephant population of southern Africa.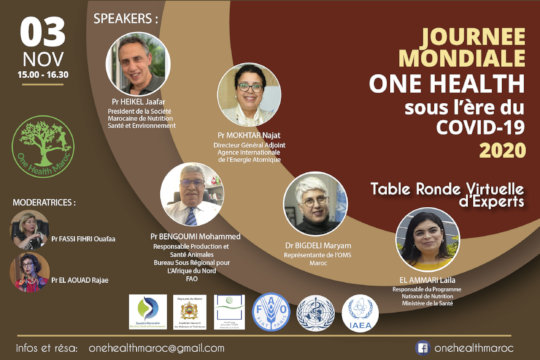 On November, 3, we celebrated International One Health Day virtually in Morocco by organizing a high level round table with representatives from the World Health Organization (WHO), the Food and Agricultural Organization of the United Nations (FAO), the Moroccan Society of Nutrition, Health and Environment, and the International Agency for the Atomic Energy, with interviews on radios and the written press.
Our objective was to sensibilize people in Morocco, from civil society to government and institutions, on our action and the need to adopt a multi-disciplinary One Health approach in order to face the inter-connected health, climatic and environmental challenges. With the latest scientific evidence showing the very clear linkages between biodiversity loss, our consumption and production patterns, and illegal wildlife trade with the emergence of new pathogens, it has become indisputable that a One Health approach needs to be adopted as soon as possible. The discussion was live on Facebook and reached more than 50,000 people, which shows how much people are interested in One Health now.
Our field One Health project in the argan forest was visionary in implementing a One Health approach well before the pandemic started and this approach is now established as THE way forward. We are planning to resume our work in the field later on this month with the establishment of a first Village Garden for Aromatic and Medicinal Plants. This garden will be managed by a group of women from the village for improving families' health, disseminating good practices about these plants and transmitting very valuable environmental knowledge to young generations. This is #OneHealthInAction which cannot do without your support.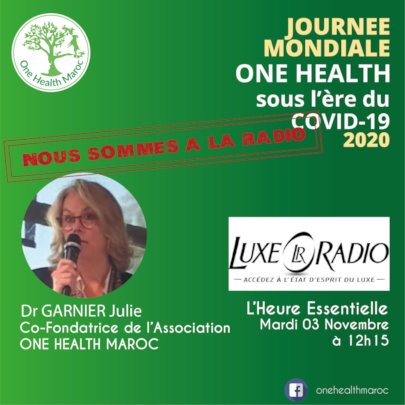 WARNING: Javascript is currently disabled or is not available in your browser. GlobalGiving makes extensive use of Javascript and will not function properly with Javascript disabled.
Please enable Javascript
and refresh this page.