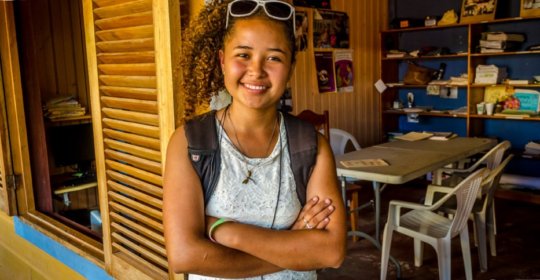 Yuma, 15, of Nicaragua has spent her entire life in an environment that does not value girls and women as much as boys and men. Where she lives, violence is the norm. However, with the help of Plan International, she is working to change the tide. As an agent of change through Plan's Girl Power Project, she is making a true difference.
This is her story:
Acts of violence are common in my community. I've seen physical violence, trauma, and bullying. A lot of it has taken place at the hands of gangs.
In my neighborhood, there are many gangs. They loiter on the streets, harassing boys and girls, and encouraging fights. When they see us girls, they walk towards us and try to touch our hips, our shoulders, and our face.
Gangs scare us. This kind of behavior causes confidence issues and leads to a lack of self-esteem, especially for girls my age. If we wear tight trousers, we are harassed.
It's hard to be a girl in Nicaragua, as we are much more disadvantaged than boys. Men have all the power – especially at home. They are the ones who make the decisions.
However, being part of Plan's Girl Power Project has made me realize that women are just as strong as men and that life doesn't have to be like this. This realization, along with seeing people suffer from violence, is the reason I became an agent of change.
When Plan visited my neighborhood to tell us about the program, I decided I wanted to change peoples' mind-sets around violence. I wanted to develop new ideas and I wanted to help those who have suffered harassment.
When I became an agent of change, I noticed that a girl I knew was suffering from low self-esteem. Her mother was violent and her friends used to bully her. I could see she was in a low place, so I befriended her; she eventually told me how she was feeling. I told her to try and see life in a positive way. Since she has found someone to confide in, I have seen a positive change.
For me, it is important to support victims of violence in any way I can. If I am unable to deal with the case, I seek help from teachers, peers, or those who work for Plan International. The most important thing is to support the victim in any way possible.
As young people, we want to be free to express who we are – but this freedom comes with challenges. For some, parents are not supportive, while others are scared of rejection.
Plan's training has helped in many ways. I have learned how to interact with people and how to express myself. I now know what to do if someone is suffering from violence. I enjoy learning new things, and when I see someone has found happiness with my support it makes me feel good.
I am keen to continue learning and sharing my ideas with others. I feel confident that women can achieve as much as men. I am determined to keep learning and hopefully go to college one day to study psychology.