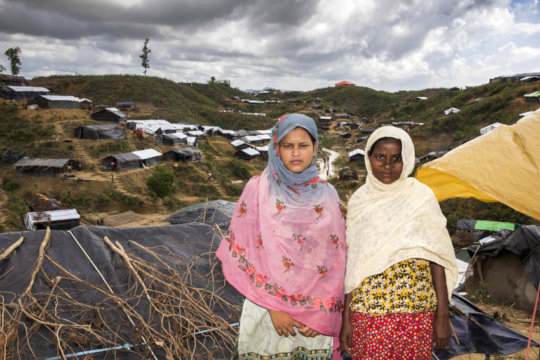 Since August 2017, over 600,000 Rohingya people have fled from Myanmar to Cox's Bazar in Bangladesh. They joined the more than 200,000 Rohingya already in the area.The Rohingya population in Cox's Bazar remains highly vulnerable, having experi-enced severe trauma and living in difficult conditions. Plan spoke with an 18-year-old young women named Senowara to learn about her family's plight.
"We had one story building in Myanmar with a bathroom, kitchen, dining room and lounge. Now we just have a small tent in this camp, where I live with my mother and younger sister," says Senowara.
Fleeing the Violence
Senowara's father died in Mayanmar and when the violence broke out, she and her mother Jaheda, 35, and 10-year-old sister Zohara were forced to flee with her uncle's family to Bangladesh, arriving in Balukhali Camp, Cox's Bazar in September 2017. Camp life is very difficult for Senowara who never imagined she would find herself living in such circumstances. "There is no toilet here and no open places, so there is no privacy. The tube-well doesn't work, the water is stinky and there is nowhere to get washed."
Continued Risk in the Camps
Senowara's mother fears for her daughter's safety in the camp. "I am always scared about my daughter's security. They are growing up and people always stare at them. I fear something bad will happen to my daughters in the camp. My worries never end." Every day, Jaheda goes to collect relief aid after morning prayers. The distribution center is located at the main entrance to the refugee camp, which is a long distance from the family tent. Both girls are left alone in the tent during the day." For Senowara, she is most fearful at night when she is allowed to leave the tent as there are less people around. The camp is unlit and getting around in the dark can be a dangerous and frightening experience. "At night I go down to the valley to collect water and my sister always comes with me and most of the time, I feel afraid. We need water for everything from drinking, cooking to bathing as well as for going to the toilet."
Plan International's Response
Orla Murphy, Plan International's Country Director in Bangladesh says: "For girls there is a very real risk of sexual violence. This is partly because the informal settlements that are being built fail to meet basic safety standards. The camps are overcrowded, there is no privacy, anyone from outside can wander in off the streets, and the shelters that are being constructed have no doors or locks. Our experience shows that girls and women bear the biggest brunt of conflicts and emergencies and adolescent girls in particular are in need of sexual and reproductive health care and hygiene kits to deal with their periods.
In resonse to this ongoing humanitarian crisis, Plan International aims to reach approximately 194,000 people Rohingya people by supporting the needs of children and their families in WASH, Child Protection in Emergencies and Education in Emergencies. As of November 2017, Plan has reached nearly 60,000 individuals.