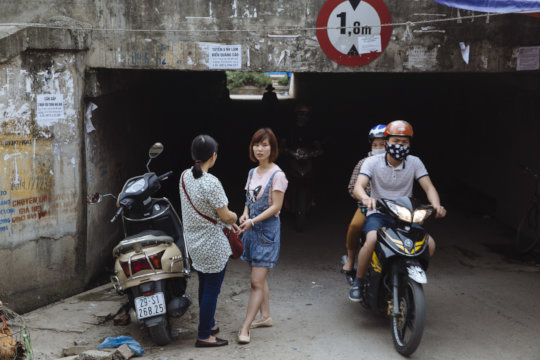 Supporting the Safer Cities program in Vietnam means challenging and changing social norms. Young boys and girls become engaged in conversations that alter the way they think about gender equality and become participants in the process. In separate clubs, boys and girls are given the space to discuss ideas and concepts around privilege, self-confidence and equality and find power in working collectively. They come to understand gender inequality in new ways and how it affects their lives and can recognize things about their city that makes them unsafe. With this understanding, they are able to visualize ways to improve their city and become part of the conversation.
Safety Walks
Once they developed a new vision of their city, girls' clubs worked to evaluate the communities they were living in. Over the course of six months, 15 different safety walks were conducted in nine communes, or districts, of the city. These walks allowed participants to identify places or things that make them feel unsafe in their neighborhoods.
Parent Involvement
Parents can play an important role in the success and well-being of their children, but only if they are aware of the issues their children are facing.
Linh, 17, says she often felt scared or unsafe while traveling around Hanoi or going to school. But she says she never talked to her parents about it—and neither do most girls. Linh thought that if she told her parents about some of the things that worried her, they might forbid her to leave the house at all. But, she says after her experience with the Safer Cities project, her parents surprised her. They started to attend the awareness sessions offered at her school, and listened more to what she had to say. "They totally support my participation and want to understand more about the issues so they can help if I'm ever in need," Linh said. "Instead of forbidding me to go out, they come with me!"
Teachers' Support
Trainings were conducted with teachers to include them as leaders in the work done to change the conversation about gender equality and awareness. In reaction to the training, one teacher share that "this is the first time we have had training on this content and I must say that it is very helpful for teachers like us. Many things that we used to attribute to girls' or boys' characters turn out to be all gender stereotypes. We are very excited to integrate this knowledge in lessons with boys and girls, as well as communicate with parents to change them as well."
Bus Driver Awareness
Bus Drivers have a unique perspective of social norms throughout the community. Buses are places that girls feel particularly unsafe, so training bus drivers to recognize when a girl may be in harm is an important step to shift social dynamics.
"In doing my job before I attended the training, I witnessed cases of sexual harassment on my bus, but I didn't realize what it was," ticket collector Nguyen said. Nguyen now has the skills to resolve conflicts like that and prevent other incidents in the future. "After attending the course, I paid more attention to girls when they take the bus, so I can help them if they need it," Nguyen said. "If I recognize a potential perpetrator, I arrange a safe seat for girls or women when they get on, or ask another passenger to stand between them, and I kept an eye on them."
Results
To date, the project has reached thousands living in Vietnam. 1,502 teachers have been trained, 13 community-managed safe spaces have been established, 90 men have been trained on gender equality to become leaders in their community, 90 females led 14 interface meetings with government officers, and 1,350 transit staff were trained and committed to protect girls and women on buses.