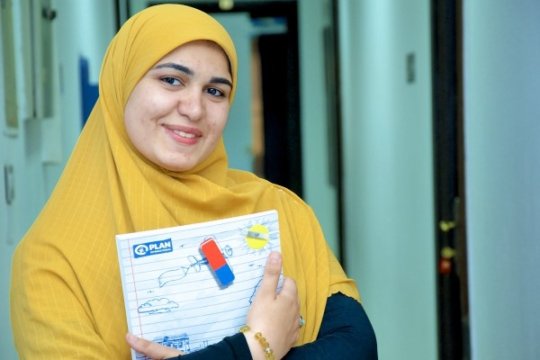 Al Shaimaa, 21, from Egypt is a young woman eager to make an impact. She's currently studying veterinary medicine at university and is a member of Plan International's Global Youth Advisory Panel (GYAP).
Leading her community
"Joining Plan International has helped me change the way I think about different issues. Before I used to be okay with female genital mutilation (FGM) because I was so unfamiliar with it. I used to think it was a norm in our culture and that there was nothing wrong with it," she shares.
"Now I understand exactly what FGM is and the risks & challenges it poses for girls. I am very opposed to it and I am speaking out against it in my community."
Al Shaimaa is also a passionate advocate against early marriage, "I think it is important to rally members of our communities to inform people. We need to start acting for ourselves instead of waiting - we need to be faster."
Egypt's promising advocate has been part of Plan International's projects since she was 10, and later joined their National Youth Advisory Panel. She's participated in activities, including launching an awareness campaign to help clean the streets of her neighbourhood, and has engaged in meetings on topics like social media and conflict resolution.
One of her fondest and most constructive experiences was attending a woman's rights conference in Zimbabwe. "It was very interesting and eye-opening because we share a lot in common with other African countries," she reflects.
In March 2017 she was also part of the annual GYAP meeting in El Salvador.
Plan International's influence
Al Shaimaa credits Plan International and Because I am a Girl for changing both her life and that of her family.
"It's really helped change my personality to become a stronger person. I used to be shy, but after joining all the activities I became more sociable. It also helped me organize my time better and learn to do more productive things."
"Thinking of my family, I think it gave me more of a voice," she says confidently. "For example, when I was travelling for my first conference with Plan International, my uncles were reluctant to let me go because I was a young girl. However, after speaking and convincing them, they let me go."
Exciting road ahead
Because of her passionate work in her own community, Al Shaimaa has started to receive invitations from parties to join them as an advocate in their local councils.
Al Shaimaa has big dreams and plans for her future, "I want to finish university and begin working in my field."
"I also want to continue taking courses and study abroad to develop my skills and knowledge. I want to integrate the Global Youth Advisory Panel with Egyptian youth, and create a common strategy to help youth develop globally," she shares.
"I want to make a global impact."