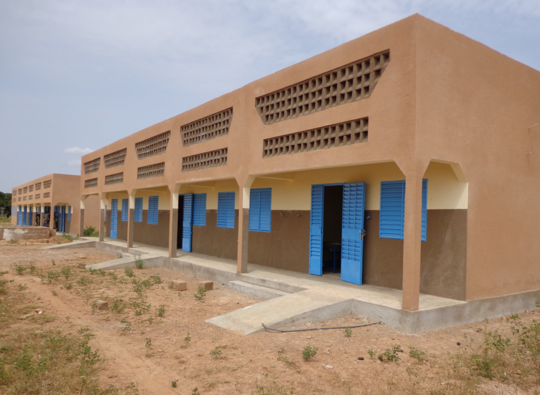 A secondary school education is life-changing for a girl in rural Burkina Faso. Without this opportunity, a girl will marry at the age of 15 or 16, become pregnant before her body is ready to give birth, and face a life of hard domestic or agricultural labor.
However, in rural parts of Burkina Faso, there simply are no secondary schools, and girls never get the chance to continue their education after primary school. If schools do exist, they are often overcrowded, over 100 students into one classroom. They are located far away for many students, who often walk 8 to 10 miles to get to school and have no way of getting lunch at midday.
But thanks to your dedicated support, the rural province of Namentenga, Burkina Faso, welcomed a brand new secondary school complex, including four classrooms, a library and canteen, a teacher's meeting room, and separate latrines for boys and girls - an important safety issue for girls at school. At full capacity, the school will house 210 new students.
Additionaly, eight new classrooms have been added to schools in other communities of Namentenga. Over the next two years, this will provide an additional 1,120 students with access to an education.
Both the school complex and the classroom projects are carried out in full partnership with the local government, who has committed to training and hiring teachers and managing the school completely.
With your support, Namentenga is looking forward the future construction of a girls' dormitory, libraries, and laboratories in existing schools to make sure that a quality education is available for all students. In addition, teachers will be trained in gender-sensitive methods, and girls will continue to receive scholarships to offset school fees.
Passekdo, a 14-year-old girl in Namentenga, would never have gone to school if it weren't for you. Her father died when she was just a toddler, and her mother has struggled every day to feed Passekdo and her four sisters and brothers. When Passekdo became pregnant at the painfully young age of 11, her fate might have been sealed. However, her mother was determined to give her daughter a better life. She helps to look after Passekdo's baby, and thanks to the scholarship and the new school in the community, Passekdo can continue her education. She is now ranked second in her entire class.
Passekdo now dreams of becoming a math teacher. She says, "In life, if you stay behind, you will only be able to pick among what others have thrown away. I don't want to be left behind."
And thanks to you, she won't be.