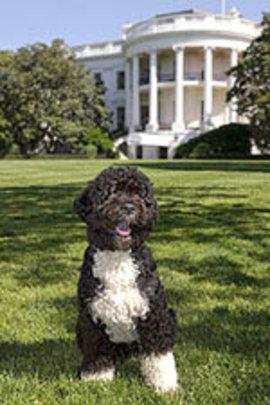 The Oregon Humane Society is joining forces with a lovesick Goldendoodle to make the First Dog of the United States (FDOTUS) the Grand Marshal of the OHS Doggie Dash.
OHS is urging Bo to come to Portland to meet the fluffy Ramona and meet thousands of pets and people who care about helping shelter animals.
Fans of shelter pets can do their part by signing an online petition addressed to the President of the United States. "This is Bo's chance to get nose-to-nose with thousands of his four-legged friends," said Sharon Harmon, OHS Executive Director. "His presence will do wonders for Ramona, as well as boosting the cause of pets who need help finding loving homes."
The 26th annual OHS Doggie Dash hopes to raise $450,000 for pets in need while bringing more than 3,000 dogs to Portland's Waterfront Park. The walk/run pet festival is the largest event of its kind on the West Coast.
In Her Own Words: Why Ramona Has a Crush on Bo:
1) "I love Bo's black and white Tuxedo markings. With my white fluffy fur, we'd make an awesome couple!"
2) "Just like Bo, Goldendoodles are hypoallergenic. The first family would adore me!"
3) "Did I mention I love the blues? Bo is named after blues singer Bo Didley, so we have so much in common!"
4) "I love to eat carrots and Bo loves tomatoes (really, that's what the White House says!). Together we'd make sure every scrap of those healthy meals made by First Lady Michelle went to good use."
5) "Did someone mention Hawaii? I am such the beach dog. Bo needs someone to frolic in the sand with. And I can't wait to show him the Oregon coast. He'd love it!"
Links: