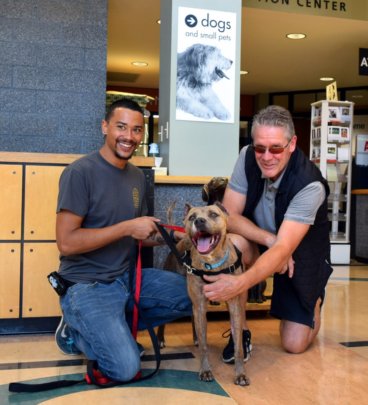 After a recovery from abuse, Amber was transferred from a small town in California to the Oregon Humane Society through the Second Chance Program which was the very opportunity Amber needed to start a new life.
Amber was relocated to Oregon to find a home away from the attention her case attracted in the small town of Yreka, California, where her abuser pleaded guilty to animal cruelty charges and is now receiving mental health care. Amber was injured in April, and received care through Siskiyou County Animal Control and the Siskiyou Humane Society. She is described by her fans at the Siskiyou Humane Society as "a complete sweetheart who loves to give and receive affection, is very smart and focused with training, is a huge submissive grinner and loves to play with other dogs."
Within a few short days of arriving at the Oregon Humane SOciety, Amber was adopted today by Michael of West Linn. He saw Amber's story on the news last week and made sure to arrive at OHS as soon as she became available for adoption. Michael previously had a blue heeler mix for 17 years, and when that dog passed away last fall, he was not ready to adopt another—until he saw Amber. He looked into her hazel eyes and thought, "She's the one." Amber is heading to an active, loving, dog-experienced home to live the life she deserves.
Amber is just one story out of the hundreds seen each year. Your gift today will help the Oregon Humane Society continue providing Second Chances to those in need.
Links: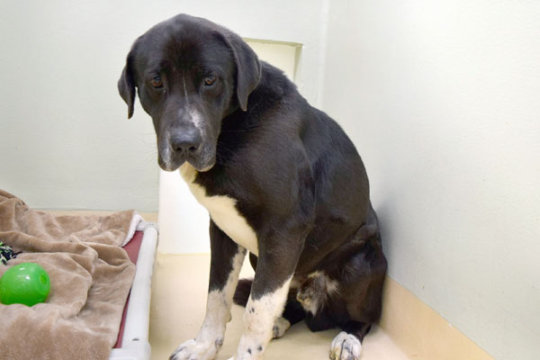 A group of dogs rescued from terrible conditions in Washington are now getting the medical care they need at OHS. One dog, named Love, arrived with severe lacerations on her neck and torso and was in surgery today in the OHS Holman Medical Center. OHS medical and behavior teams are assessing the needs of the other dogs, one of which gave birth to five puppies yesterdays. The dogs had apparently been living outdoor for most of their lives, some of them in chains for so long that they suffered deep neck lacerations from chain collars.
The approximately 40 dogs rescued last week from Stevens County, Washington, may have been part of a breeding operation. The rescue effort was led by Rescue4All and Spokane's Humane Evacuation Rescue Team, with the assistance of deputies from the Steven's County Sheriff's office. The rescue groups reached out to shelters around the region to help the dogs, as Stevens County lacks the resources to care for so many animals. The owners of the dogs are reportedly facing multiple felony charges.
OHS is caring for six of the adult dogs from Stevens County as well as yesterday's five puppies. The dogs will receive medical care as long as needed and be offered for adoption when they are ready for new homes. The dogs at OHS are Labrador mixes, mastiff mixes, and other breeds. The dogs are friendly to people but are not leash trained or house trained.
OHS is a 501(c)3 nonprofit organization, receives no tax dollars, and relies on donations to fund all our programs including humane investigations. To help Marko and his friends, please consider making a gift today.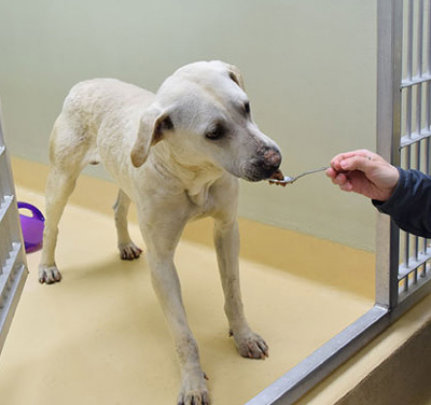 Links: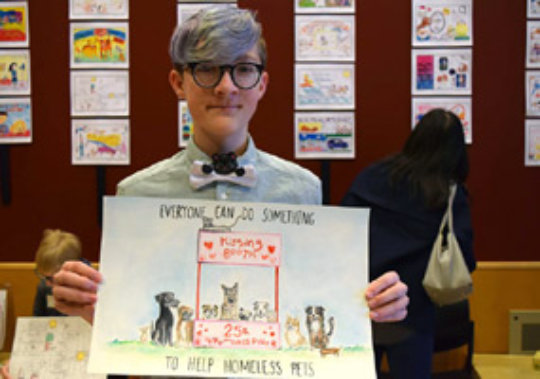 Young artists from more than 100 schools competed in the 68th annual OHS Be Kind to Animals Poster and Story Contest. Students created posters and wrote essays on humane themes such as Be Kind to Animals, Pets are Family Members, Pets Need Care and Attention, and Choose the Right Pet for You. More than 1,500 entries were received from students at 125 schools in Oregon and Clark County, Washington. Students based their entries on different age-appropriate humane themes such as: be kind to animals, pets are family members, pets need care and attention, and choose the right pet for you. The grand prize winners received a laptop computer. Runners-ups and first-place winners received gift cards.
This is one of the many programs the Oregon Humane Society offers to youth in efforts to create compassionate and informed generations for years to come. Your gift helps OHS reach out to youth and communities to create awarness and compassion. Thank you for your support!
Links:
WARNING: Javascript is currently disabled or is not available in your browser. GlobalGiving makes extensive use of Javascript and will not function properly with Javascript disabled.
Please enable Javascript
and refresh this page.