Hub of unwanted and troublesome activity becomes a cause for school children's absence from school. A dilemma faced time and again. Twenty-first century and people despite technology invasion via mobile phones and electronic media, traditions and cultures remain entrenched irrespective of the changing times. Change is never imminent or instant here, eighteen years down the road the struggle continues.
A story this time is a love affair between individuals from opposing clans, a clandestine meeting and all hell break loose, although such liaisons are not unheard of and even accepted. When the family of the woman learns about the meeting, they charged down upon the man who had by now escaped leaving behind a friend who was to keep watch, in case of such a mishap. Unfortunately, the friend was a drug addict and it was not difficult to get a confession out of him. This occurrence of having extramarital affairs is not an unknown phenomenon in the villages, there is a free mingling of the sexes, however, when two different clans are involved it is a recipe for disaster even becomes grounds for murder and enmity.
From 150 students the number comes down to almost half because entire clan moves for fear of reprisal thus starts the end of the beginning. It takes usually a couple of months for the situation to normalize, either because the culprit gets caught or there is amnesty from the victim's family. It is this scenario that the Khoj School operates, trying circumstances for parents and children. A gap of so many days out of school means extra effort and time.
The resilience shown by the Khoj management is truly remarkable because the gap means extra effort and no amount of cajoling nor reprimand is of help, relentlessly they continue with the remaining students waiting for the absentees to return.
Teachers from Lahore fear going there for work. A recent setback was from an enthused teacher who offered her services at the Khoj School, she was excited at the prospect till she spoke to her family who dissuaded her because they felt it was not safe. Given these circumstances it is amazing how Khoj is surviving there, it can only be reasoned due to the dynamism of the Founder of Khoj - Society for People's Education who come rain or shine dreams of a new tomorrow.
Links: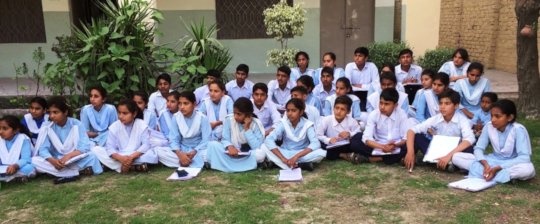 Distance has never been a deterrent for the Founder of Khoj to not interact with the students. It was March 8th International Women's Day and travel to the field was not a possibility. Luckily, the school is set up for virtual classes which make it possible for distance learning. This opportunity allowed a discussion on what exactly it meant to celebrate this day. The Founder gave a historical background of the occasion. But this was not the only thing that happened; a lively discussion ensued, both girls and boys help their parents in farming so the concept of equality was somewhat unclear. In order that this was understood better students of higher grades were asked to prepare a short talk on role reversal.
A question arose what if women were paid for the amount of work they put towards the housework made the boys uneasy. This is not what they would be happy paying for the work which to them was as normal activity and never crossed their minds, one of the boys even suggested that if that were to be the case he would much rather do all the work himself. His comment led to the need for boys' equal contribution to the domestic work.
When the stage was set, the Founder gave a short history of Millennium Development Goals and Pakistan's performance in achieving the goal of women's empowerment and gender equity. It was also shared that to work towards the unfinished agenda, Sustainable Development Goals have been launched. Goal 5 of SDGs was also discussed at length.
Next morning a visit was possible. The students were excited because they had all prepared a short essay on if I were a girl/boy. When the girls wished they were boys was mostly because of mobility and freedom to do what they liked. Going to festivals and melas, sports and visiting friends at any time of the day and also for further studies to another town/city was also expressed a reason for wanting to be a boy. Riding motorbikes was another possibility if they were not girls. Interestingly a few hands were raised when the girls were asked how many would prefer being boys that showed the suppression they lived under.
On the other hand, the boys felt that if there were role reversal they would look after their parents' needs and cook for them. Extend help to their mothers and little else. They clearly had no idea what being a girl/woman meant. The restrictions imposed on girls after dark, travelling alone to other cities while the boys could do as they wished. One student, however, wrote a very sensitive piece on how they as boys should realize how girls feel the constraints and how they as boys could help.
Khoj School has been trying to break the stereotypes and nurture an alternative culture of care and fair play through an alternative gender-sensitive curriculum.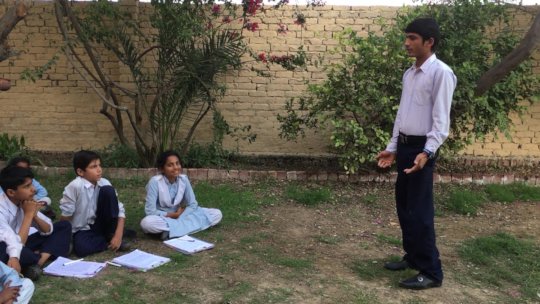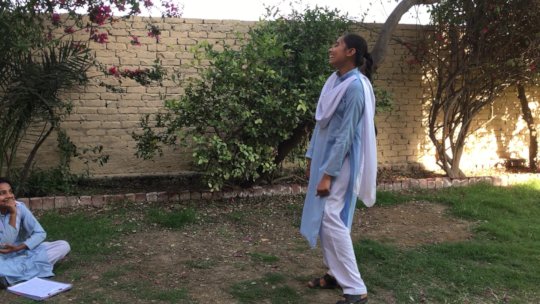 Links: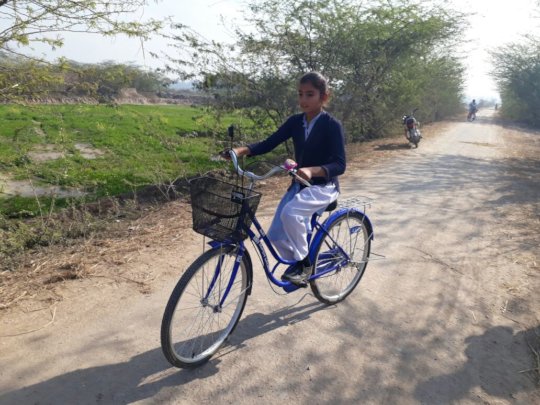 It was the last day of the year 2017 and I was asking the children at Khoj School for Community Education about their new year resolutions. Habiba and other girls from grade six shared animatedly their resolve to learn how to ride a bicycle which showed their burning desire to break barriers and breathe freedom.
As Khoj had already procured two girls' bicycles, our new year gift to the school became a vehicle for fulfilling their resolution. The bikes are colourful and easy to ride for younger girls. On January 2, they started to learn how to ride those bicycles and in a matter of one week, a majority of them can now ride confidently.
The day when they took their bikes on the main road of the twin villages, their excitement was a spectacle to remember. To see girls riding bicycles in the village was something unbelievable for the village community. The passers-by stopped and looked at the bike riders in amazement. But their looks didn't bother the girls at all.
The bikes are being used for training of the girls. Our future plan is to award those girls bicycles who are the best performing and come to school from longer distances.
We are very grateful to our friends and supporters who donate generously help us help the children work for a happy and equitable life. For girls' bikes, we are grateful, especially to Shoes by Shaherazad at www.shaherazad.com.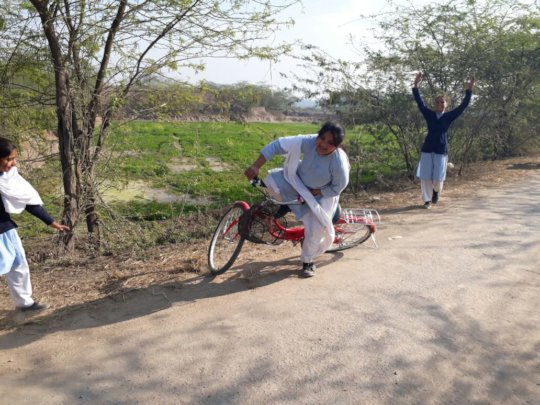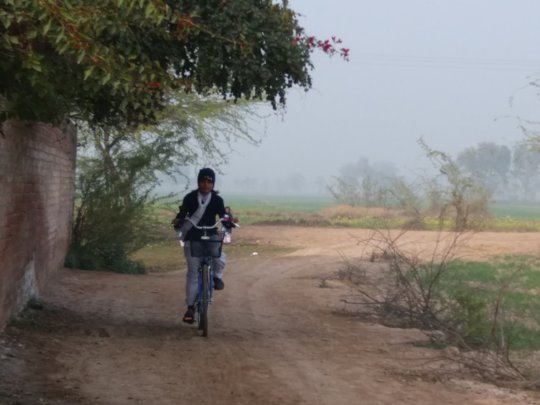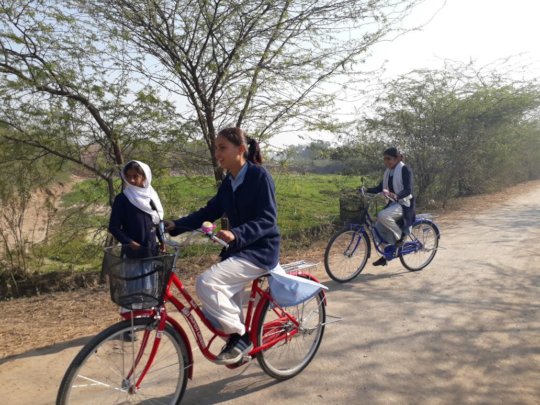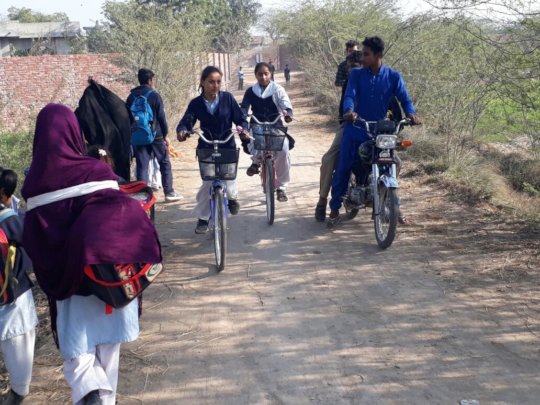 WARNING: Javascript is currently disabled or is not available in your browser. GlobalGiving makes extensive use of Javascript and will not function properly with Javascript disabled.
Please enable Javascript
and refresh this page.