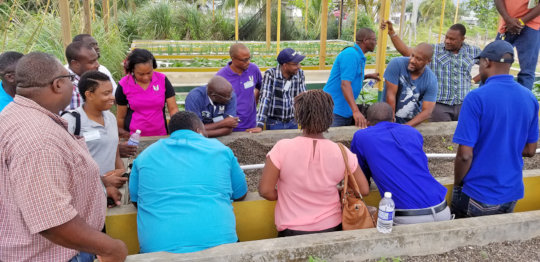 Since our last report in March 2018, our team has completed the development of an online training and loan prequalification course by Resonate Learning Consultants. The course is now posted on INMED Caraibbean's web site: https://inmedcaribbean.org.
The online training course, which is the first step for farmers participating in INMED's Increasing Access to Climate-Smart Agriculture (IACA) program, was beta tested by extension agents with Jamaica's Rural Agricultural Development Agency (RADA). The training includes technical information about aquaponics, how to apply for a loan and how to write a business plan.
In early March and May, our INMED Caribbean team delivered the first aquaponics training workshops for future trainers from RADA, who provide support to farmers throughout the country. The workshops included classroom training as well as a hands-on demonstration at INMED's aquaponics system at Knockalva Technical High School.
We are pleased to announce that INMED Caribbean also has partnered with the College of Agriculture Science and Education (CASE) to build a commercial-scale aquaponics system that will be used for IACA program training and education for students studying adaptive agriculture at the college. The system is currently under construction.
In addition, INMED Caribbean continues to develop partnerships with local banks and financial institutions to make affordable loans available to IACA program participants to cover the cost of construction crews, supply inputs and materials needed to build and begin operating their commercial aquaponic systems. Our team also continues to develop links to future markets for program participants.
Prospective program participants are invited to register online at https://inmedcaribbean.org/aquaponics-registration/. A brochure and fact sheets about the IACA program also are available for download at https://inmedcaribbean.org.
We are looking forwarding to starting our farmer training this summer, and we are grateful for your support of our efforts to improve food security, climate-change resilience and economic opportunities for smallholder farmers, women, youth and people with disabilities in Jamaica.
For more information about this program, please contact Kristin Callahan at kcallahan@inmed.org.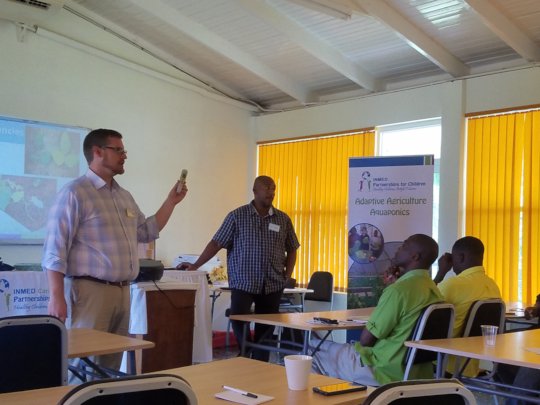 Links:
Attachments: