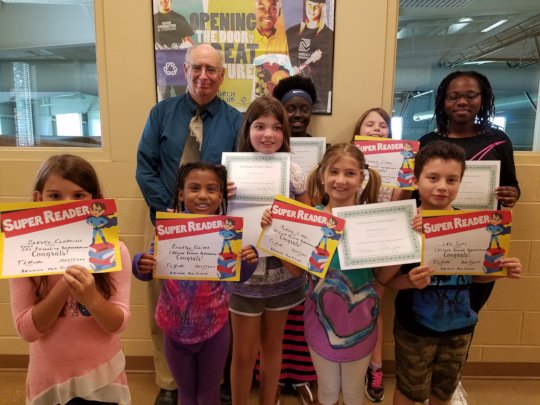 The Boys & Girls Clubs of St. Charles County is helping families prepare their children for the 2018/2019 School Session. The Clubs helps children fill their book bag with the necessary items for their classroom activities. It is noted that an unprepared child is a distracted child.
Members of the Boys & Girls Clubs of St. Charles County participate in the After School Educational Programs offered at the Club. It is the desire of the Boys & Girls Club that all children will realize academic success. Academic success can be achieved by classroom participation and willingness to learn.
The Reading Program at the Boys & Girls Clubs of St. Charles County plays a big part in the children's ability read fluently, comprehend what they read and demonstrate in increase in their vocabulary usage.
Through the 2017/2018 school year and by the results of pre and post testing, the Boys & Girls Club Reading Program produced sizeable and quantifiable results for participating members. The average Club member showed an increase of 1.74 grade levels. A child who is reading at their grade level will demonstrate a desire to learn and exhibit an eagerness to remain in school as they engage in classroom activities. It is duly noted that when a child is unprepared for daily classroom activities, they will become disruptive and present distractions for the teachers as well as other students. Through the Education Programs at the Boys & Girls Clubs of St. Charles County, children are assisted with their homework by staff or volunteers on a daily basis to assure them that they are ready to participate in the next day classroom activities as they look forward to remaining in school and graduation.
The Boys & Girls Clubs of St. Charles County (BGCSTC) is committed to closing the opportunity gap in science, technology, engineering, art and mathematics with innovative and creative programs, activity ideas and resources for the youth we serve. After-school and summer learning environments provide unique opportunities to advance STEAM knowledge and increase interest in STEAM-related careers. Many of the BGCSTC members will not be exposed to the STEAM process without BGCSTC help. There is little or no opportunity for them to invest in the needed experiences to develop the desire to pursue a STEAM career. Using a cross-displinary approach that channels young people's natural curosity the BGCSTC's STEAM program will empower youth to create new solutions to real-world challenges. This project-based approach developes critical thinking, problem solving and other 21st century skills that will become imperative to realize success in the STEAM workforce and beyond. By having our members participate in these activities they will become better prepared for a gainful future in the STEAM related workforce that has become the leading sector in job related activities. Thank you for being a part of this successful endavor.
The Boys & Girls Clubs of St. Charles County (BGCSTC) continues to reach out to its membes with a strong desire and goal for each to realize Academic Success by remaining in school and completing their education.
As the world becomes even more interconnected, it has become more critical than ever for our young people to develop the skills needed to compete in the global economy. Schools are a vital part of the eudcation process. Parents and family membes are also integral to children's success. BGCSTC is an important third party componet in academic success for its members. BGCSTC serves as a partner in providing access to the programs and resources that both youth and families need to succeed. BGCSTC is uniquely postioned to make a significant difference in the academic success of youth in the community. BGCSTC comfortably blends the lines between school and home by providing homework assistance and preparing the children for school the next day. When young people attend school with homework completed, they enjoy and participate in the classroom while feeling a sense of accomplishment. When this learning process takes place, youth are more likely to finish school and proceed to a post-secondary education or reach out for additional job training while looking forward to a rewarding future.
During February 2018, the BGCSTC After School Power Hour Program provided 812 educational support hours to 140 members. As previously stated, these hours offered a structured time and place for BGCSTC staff and volunteers to help members complete their homework and start each school day better prepared and with a sense of confidence and competence.
Attachments:
WARNING: Javascript is currently disabled or is not available in your browser. GlobalGiving makes extensive use of Javascript and will not function properly with Javascript disabled.
Please enable Javascript
and refresh this page.