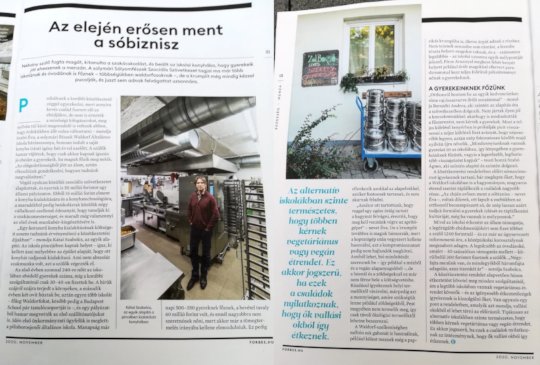 (ENGLISH BELOW)
Kedves Támogatóink!
A nyári beszámolónkban írtuk, hogy elindítunk egy alapot, amivel az a tervünk, hogy kiszélesítjük a támogatásainkat.
Így egyrészt tovább támogathatjuk az eddig is támogatottakat, a legnehezebb helyzetben lévo családokat.
Másrészt elindítunk az iskolai ebédeltetésben egy kedvezmény rendszert, aminek segítségével résztámogatásokat adunk (25%-os vagy 50%-os kedvezményeket), így a segítség több helyre jut el.
Örömmel jelentjük, hogy sikeresen elindult a rendszer :)
Az eddig felajánlott támogatásokból mostanáig biztosítani tudtuk az ingyenes étkezést és a kedvezményeket az eddig jelentkezettek számára.
A Covid járvány miatt mától Magyarországon is szigorú korlátozások kezdodnek, de az általános iskolák és óvodák egyenlore nyitva maradnak. Ezért egyenlore továbbra is biztosítjuk az egészséges ebédet a rászorulóknak.
Nagy kérdés, hogyan tovább, ha be kell zárniuk az iskoláknak, óvodáknak? Mi készülünk, hogy szükség esetén el tudjuk indítani a kiszállítást. Reméljük muködni fog, ha szükség van rá.
Jó egészséget és szép oszi napokat kíván,
Szabolcs + az SZWNA csapata
PS: Az a megtiszteltetés ért minket, hogy a szövetkezetünk konyhája egyike lett a Forbes magazin novemberi "egészséges menzák" mellékletében szereplo 3 konyhának. Büszkék vagyunk rá! A magyarul is tudók számára csatoljuk a cikket.
-----------------------------
Dear Supporters!
We reported in our summer newsletter that we are launching a fund with which we plan to expand our support program.
In this way, on the one hand, we can continue to support those who have been supported so far - families in the most difficult situations. On the other hand, we are launching a discount system for school lunches, with the help of which we give partial subsidies (25% or 50% discounts), so that our help reaches more children.
We are pleased to announce that the system has been successfully launched :)
From the donations offered so far, we have been able to provide free meals and discounts for those who have applied until now.
As a result of the Covid pandemic strict restrictions will begin in Hungary from today, but primary schools and kindergartens will remain open for the time being. So we continue to provide healthy lunches for those in need.
The big question is, how to proceed if schools and kindergartens need to close? We are ready to start home delivery if necessary. We hope it will work if we need it.
We wish you good health and beautiful autumn days,
Szabolcs + the SZWNA team
PS: We were honored that our cooperative's kitchen had become one of the 3 kitchens featured in the November "Healthy School Canteens" supplement of Forbes magazine. We are proud of it! For those who also speak Hungarian, we attach the article