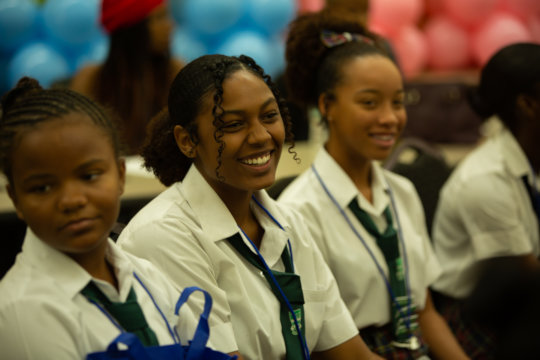 Where We Are At?
With your amazing donations, we have been progressing our teachings of Leadership, Entrepreneurship and Social Impact across schools, communities and groups in Barbados.
We must say; however, that our targeted numbers had to be reduced by approximately 40%, at this stage, due to our low turnover of funds.
Otherwise, our feedback from our girls has increased our confidence, that we are on the right path, towards multiple breakthroughs. Below are a few comments we've heard:
"This programme has shaped my life and the way I think about being an adult."
"I really like this; it's like heaven to me. Honestly, I never feel like going back home."
"Sometimes I wish I could be with this group more; it feels like family."
We love these girls, and know that how we make them feel, share and learn is priceless, and unmatched to how much they take away. This could not be possible without you; thank you!!!
Where We Desire To Be?
We are currently in the process of building our capacity, to allow us to be able to serve these and more girls, in a much different way.
Run-aways, Depression, Self-Harm, Neglect and Abuse are major components we aim to reduce and/or eradicate, for the sake of our girls.
We are using our programming to build leaders, locally and regionally, and with our two (2) primary programmes: Generation Y and 50 More Initiative, we have been achieving this with more than 300 students.
We desire to bring regional and international talent and experts to our island, to further develop their desire for growth and enhancement.
Otherwise, we desire to take our programmes to the next level by creating a safe space transitional home for those vulnerable and 'at risk' girls, who have no where else to turn. There is no space like this in the Caribbean, and we want this ground-breaking exercise to propel sustainable livelihoods for all.
We desire to be a preventative programme, that produces stable and mentally able adults, and that for us starts with youth. We will update you in the coming months, as this develops.
How Can You Help?
Share with your friends, family, co-workers, and associates. You know them best, and you're better able to express to them why our project is just as important to you, as it is to us.
It would be a pleasure to have you come on board as a recurring donor, if you haven't already done so. We appreciate all your support so far, and know you will make all efforts to contribute continually.
Remember our girls, as you continue to do good, and pass on your good gestures to another person, as you make the most of your life.
We look forward to connecting again soon. Stay blessed!!!
Links: