This year Bob Higgins, the founder of the Cuenca Soup Kitchen, moved to Paute and turned over the operation to three long-term volunteers: Des Dizney, Bill O'Brien, and Smith. Our plan was to continue the soup kitchen's mission in 2020.
On March 12th that all changed. Ecuador went into a strict lockdown due to COVID 19. This meant that we could no longer serve meals to those in need.
Since the people could not come to us to be fed, we had to get the food to the people. Our partnership with Hearts of Gold has created and maintained a system that:
expanded to serve Ecuadorians and well as immigrants
distributes food to our more distant families and provides a pick up point for those who are able to get to us
vets the needs of each family and foundation, transitioning them out when they become stable
negotiates discounted deals with our vendors thereby extending our purchasing power
provides clothing and other donated items
enters into new projects as opportunities arise such as the "Pig Project" that provided tons of protein to those we regularly assist as well as many others
The number of families to whom we provide food has grown to 120 (approximately 600 people). This is three times as many people as we were able to help with the old model and we do so for slightly less cost. This is a huge impact.
March 12th also changed our financial picture. The uncertainty in the world impacted our donors as well. For some it meant they needed to reduce or stop their donations.
It is clear that this need will continue for the foreseeable future and that the Cuenca Soup Kitchen, in partnership with Hearts of Gold and our wonderful volunteers, will continue to serve as long as the need is there and funding allows. We depend on continued donations to enable us to do just that.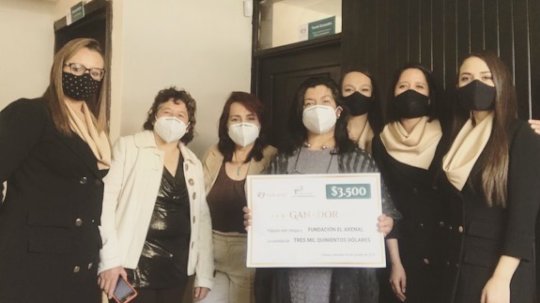 As we mentioned to you a while ago, these months have been of great anguish due to the health emergency the world is going through. We have adapted and created new solutions and strategies.

We have switched the CAP community assistance program in-person to online classes. As you know, we are the only Ecuadorian non-profit, whose goal is to educate foundation leaders on sustainability and sustainability issues. We gave 13 workshops to our partner foundations and the community, with experts in different areas.
We also gave workshops on motivation, relationships, and stress management strategies.
We made dialogues and one on one meetings with the work teams of our organizations. These dialogues focused on improving their work environment.

We have continued educating our community despite the situation we are going through.
We would love to tell you that the winning project of the micro-entrepreneurship has its first positive advances:
The two mothers who are in the literacy process are highly motivated with the desire to learn and get ahead.
The first sales of the bread made at the foundation have been a total success. These results continue to motivate us to move forward, knowing that the best tool to change the world is educating ourselves, and what better way to open up those people who have not had opportunities in the past.

We are very grateful for all these results and advances, without your support, none of these would be possible. Thank you for having a heart of gold, and making many hearts keep beating.
Together, we build a more just and humane society.
Together We Are the Change. Happy 2021!
In this last period, the El Arenal Foundation has undergone many changes due to the health emergency CORONA VIRUS (COV-19) in which we are going through in the world. Due to restrictions set by the government, we restructured the projects.
Today we would love to share our progress despite the pandemic; it has been possible to make a plan, a new schedule respecting the new regulations due to the health emergency.
Our 70 children have permanent psycho-pedagogical support within the foundation's facilities. Our children do not have the necessary resources and digital tools to educate themselves from home. However, thanks to your support; we have an interdisciplinary team to support and help our children. We also acquired new technological tools to be able to supply all children. The entire work team of the foundation is training them in all academic areas. We encouraged them to think holistically, critically, and reflexively. The foundation focuses on that children and adolescents can have a second home, that the foundation becomes a space of support and safety.
Thanks to you, the food program is still on, all our children have a daily meal and a snack. They stay healthy thanks to your valuable contribution and support.
Thank you for making the change together. Thank you for helping us to give them the tools to grow up happy; you allow them to have a fair and dignified life, free from abuse and child labor. Together We Are the Change.
Happy 2021!
WARNING: Javascript is currently disabled or is not available in your browser. GlobalGiving makes extensive use of Javascript and will not function properly with Javascript disabled.
Please enable Javascript
and refresh this page.