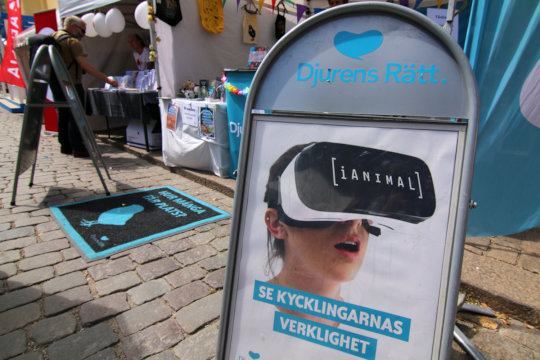 Update from Djurens Rätt's summer tour! September 2019
Now we can officially say that the summer has come to an end. We put away the tent and start preparing for next year. As we look back on the past months, we can proudly say that it has been a successful tour. We have visited many different cities around Sweden as usual, but this time focusing on the campaign "99 miljoner" (99 million), about the situation for chickens. From May until September we have participated in festivals, street markets and similar events, talking about animal rights and raising awareness about the life and suffering of chickens. We aim not only to inform society about this problem, but also to reach concrete changes in the industry.
For those of youwho haven't read previous updates, it might be useful to know that the name of the campaign refers to the actual number of chicken individuals that are killed to become food in Sweden every year. That is approximately 99 million chickens. The most common bird in Sweden but that nobody has seen, because they are kept inside the factories all their short life.
VR experience
If you follow us, you may remember that this year we have worked in collaboration with the organization Animal Equality offering our visitors to try a virtual reality experience. We have arranged this activity at several of our tour stops, giving visitors the possibility to see what we call the chickens' reality. Through this virtual reality film, the observer becomes a chicken and experiences how life is for them. It only takes four minutes, but it can change many lives, a real eye-opener.
Over 950 people have seen the film during the summer tour and we have met different reactions. Most of the visitors were shocked, of course, wondering how this situation can be possible and completely legal. Some of them were concerned, sad, angry…being the first time they face what happens behind the farm walls. And finally, a relevant part of them decided to leave chickens off their plate! We always have vegan recipes available at our tour stops and this year we had specifically launched "4 ways to replace chicken", a leaflet with simple and delicious inspiration to make the process as easy and tasty as possible. Just over the course of this summer we handed out over 5000 plant-based recipes.
How many can fit?
Every summer we develop different tools to reach as many people as possible and spread the message of our campaign. This year we had, for instance, a quiz and a small mat, in addition to the already mentioned VR-experience. Participating in the quiz, one needs to answer three questions about the chickens' situation and those who do it right have the possibility to win a vegan cookbook. But what is the point of having a mat, you may wonder? The mat is 1 meter squared, showing a chicken silhouette with a simple but direct question: "How many can fit?". We ask the curious visitor how many chickens they think live in 1 meter squared in the food industry. At first sight it's not easy to guess right, so we've had interesting conversations about that fact. They can try to stand on the mat, compare and experience how it feels. The sad reality is that up to 25 chickens spend their lives in such a small space, and most of them don't even get to feel the sunlight on their feathers. You can see a picture showing the mat with the question in Swedish in this report.
Children's summer
Year after year we participate in festivals for children as well. Even if we usually have positive responses, this year we have been extremely popular! Examples of this kind of events where we have participated are the Gothenburg Culture festival and Barnfestivalen (Children's festival), among others. In these environments we often present Rädda Djuren-klubben ("the club to save animals"), our club for children that like animals! The goal of this club is mainly to raise childrens' awareness and empathy for animals, while offering the possibility to learn funny and interesting facts about them. The priority here is activities for the youngest and our mascots are very appreciated as well. This summer we had Kyck-Linn with us, a cute friendly chicken that loves to dance with children.
Finished, but not really! ;)
Summer is now over, but we continue working during autumn. The campaign "99 miljoner" is going to be present and making sure that no one forgets the chickens. In November the campaign will be announced in the main Swedish train stations and we are going to be there talking to all interested people like we did during summer. Meanwhile, we start working on next year's campaign to make sure that we do our best when the summer comes and we are on tour again. We are already looking forward to the next edition, also having in mind that this one is going to be our 15th summer tour!