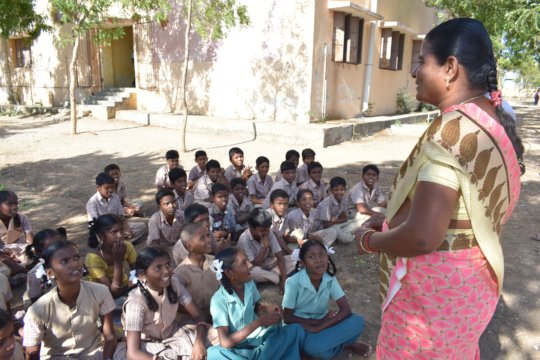 We had our first meeting with the students of the Government Higher Secondary School in Siruganur village. I visited the sixth grade class with one of our trustees to talk about the role that trees can play in slowing climate change, stabilizing the soil, and providing shade and wind breaks.
We brought two saplings that we had purchased from the Forest Department earlier, one neem and one pungai. The headmaster and teachers joined us for the planting near the compound wall. The 6th grade will be responsible for making sure the saplings are watered and properly maintained.
The children were very interested in our project and suggested that we give each of them a sapling on their birthday, to plant at the school (as long as there is space available) or at their home. The most common problem we have with our projects planting trees in schools is that the saplings are not properly cared for and end up withering and dying. We hope that by gifting the saplings to students individually as a special source of joy, they will be motivated to take better care of them.
Whether at home or at the school, the students will be able to follow the growth of their saplings up through the 12th grade, as they will mostly advance together in the same school. Over the six years, they will be able to see the saplings grow into trees. At the end of each year, we will show the children how to measure the girth and height of each tree and calculate how much carbon it is removing from the air. The student who has raised the tree that sequesters the most carbon will be given a Climate Action Superhero award.
If you'd like your own Climate Action Superhero award, donate $10 this week to buy a sapling and all the supplies it needs to grow, which we will give to the next student celebrating a birthday. In our thank-you note, we'll include a link you can visit to download your award.
I was very moved by the children's interest and excitement, and I hope you are proud of the hand you had in inspiring them.
Gratefully,
Janet Preethi
Voice Trust