81 Agriculture Students and 2 Professors from Imayam Institute Of Agriculture And Technology spent 3 hours in Manniyakurichi Village in Mannachanalur Block to discuss the past and the present and to plan for the future development. Children, youth and elders made drawings in a common ground with different colors to mark the existing fields, water bodies, houses , buildings, roads and other structures. Many elders spoke about the green past when they had good rains with which they cultivate mostly food crops. Youth expressed disappointment that they do not have many employment opportunities with the village and so they have to think of migrating to ours for jobs. Children wanted more greening and water facilities to enjoy nature.
They also conducted surveys around the villages and many farmers complained about 3 things. Climate change, quality of seeds and lack of resource for producing manures. Students assured that they will help them with possible ways. They also conducted a comparitive study on budget planning in agriculture. What materilas can be bought within the village and which needs to be purchased from outside and its cost structure, how to balance fluxuations in cost. These were the things discussed among them.
Looking forward for more Youth collaborations in Agriculture.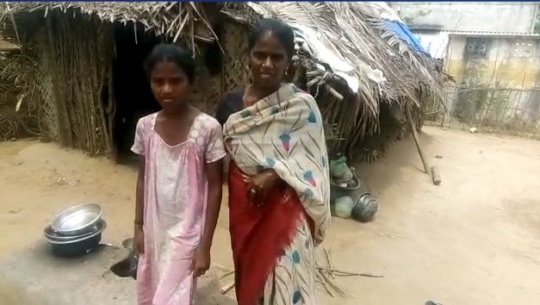 We are delighted to report that a generous donor has funded our microproject to give a farmer devastated by Gaja Cyclone two goats and livelihood support to help her get back on her feet. This donation will enable Gomanthi to earn enough money to put food on the table and pay for her daughters' education and health care.
With the support you provided earlier this year, other farmers devastated by cyclone are slowly beginning to put their lives back together. A new year of crops are coming ready for harvesting, allowing for at least a subsistence existence from the sale of produce.
Tree farms will, of course, take longer, but by interleaving yams and pawpaws with bananas trees, we will be able to provide those farmers with an interim source of nutrition and income. We are planning a workshop next month with interested farmers to explain the principles of planting in magic circles and ask them to decide if they would like to to try this method for replanting. We hope to able to distribute saplings and seeds to get them started later this fall.
As always, any donation you can make will give our work a huge boost. Thanks for your all the help you have already given --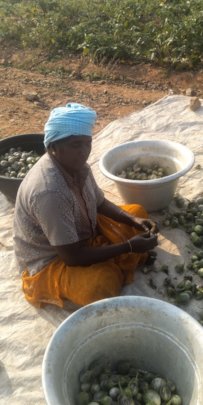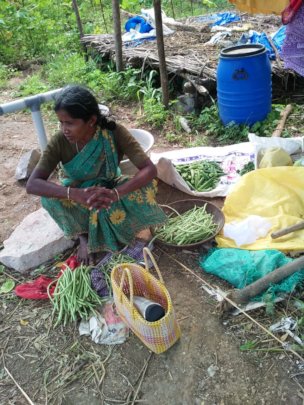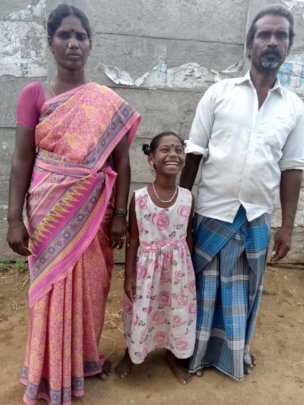 While continuing the survey of Children with disabilities we found these Children require emergency help. They are Children of daily wage parents and not able to afford further helps. So, they requested VOICE Trust for help, aids, and appliances.

Yogeswari is 6 years old and she is affected with Learning Disability. She was affected with this because her mother got fever at 6 months when the child was in the womb. She did not take care of herself and that affected the Child. We can give training that would support her to identify objects and communicate. She is affected with 60% of disability which can be reduced after regular treatments. Initially, her parents request for identifying objects and later on for medical expenses.

Leena is 10 years old and studying in a Government school. She is not able to hear. Though, she has support now. That is often getting repaired. And her parents request for an advanced featured machine. She misses many classes because her aid is not in good condition. She studies well but her mental health is affected and regular counseling will bring back her to normal stage.

Vasika is 6 years old, she is the second child of the family. She is affected with Cerebral Palsy. Her mother did not take nutritious food during her pregnancy and this was the reason she is affected. She is unable to walk and they request for wheelchair and physiotherapy treatments.


These 3 Children can be brought back to normalcy with your help.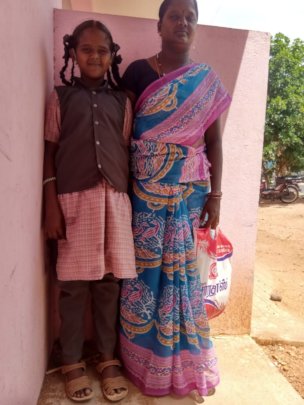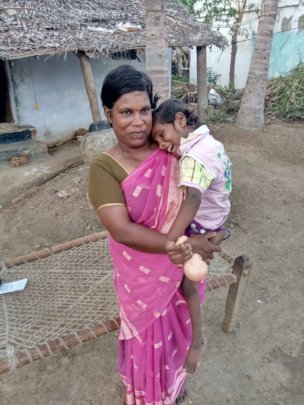 WARNING: Javascript is currently disabled or is not available in your browser. GlobalGiving makes extensive use of Javascript and will not function properly with Javascript disabled.
Please enable Javascript
and refresh this page.