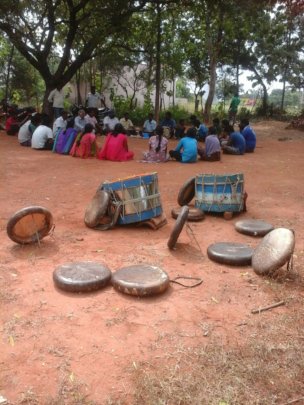 Around 2400 families affected by Chennai Floods in December 2015, have been helped from January 2016 with relief and rehablitation schemes because of help from many Friends through GlobalGiving.
Now, specific appeals have come for the following:
1) 750 school Children need note books, pens, pencils, scales, goemetric boxes, school bags, water bottles, snacks boxes. Your help of $ 10 and above will be needed per child.
2) 30 unemployed Women whose livelihoods have been destroyed by Chennai floods needs sewing machines to do tailoring jobs. Your help of $ 200 per Women is solicited.
3) 20 unemployed Youth want to learn musical instruments and join the bands for earning regular incomes. They request help of $ 250 for each one of them.
VOICE Trust appeals to Friends to please make donations for Project # 22671 through GlobalGiving.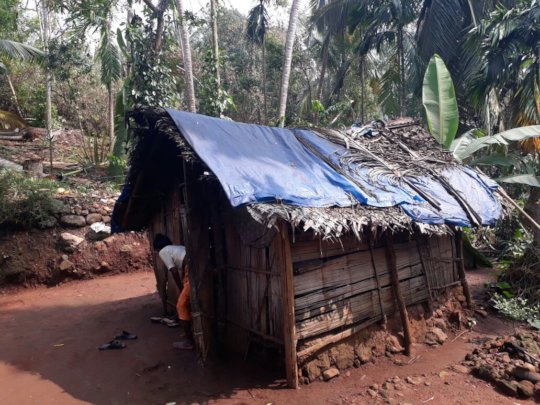 Dear Friends,
Greetings from VOICE Trust.
This Disaster happened a year ago. But its impact is still in families, village, community. Children find it hard to compete and concentrate on education. They go into mental stress when they are not able to get education utilities, when they are not able to pay fees. So we thought of converting this project where we can help Children of Ockhi Cyclone affected families with education and livelihood support.
Education gives us a knowledge of the world around us and changes it into something better. It develops in us a perspective of looking at life. It helps us build opinions and have points of view on things in life. Most of them are tribal families, they lack opportunities. I am posting photos of their living conditions.
Livelihoods programs aim of driving poverty. Rural livelihood focus mostly agriculture, with part of the population diversifying into non-farm activities in order to attain a sustainable livelihood to get better income for their households. As a Livelihood activity a women is weaving coconut leaf and they sell them for Rs. 4 ($0.056). It takes half an hour to weave one. (Second photo)

May be this is small disaster when compared to others. But the recovery is not yet fulfilled. VOICE Team plans for a long term support. I wish all the Friends of Earth to help and join with us in this activity of building lives especially Children. Our local partner Mr. Charles, WEEDS requested for these supports.
Together we can bring in change and make the community shine better and brighter.
Thank you all.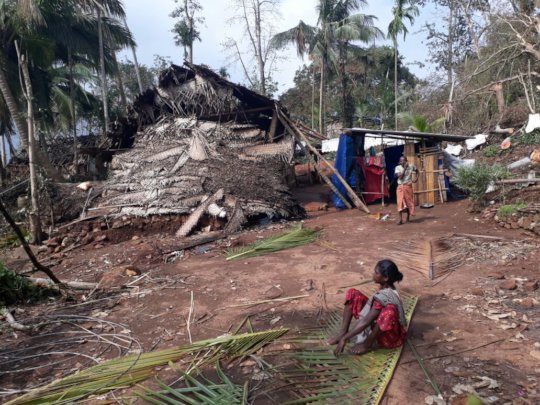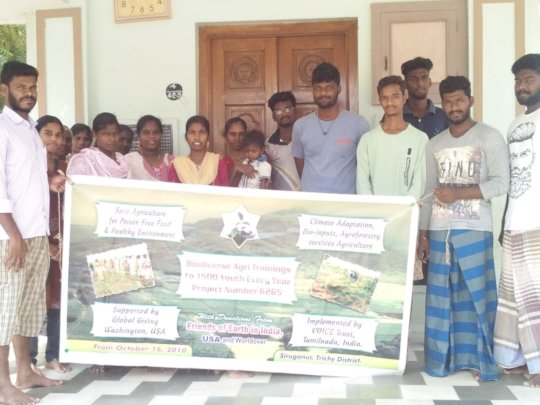 The future of farming may very well lie in progress, economic interventions, sustainability. But none of these approaches will succeed without buy-in from those who matter most – the farmers themselves. To be specific, young farmers, who are the future of farming.
25 Youngsters have requested for training on Agriculture. We have started by giving awareness of the importance of agriculture. How agriculture has effects on the Environment. What are the benefits of Agriculture? Why Youth have to enter Agriculture. What is the status of Agriculture in the next generation? These were the main topics discussed during the program.
We have prepared more than 9 models as organic fertilizers and pest repellents.
15 more students from Holy Cross College have agreed to come to see the organic models and learn how to implement them in Agriculture.
Mrs. R. Victoria explained how organic and non-organic products show an impact on one's health.
We are very eager to train more Youth and bring in more Youth into Agriculture with your help and support.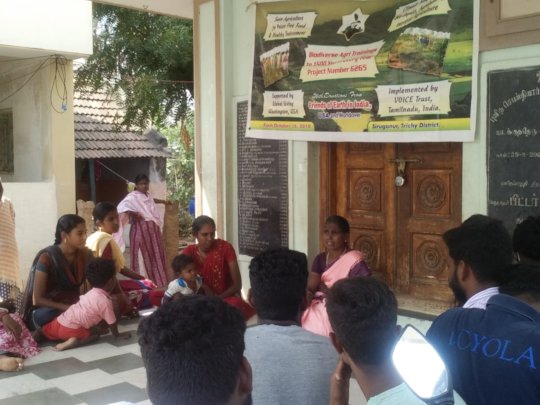 WARNING: Javascript is currently disabled or is not available in your browser. GlobalGiving makes extensive use of Javascript and will not function properly with Javascript disabled.
Please enable Javascript
and refresh this page.