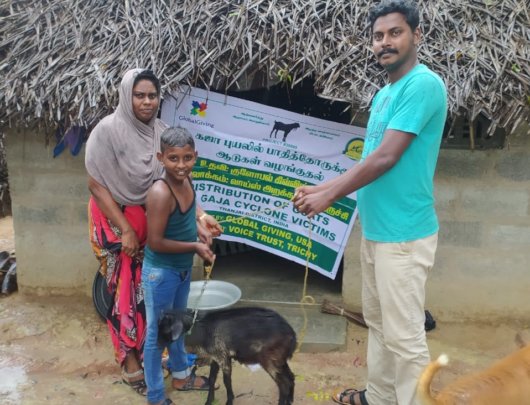 Our final activity in this project was the distribution of a few goats to several widows who had been hard hit by Gaja cyclone and are still struggling to get back on their feet. The goats, when bred, will provide the women with needed income, which they can use to feed, educate, and provide healthcare for their families.
Each year, the number of goats each woman has should at least double in size. As their income from sale of the meat increases, they will be able to undertake other improvements to what is left of their farms, and the money they spends in the village will have a multiplier effect, helping raise the entire community toward recovery.
The saplings we provided earlier are also helping farmers recover, and we believe it is time to retire this project. We will continue to include farmers in this area in other economic development projects as we move forward.
Our heartfelt thanks for the support you provided to set them on the road to recovery.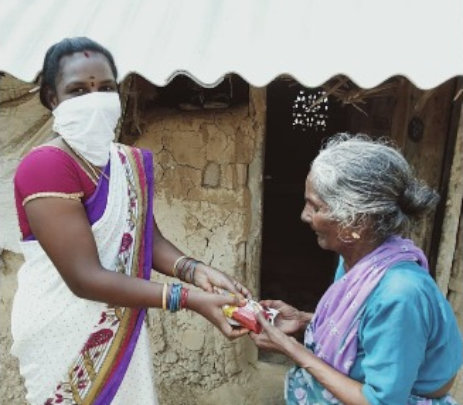 We are proud to have been able to mobilize quickly to offer relief to Cyclone Nivar victims who had been flooded out of their homes. In coordination with our NGO partners around the state, we were able to distribute hundreds of emergency food rations and roof tarps kits to distressed residents In Chennai, in the Tiruvallore District and Cuddalore Districts, and in Karaikal, Villupuram, and Pondy.
By now, everyone has returned to their homes and started to rebuild as best they can. What they have requested help with is the development of agricultural activities to supplement their meager income. Many of those affected were fishermen whose boats were lost or damaged. Because our experience working in coastal areas is limited, we are in the process of talking with all stakeholders about the best way to help them recover. Before we spend the money you so generously donated, we want to make sure that we are able to provide effective interventions that offer the most bang for the buck. We look forward to soon being able to report on our successful efforts to revive the economy.
Thanks again for your concern and generosity. We will keep you posted on future developments.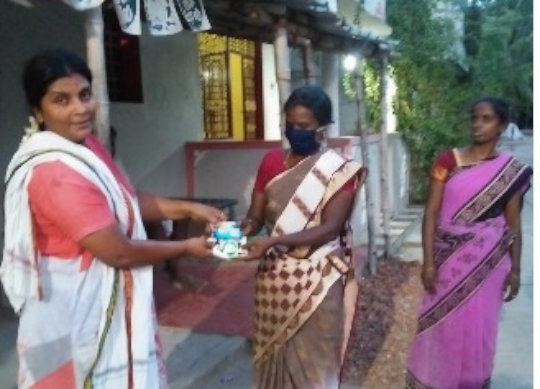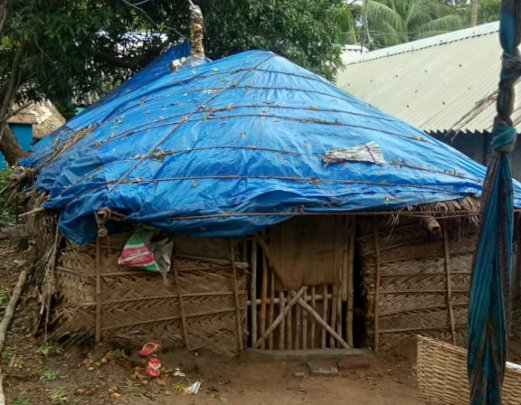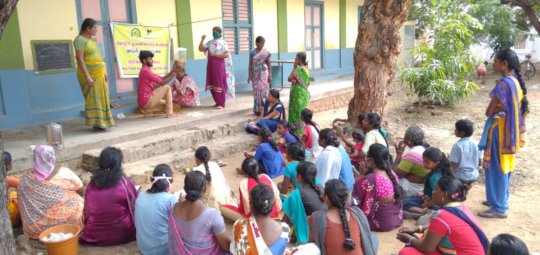 We recently held our second workshop to offer the 20 women farmers we have been working with ideas and techniques for supplementing their income with sustainable agricultural projects. At their request, his time we showed them how to grow mushrooms and distributed the straw, seeds, and plastic bags they would need to do so.
Mushrooms are easy to grow, without the backbreaking labor in the hot sun required for many crops, can be harvested in as little as 20 days, and they regrow quickly. We have already been in touch with local markets that will be happy to sell the harvested mushrooms and are hopeful that this new enterprise will be help the women recover from the pandemic and be able to earn a regular income.
WARNING: Javascript is currently disabled or is not available in your browser. GlobalGiving makes extensive use of Javascript and will not function properly with Javascript disabled.
Please enable Javascript
and refresh this page.