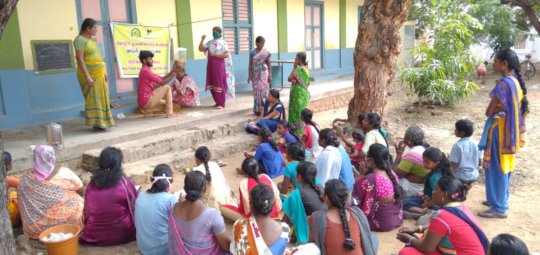 We recently held our second workshop to offer the 20 women farmers we have been working with ideas and techniques for supplementing their income with sustainable agricultural projects. At their request, his time we showed them how to grow mushrooms and distributed the straw, seeds, and plastic bags they would need to do so.
Mushrooms are easy to grow, without the backbreaking labor in the hot sun required for many crops, can be harvested in as little as 20 days, and they regrow quickly. We have already been in touch with local markets that will be happy to sell the harvested mushrooms and are hopeful that this new enterprise will be help the women recover from the pandemic and be able to earn a regular income.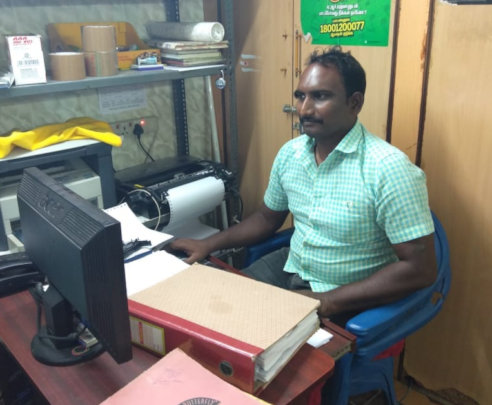 Despite having herself contracted COVID-19, Mrs. Victoria, our coordinator of activities for the People with Disabities (PwD), has continued to be dedicated to improving their lives throughout the pandemic. Last month, she took seven mentally challenged individuals to hospital for treatment, and she has begun training PwD in income-generating activities like candle making and threadwork design. She was also the chief guest at an event organized to share information about how PwD can collect the government-related benefits available to them.
And thanks to her help, we are able to report another success story:
Mr. Donald was stricken by polio when he was 4 and his right leg was permanently affected. He used a walking stick to attend school and was able to complete his 12th standard in. But was not able to study further due to the circumstances in his family's straitened circumstances and his difficulty using public transport. His parents were worried about whether he would ever be able t support himself.
Through the Mobility India Scheme, Mrs. Victoria was able to get him an artificial leg, and gave him the assistance he needed to complete a Computer Science course in Open University. Today, he works in a computer centre in Thillai Nagar and earns enough to not only support himself but help his parents and sister.
Your donations have helped fund Victoria's work, and we are deeply grateful for your support.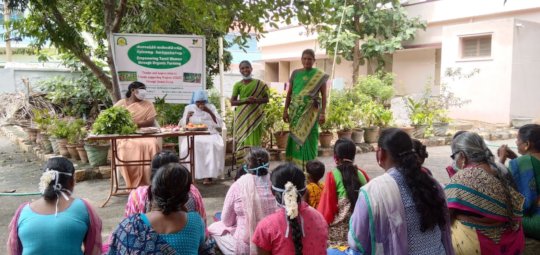 Our project to support women's agricultural enterprise has managed to continue despite the pandemic! On October 21, 28 women joined us in a workshop on using organic practices and creating value-added, commercial goods from their produce.
We began by explaining the importance of using organic practices and how it could increase the bounty and nutritiousness of their harvest. We also distributed tomato, brinjal (eggplant) and chile saplings to all attendees to help them get started, along with a detailed explanation of how to nurture them.
Next, we discussed converting their produce into value-added products that would last longer and produce more income than the raw vegetable. Staff encouraged participants to share their own recipes and techniques as we explained how to make jam, juice, and pickles from tomatoes, vathal from brinjal, and chili powder and sauces.
Participants were enthusiastic about what they had learned and were eager to know when we would hold our next workshop. In the meantime, we are developing grant proposals to purchase the food carts and explore online marketing, to help the women market their wares more effectively.
At a time when everyone is struggling, we were so happy to be able to offer these women hope, through the generous donations of our supporters.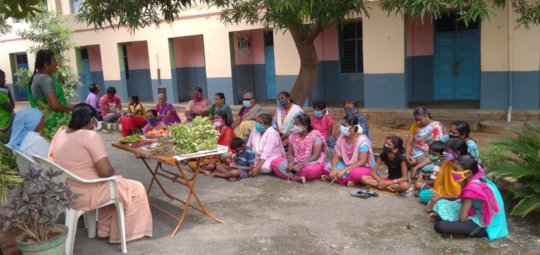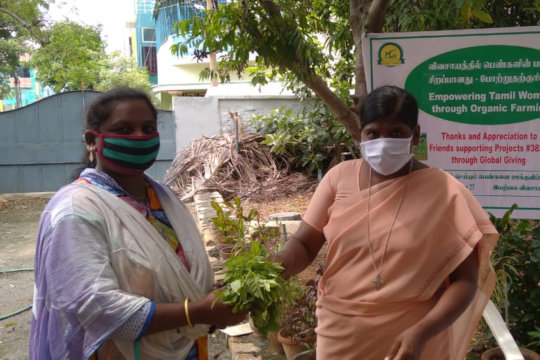 WARNING: Javascript is currently disabled or is not available in your browser. GlobalGiving makes extensive use of Javascript and will not function properly with Javascript disabled.
Please enable Javascript
and refresh this page.