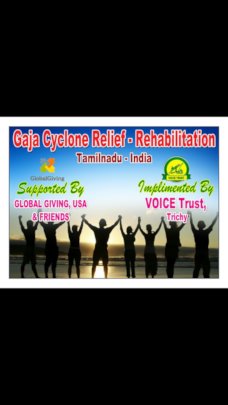 After the cyclone that hit the center parts of Tamil Nadu on 16th November 2018 which badly affected farmers and farm fields. We provided emergency relief supports to 300 families of Thiruvarur District. We provided additional supports in Collaboration with Apex Vidhyashram Groups, Chennai.
Villages of Muthupettai, Vadakarai, Kottur, Thirukannapuram received emergency relief goods because of your help. The goods we provided were:
Rice (5 kg)
Water
Grocery
bread
Jam
biscuit
tea powder
medicines
sanitary napkins
mosquito nets
tooth paste
match box
tarpaulin sheets
coils
soap
Apart from these, 260 school students got education materials, 800 packs of dresses, 500 packs of rice (5 kgs), 300 pack of groceries along with dishwasher bar and floor cleaner.
The situation of many houses was worst so they requested for Tarpaulin sheets. We provided for 50 families.
There are many more helps to be provided to bring back them to a normal stage and manage their losses.
Few supports they requested were:
Reconstruction of homes
Repair for homes
Providing long term relief by supporting them with livelihoods
Education supports for school Children
Proving of Agriculture supports for their damaged goods.
Many of them seek for our support. We will continue to give the best along with you.