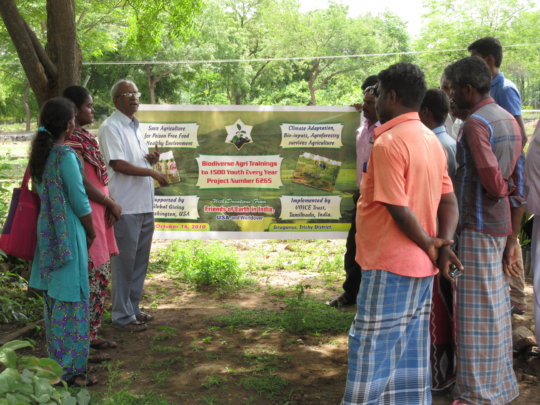 During the current three Months( April - June 2016), Voice Team continued Biodiverse Agriculture interventions supported by Friends of Earth from USA , Europe and other parts of the world, through Global Giving. Main activities were technical classes on biodiversity and practical sessions for archieving better results in agriculture especially through application of organic manures and bio-pest repellents. This is the sixth year of the project.
A new group comprising 12 farm families including the relatives of Organic Farming Expert Nammalvar, "who passed away on December 30, 2013" have firmly said no to sale of their agriculture land and said instead "yes" to Biodiverse agriculture with help of Youth trained by Voice Trust under Project# 6265. (Photo's Attached).
Following suggestions have come from Youth, participating in Project # 6265
1. Youth want 5 Days Residential Training in Biodiverse Agriculture in Voice model farm.
2. Youth prefer Seed Bank with traditional varieties which withstand climate deviations.
3. Youth are ready to make organic manures and bio-pest repellents through recycling.
Above suggestions can be implemented with little helps from Friends of Earth through Global Giving.
However small donations from you starting with $25 and going above $250.can bring about results. Please extend whatever help you can make to strengthen Biodiverse Agriculture.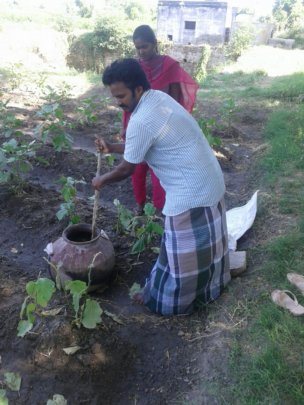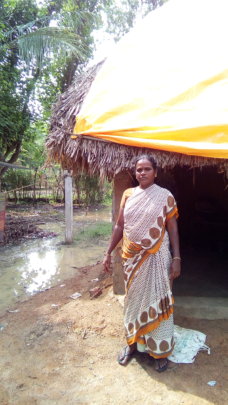 The emergency assistance rushed by friends through Global Giving has helped the flood affected people whose houses where destroyed by torrential rains of November, 2015 leading to floods in December 2015, to cover the roofs made with coconut leaves by tarpauline sheets. Thus, the flood blues are removed temporarily.
Mr. P. K. Samy and Mrs. Tamil of HESAT, a grassroute NGO collaborating with VOICE Trust informed that flood affected families of Cuddalore District around Bhuvanagiri area are now feeling secure with the tarpauline sheets provided to them as relief goods during March 2016.
The flood recovery program implemented with help of friends through Global Giving in the form of cash assistances for 100 flood affected families have enabled them to get 2 young goats each for rearing both for economic gains and ecological benefits including goat manure as nutirent surplus for soil fetrility.
Pondicherry Multipurpose Social Service Society(PMSSS) - the local collaborator for the goat rearing program under Global Giving Flood recovery, shared with VOICE Trust that the flood affected families are now confident that their economic sustainability is guarenteed. Women consider the goats as new members in their family. Men go all out to fetch green feed for supplying to the goats. Children enjoy playing with the goats. Thus the whole family enjoy the arrival of goats as the beginning of a new leaf in their life shocked by the floods of November, December 2015.
Thanks to flood relief and recovery helps provided by friends through Global Giving have opened up greater confidence among flood affected families. More helps are needed. New plans are drawn in consultation with local collaborators. VOICE Trust will share more with Global Giving further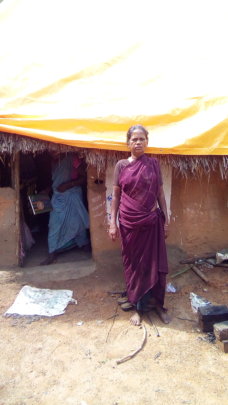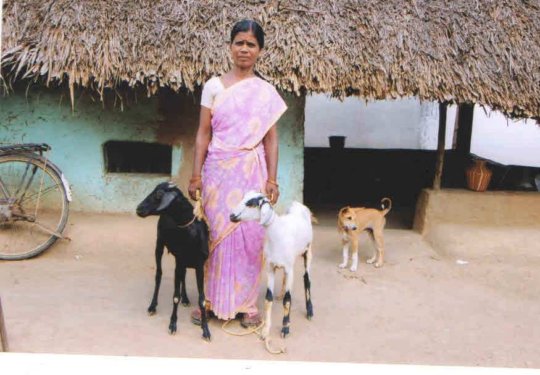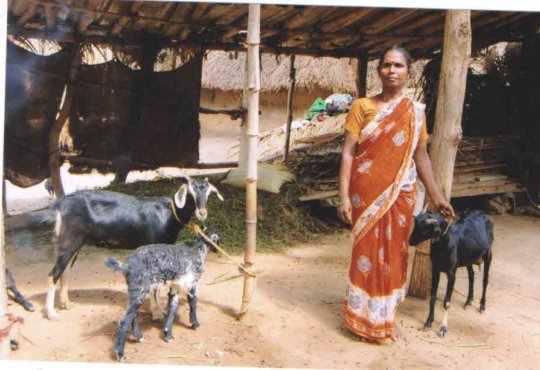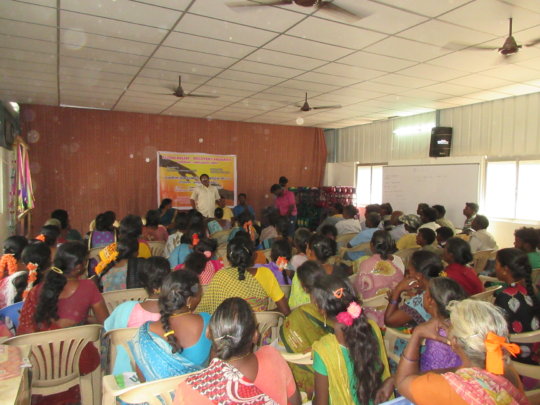 Survival Relief Packages prepared by VOICE Trust with financial assistance received from donors through Global Giving were distributed in the beginning of January 2016. Report of this has already been presented to you.
During March 2016, Second Phase Flood Relief and Recovery Programs were continued with help received from donors through Global Giving.
*150 flood affected families of Ekkaduthangal who still continue to live on the sides of the streets near metro station were given taurpaulin sheets to use as a temporary roof cover for protecting them from sun heats and rains also given were kerosene stoves to cook their food. This was a big help for them to heat water at night for taking medicenes and such an activity was not possible earlier because near by families objected to using firewood for country mud oven. Once again they were given rice in cloth bags and groceries for cooking.
*100 school children identified by Kalaipattarai through Cine Director S.P. Mukilan, were given school bags.
*160 flood affected families of Saligramam were given survival relief packages.
*40 inmates of Orphanage also helped with relief goods.
VOICE Trust is continuing to receive informations from flood affected families that the relief goods received by them because of help from donors through Global Giving has led them in a big way to return to normalcy. VOICE Team thanks the donors and appreciates Global Giving for using us as effective instruments in flood relief activities.
Special Note: Many requests have come from school Children from Flood affected areas in Chennai for educational supports beginning from June 2016 when the new academic year commences. If it is possible for you dear donors to extend such helps please assist through Global Giving.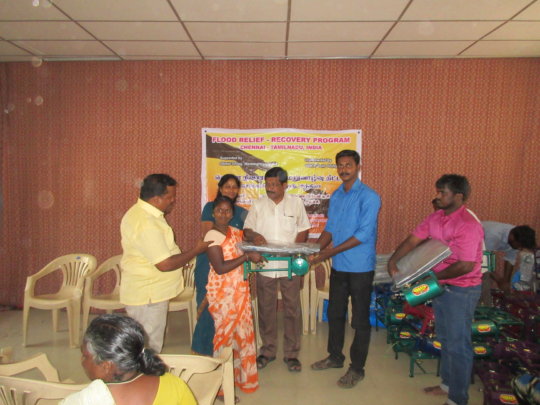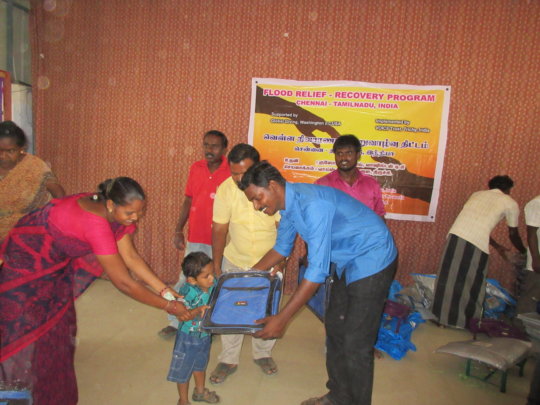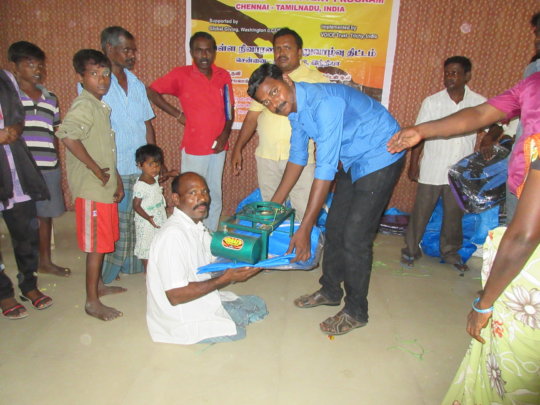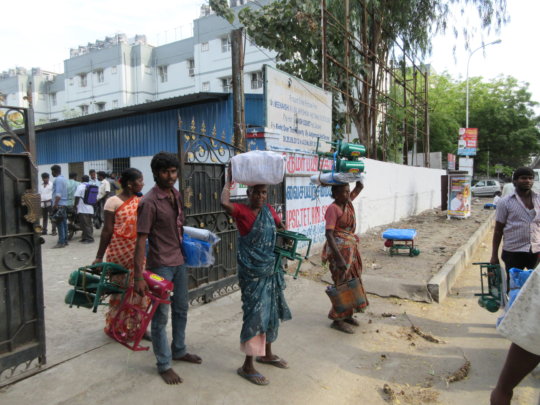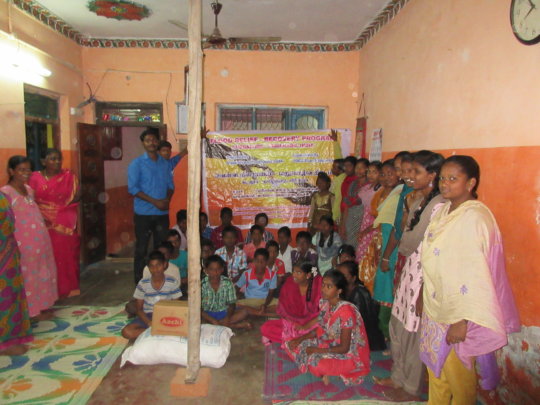 WARNING: Javascript is currently disabled or is not available in your browser. GlobalGiving makes extensive use of Javascript and will not function properly with Javascript disabled.
Please enable Javascript
and refresh this page.