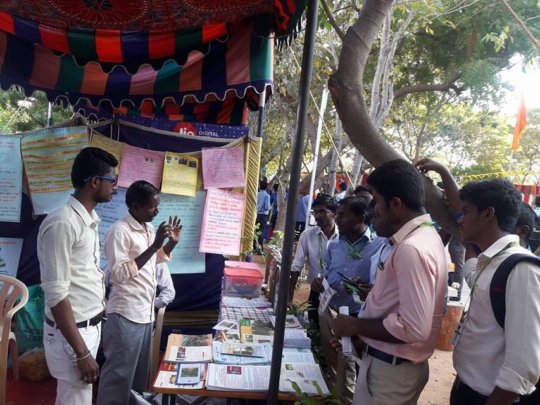 Youth trained in Biodiverse Agriculture invited VOICE Trust to convince village people to continue agriculture. During January 2017, historical evidences were presented to village people through participatory rural analysis exercises. Women and Men in villages listened to our presentation attentively and agreed to cooperate with youth in agriculture from July 2017. 180 farming families have declared that they will not sell agriculture lands. This is great victory.
Students of Business Administration of St. Joseph's College in Trichy invited VOICE Trust to explain about agriculture. An exhibition stall was setup and 636 Youth visited the stall and VOICE Team explained to them about successes achieved in Biodiverse Agriculture through Youth involvements. Different models of Nature Centric Agriculture were demonstrated. Followup enquiries have come from 42 students of Business Administration.
VOICE Trust considers these approaches valuable interventions and thanks all supporters who extend help through Global Giving. VOICE Team assures the donors that we will increase activities for convincing more youth to take to Agriculture not only for employments but also as way of life especially for the following declarations.
Agriculture for poison - free food, pollution - free environment and for poverty - free soceity.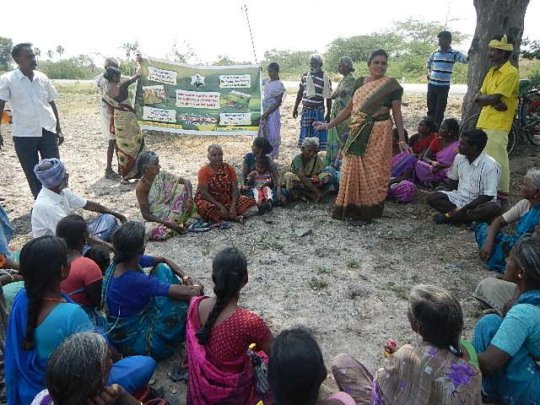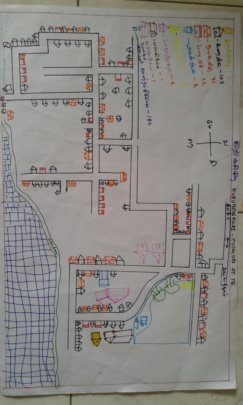 When news about floods in December in the State of Tamilnadu, many channels spoke about Chennai city and suburban areas. But, the dangers of deluge in Cuddalore and Villupuram Districts did not get prominent coverage. That is why, VOICE Trust approached many of you through Global Giving for Recovery Programs for flood affected people of Cuddalore and Villupuram Districts.
With your help, flood affected people of Cuddalore District were helped in March 2016 with tarpaulin sheets for covering their hutments and with relief supplies for 604 families. In partnership with PMSSS – the local organization, goats were distributed to women for reviving family incomes in June and September 2016, educational supports were extended to 1000 school children through HESAT- another local organization.
During October – December 2016, participatory programs were organized in Kurinjikudi and Valasakadu Villages for selecting most deserving single women and widows for goat rearing project. This was needed because many people asked for help. PRA (Participatory Rural Appraisal) exercises had to be used for telling people that most deserving should be helped. The process is on.
The title of this project is for rebuilding houses destroyed by floods. In one photo, you can see the huts covered with blue sheets given with your help in March 2016. Please hasten to help atleast small number of people to rebuild homes.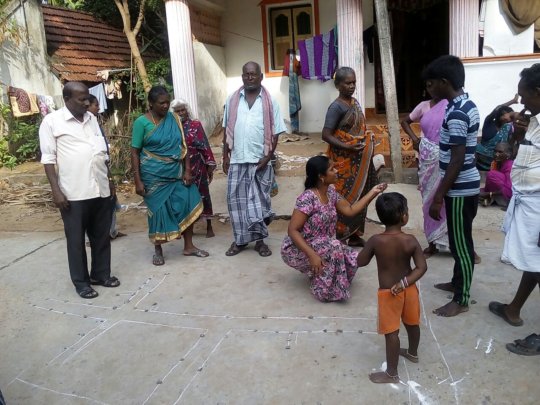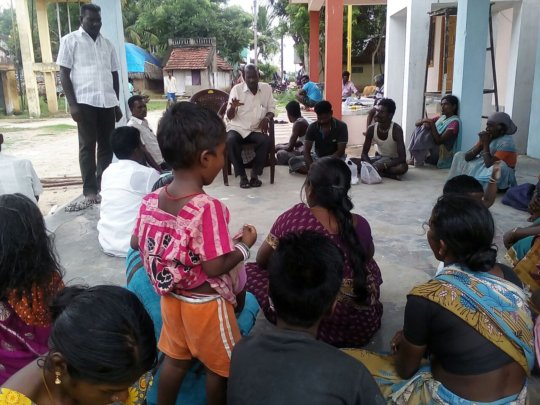 Thanks to many of you, VOICE Trust could join with Global Giving in Washington DC and social activists of Ekkattuthangal - Manali – Velacheery – Tambaram in Chennai to rush relief supplies to 765 flood victims in January 2016. With your continued help, we added recovery programs during March 2016 for benefit of 450 flood victims. Educational supports were given to 2000 children in flood affected areas during June 2016 and also in September 2016.
During October 2016, the children of Manali Orphanage were given individual counseling for strengthening them to go forward in life. During November 2016, Manali school children were guided with intellectual games. During December 2016, VOICE Trust joined with local people to take steps for keeping the water ways clean to allow free flow of flood waters. This was the cause for 2015 floods.
Kalaipattarai – the local partner in Chennai has asked VOICE Trust to approach you and other friends to extend special helps for 24 flood affected women with sewing machines so that they can review tailoring enterprises to enhance incomes for meeting family needs. VOICE Trust appeals to all of you through Global Giving to help flood affected women for tailoring projects. One sewing machine with embroidery attachments will cost Indian Rupees 7,500/= your help will lighten up poverty experiencing families in flood affected areas of Chennai.
WARNING: Javascript is currently disabled or is not available in your browser. GlobalGiving makes extensive use of Javascript and will not function properly with Javascript disabled.
Please enable Javascript
and refresh this page.