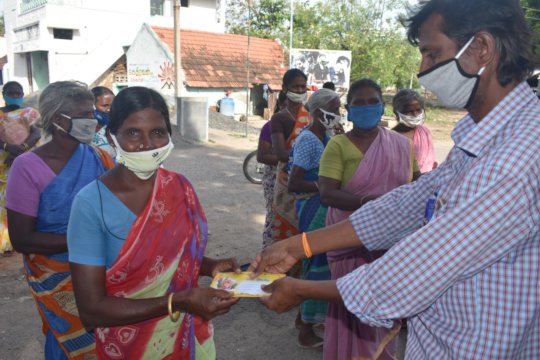 In fact, it is giving money away! VOICE Trust began distributing its first round of cash grants to struggling victims of the COVID lockdown by providing a small stipend to 20 female heads of households. Although the laws governing donations received from outside of India, as GlobalGiving's are, meant we could only give these women 1000 rupees at a time, we were, frankly, stunned (and of course gratified) by how excited and thankful the women were to receive this help.
One of these women is Indrarani, a recently widowed mother of a 1 1/2-year-old daughter. When Indrarani lost her job due to the recent COVID lockdown in Tamil Nadu, the two of them moved in with Indrarani's mother. Although she is eager to work, there are no jobs available in the area. So she now has no job, no money, and two lives depending on her. When we gave her the stipend, she was overcome emotionally, since it meant she could buy medicine for her mother and fresh vegetables for her daughter.
We will be giving these same women another 1000 rupees next week. As a result of the outpouring of support we received in response to the current crisis, VOICE Trust can continue to provide Indrarani and the others with the help they need. Each of their needs is different, but all of them find dignity and joy in being able to spend the money as they see fit.
Thank you for your support!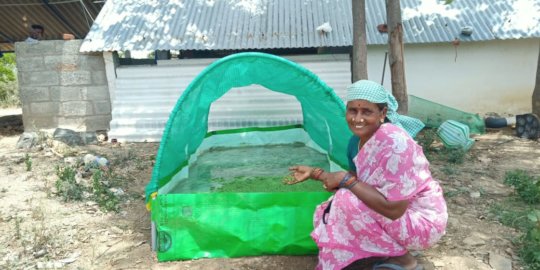 Since Tamil Nadu has been subject to a complete lockdown, VOICE Trust has been unable to continue any of its field activities. However, one of our earlier activities to support COVID recovery (when, alas, we thought the worst was past!) has turned out to be hugely helpful in the current situation. In January and February of this year, we provided 300 farmers in 15 villages with containers for vermicomposting and tarpaulin sheets for preparing manure from azolla algae. Because these farmers have already attended our workshops on creating organic fertilizer, they were able to put these supplies to use right away, without further training.

Since then, VOICE Trust has been receiving phone calls from many of the recipients to let us know what a huge benefit being able to make their own fertilizer has been during the lockdown, when farmers who rely on purchasing fertilizers have been unable to do so. The azola algae has been especially successful, since it provides nutritious feed for livestock as well as a rich fertilizer for crops. Keeping cattle and goats well fed has been a challenge for other farmers, since it is summer in Tamil Nadu, and hard to find green fodder. One of the farmers we helped reported that the cattle he fed with azolla algae gave an extra of 1.5 liters per milking. In other words, a cow that normally produced 5 liters of milk is now giving 6.5 liters. Another reported that his goats had increased in weight and were yielding especially juicy meat, which will bring a better price when he is able to sell them, and will help feed his family now during the lockdown.
Sustainable farming is not only better for the planet, it increases resiliency during hard times!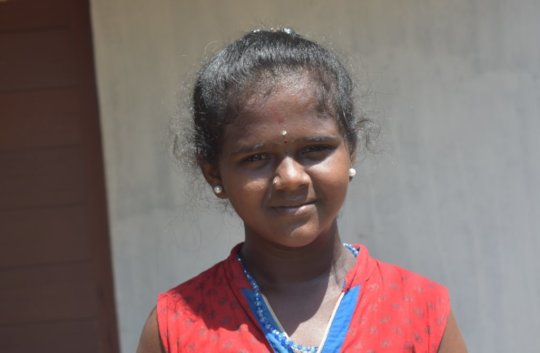 Eleven-year-old Leena has been denied the opportunity for a full life because she needs a better hearing aid than her parents can afford. She cannot actively participate in her classes or interact with her friends. Her struggle to keep up with her schoolwork and her social isolation have taken a huge emotional toll on her.
The generous donations we have received for this project provided us enough money to buy Leena the hearing aids she needs, and we had been talking with her parents and the hospital about getting them for her when the recent surge of COVID cases in India hit. So unfortunately, for now, she cannot safely be fitted for them. Indeed, for now, we have closed down all our field activities.
But we are looking forward to the day -- hopefully in a month or two -- when COVID is again under control. When Leena's family is able to safely open their door again, our team will be there to open her world.
Until then, please stay safe yourself, and reach out to help others in whatever way you can.
WARNING: Javascript is currently disabled or is not available in your browser. GlobalGiving makes extensive use of Javascript and will not function properly with Javascript disabled.
Please enable Javascript
and refresh this page.