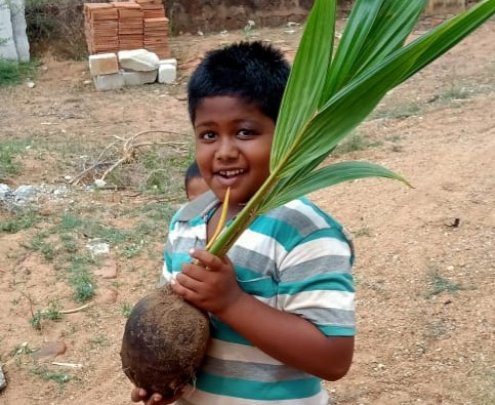 It has been six months since the Gaja Cyclone slammed into Tamil Nadu with winds that blew down more than 100,000 banana and coconut trees that had farmers depended on for their livelihoods. Although we were able to provide immediate emergency relief after the storm hit, we were not able to receive the funds you had generously donated until recently, due to GlobalGiving's temporary inability to disburse funds to Indian Banks. But, as we reported in April, we were finally able to partner with a fiscal sponsor in the US who could receive the funds and transfer them to us.
But by then the COVID crisis had changed everything. For a while, we could focus on nothing but getting food to people who were starving because of the lockdown.
Once we were finally able to begin work on tree planting, we realized that our plan to conduct workshops on the permaculture concept of magic circles was no longer viable, because of the distance the farmers would have to travel to attend them and the close proximity in which they have to be seated. So instead, we purchased 1000 coconut tree saplings, which could be distributed individually.
We purchased a hybrid Tall and Dwarf (T&D) variety that will also fruit more rapidly and more abundantly than the Tall variety, to provide a quicker road to economic recovery, while having a stronger resistance to environmental stresses, such as drought and diseases, than the Dwarf varieties.
The saplings were distributed to 600 families in the Pudukottai District, 100 families in the Thanjavur District, 200 Families in the Nagappatinam District and 100 Families in the Trichy District, based on the recommendations of local leaders.
Village leaders also helped to distribute the saplings and to explain simple sustainable practices that would help the trees thrive, such as recycling wastewater to keep the soil moist, and recycling vegetable and other biodegradable wastes for manure and mulch.
The families we have been able to help are a small fraction of those still struggling to recover. If you are able to afford another small donation, just $10 buy a sapling that will provide comfort and hope as well as support for one of the devastated villagers who feel that they have been forgotten in the wake of the COVID crisis. If you prefer not to donate online, there are many other ways you can give.
But whether you are able to give anything additional or note, please feel proud of having helped the beneficiaries in these photos and many more like them.
Gratefully,
Janet Preethy