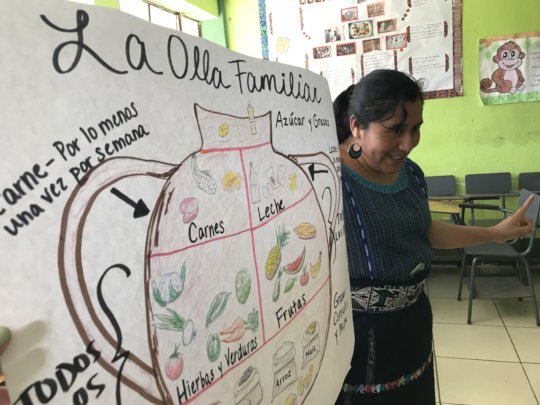 Wow, time sure is flying by. It's hard to believe another school year has come and gone. The 2018 school year marked the first full school year Rising Minds worked with our partner preschool, CEIBI. After a six month pilot of the program, kicking-off in March of 2017, Rising Minds hit the ground running in January 2018 to continue delivering weekly health trainings to the 60 indigenous preschoolers of CEIBI. With this said, we can't help but look back on and reflect about why we started this initiative.
Over the course of the last few years, Rising Minds has conducted in-depth community interviews to identify San Juan's most pressing needs. The most pertinent deficits were those in health education, surrounding issues of nutrition, proper hygiene and disease prevention, and mental health. We found that a lack of engaging education and replicable tools were at the crux of the health-issues facing San Juan, and Guatemala as a whole. Health education does not exist in may schools, as many schools lack the resources to employ health educators to deliver adequate curriculum. If existent, health education is often one-dimensional, focusing on the problems without providing accessible, affordable tools to combat or prevent them. Lacking cultural context, health education is also all too often taught by foreigners who do not speak the local language nor understand the cultural norms. This disconnect, teamed with trainings focused on national statistics rather than specific community needs, further perpetuates these health issues.
So, we decided to do something about it and launched our In-School Health Training Initiative to Empower Maya Indigenous Youth for a Healthy Future. Over the past 1.5 years, Rising Minds has been working to combat these problems by hosting holistic health trainings that cultivate awareness in communities where the majority of children suffer from chronic malnutrition, preventable disease, and a lack of awareness of the importance of mental health. Customizing trainings to address crucial health and nutritional concerns facing rural, indigenous communities around Lake Atitlan is of utmost importance to us.
We are looking forward to improving our programming and strengthening our relationship with students, parents and teachers! Also, we are working on improving and expanding our reach to to the Health Initiative's complimentary programs, which include the RM Educational Garden Program, Forest Playgroup Initiative and Family Wide Health Trainings. As we work to build our capacity over the next few months, we hope you'll continue to follow along as we embark on the 2019 school year in mid-January!