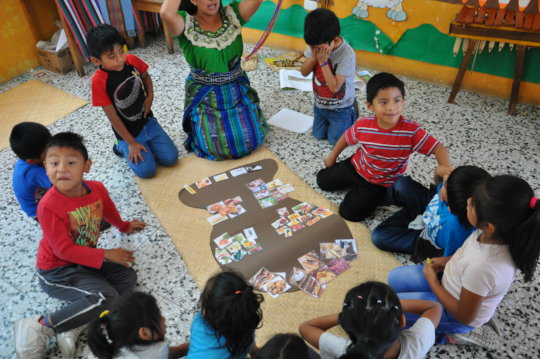 That's a wrap on the 2019 school year! The end of October marked the end of another successful year of delivering weekly health trainings to our partner preschool, CEIBI. The year culminated with our nutrition unit.
As part of the nutrition unit, the students of CEIBI learned about "La Olla Familiar," which is Guatemala's version of the food pyramid or "My Plate." A traditional clay pot is used to depict the seven main food groups: grains, fruits, vegetables, meats, dairy, fats, and sugars. The diagram represents nutritional guidelines for eating healthy and balanced meals. The first few weeks of the nutrition unit were spent using a giant cut-out of a pot, with printouts of various foods, the kids worked on organizing the food in their perspective food groups. While doing so, they also learned how often each food group should be consumed. Their knowledge of this was put to test at snack time, when they were faced with the choice between fruit and chips and cookies. We are happy to report that everyone chose fruit!
After learning about the food groups, our nutrition unit continued with vitamins. The kids learned about the importance of integrating vitamin rich foods into our diets. We covered Vitamins A, B, C, D, E, and K and learned about what foods contain each vitamin. Bonnie, our Community Health Educator, also delivered trainings focused on where our food comes from, whether that plants, trees, or animals, and how the food we consume affects our bodies. Our nutrition trainings were complemented by visits to the RM Educational Garden to learn how to grow and produce nutritionally-rich food.
The next few months will be spent developing curriculum for the 2020 school year, so stay tuned for new, hands-on, and interactive health trainings!