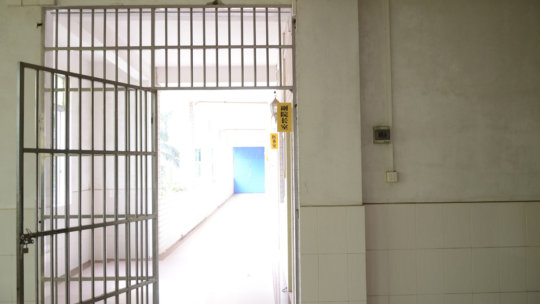 This project report is a submission to GlobalGiving's 2017 Fail Forward Contest, where organizations are asked to share a story of when they tried something new that didn't go as planned and how they learned from it. Enjoy!
With a population of less than 100,000, Huazhou in southwestern Guangdong is far too small to be considered a real city by China standards. It has to settle for mere county-level status under Maoming, the prosperous metropolis nearby. Every city in China is famous for something. Maoming is famous for dinosaur egg fossils and the award-winning opera, A Wife That Helps You Get Rich. Huazhou's only claim to fame is a chicken dish, poetically named Huazhou White Cut Chicken. In just about every way, Huazhou is an easy place to forget.
But, obscure as it may be, Huazhou's fate has somehow tangled with OneSky's not once, but twice. And now we are there to stay.
"Quite honestly, our first efforts to help the children of Huazhou in 2002 were a dismal failure," says OneSky founder and CEO, Jenny Bowen. It was that failure that led to a second chance for the forgotten children of Huazhou.
A Second Chance for Success
A few months before publication of Jenny's memoir Wish You Happy Forever in 2014, in which she recounted OneSky's struggles in Huazhou, she began to share stories from the book on our Facebook page. In response, we received a message from a supporter.
"I visited two orphanages this summer," she wrote. "One that offers your programs, and Huazhou, a small rural orphanage, which doesn't have any outside help at all.
"What a contrast! The orphanage is grossly understaffed, and it shows. I saw 30-month-olds who didn't have the strength and development to walk. This is an orphanage that gets second-class funding and, based on the condition of the kids, it needs outside help. Please help Huazhou!"
OneSky is not establishing new children's centers in orphanages these days so much as inspiring them. We know that children belong in families. In China, where institutional care for orphans is still the norm, we're doing what we can to help directors and caregivers make government welfare institutions more family-like, more like real homes.
Since 2011, we've been engaged in a nationwide effort to train every child welfare worker in China how to provide orphaned, abandoned, and neglected children with the nurturing care they need in order to thrive. We focus on teaching and mentoring—helping others to set up their own programs inspired by our OneSky Model for Children in Orphanages.
But Huazhou seemed to be light years away from being able to turn things around on its own. So our Beijing team decided to pay them a visit.
"On the way from the airport," OneSky COO Rachel Xing said, "Huazhou Director Chen Mingwang said he feels hopeless for the institution and for the children. He has little money for children to get medical treatment, and staff is in low spirits due to poor salary and benefits. Our hearts are sinking as we listen to his words.
"Then we arrived at the orphanage. We saw the place floor by floor. No activity for the children at all. They are all bare foot, sitting on the floor, looking around, dirty. Infants all in cribs… no surprise. No toys. Nothing.
"Children are thin and pale. Quite a few keep banging their heads. When I touch them, they hide away or start to cry. Something is blocking my throat now when I even think back to today's visit. We all feel urgency to start programs here right away."
In so many ways, the Huazhou story is the story of all of China's forgotten children. The orphanage, sorry as it is, is not all that unusual. The place is only one of perhaps 1,000 smaller orphanages across China where adequate caregiver training and basic resources are still difficult to come by. We know we can't directly help them all. That's why we put so much emphasis on teaching others.
But Huazhou was now real to us. The need was urgent. So the minute we received a commitment for emergency funding from an understanding corporate partner, we were on our way. On January 2, 2014, OneSky arrived in Huazhou, prepared to move mountains for the children.
Turning Things Around in Huazhou
After hearing about the situation in Huazhou from our COO Rachel Xing, OneSky's senior trainers couldn't wait to get on the ground. In fact, our whole China team was so eager to help that about half the Beijing office staff gave up their New Year holiday and headed to Huazhou.
They spent the first day surveying the situation, visiting with the orphanage director and staff, and then, when the formalities were over, they climbed six flights of stairs to see the children.
It was the very first time for Lindsay Li, one of the young support staffers from our Beijing office, to accompany a field team (something everyone at OneSky does at least once). She'd never been inside an orphanage. "I was shocked. There were bars everywhere. The whole place seemed like a prison and made me feel cold. The doors, tables, and even the beds are made of steel! The children were like prisoners locked inside.
"There was no interaction with the children. I feel horrible for them. What kind of life were they living ever since they arrived? I dared not to imagine.…"
Even veteran Infant Nurture Program Director Li Daoxin, who began her caregiving career in 1973 at a big city orphanage, was heartbroken by what she saw, "Children lie on beds made barely of a piece of wood. Some over three years old have never touched the floor. The children stared at us through rails, begging for attention.
"And the caregivers—they're indifferent to us; they don't seem to care that we want to help them. The only thing I sense from them is discontent, non-cooperation, and even a wish for conflict."
But Huazhou was certainly not Li Daoxin's first challenge and in all her many years of service, she has never given up her belief in the resilience of small children and in the humanity of those who care for them.
"Tomorrow we start our work, first recruiting new nannies and preschool teachers from the local community. Then the change begins. In time we will even win the hearts of those unfriendly caregivers."
Two days later, the new nanny recruits entered the rooms and viewed their future charges for the first time. They were quiet. Li Daoxin passed among the cribs, and as she explained the special care needed for each child, she comforted the babies, held them, and made small improvements before moving on.
Baby Wenting, born with congenital syphilis, much of her body covered with painful looking sores, was the untouchable child. None of the orphanage staff wanted to lift her, even to bathe and change her clothes. And yet, whenever anyone would glance her way, Wenting smiled as if she were the luckiest little girl in the world.
A tiny child sat slumped alone in a walker, her head on her tray. "This is Juanjuan," Li said as she crouched down beside the little girl. "Two years ago, she was to be adopted by a family from Spain but they brought her back. They said she was autistic because she never made eye contact or responded to her name or to toys.
'We never use terms like 'autistic' or 'retarded'. We know that every child has some potential and we learn special techniques to work with those who have great challenges. But those names just hold them back."
Li Daoxin touched the toddler's hair. Juanjuan pushed her face deeper into the walker tray, "Juanjuan will find her way," she said.
Our training teams arrived early the next morning to prepare their classrooms, one for each of the three programs (infant, preschool, and youth – a Family Village would follow) that would begin immediately. Most of the teacher and nanny candidates showed up promptly at nine. None of the invited orphanage staff showed up at all.
"When I first came here," said OneSky Program Officer Zhou Dan, "I felt the place was fine. The building is relatively new and there is a yard where children can play and a vegetable garden. The director was very warm and eager for our programs. But when I saw the actual condition of the children, how they were cared for, I had some worries. I had no doubt we could help, but how much we can really do depends on the staff we leave behind – how open they are to change. Today, when we began our training and not a single orphanage staff joined us, I knew we were not welcome."
Undeterred, after introducing OneSky, Zhou Dan asked the trainees to select a partner. Once paired, she instructed them to share with those total strangers, something they like about each other. The women were embarrassed but Zhou Dan encouraged them, and within minutes, the trainees were hysterical with laughter. Soon they were playing team and trust-building games like veterans of Outward Bound.
As laughter and yelps escaped from the infant nurture classroom, it was hard for some of Huazhou's unfriendly orphanage staff to resist. By lunch break, three workers had slipped into the back of the room. After lunch, seven more joined in. By the end of the week, women coming off night shift, instead of going home, were staying for class.
Getting the Caregivers to Become More Engaged
As the training progressed, trainers Li and Zhou watched the women carefully, both in class, and then during practice sessions, as they soothed and snuggled with their new charges. When the time came, they would make assignments, carefully matching each nanny to three babies. They would be especially careful in finding the women who would soon bring love for the first time into the lives of Wenting and Juanjuan.
Late in that first afternoon, when the nanny trainees returned to the nursery to begin to work with children, the atmosphere was transformed. The trainees were looking forward to their new jobs. "If the caregivers don't have time to take good care of our new daughters and sons, we can do it," one said.
Something similar was happening among the teacher trainees in the new preschool. Out went the old ideas of teachers who stood at the front of the room. Now they found themselves working hard to learn new ways to play. In class, they learned how to turn simple art projects into learning opportunities for children who had never been given a sheet of paper and a pencil.
They rediscovered the joy of play so that they might reach children who didn't know what play was. And before long, one could sense that it was not only the children's lives that would soon be transformed. As they played, they thought only of those children and how long they'd waited for love.
"I am from Huazhou," said one, "but before OneSky training I never saw this place. Now I saw longing eyes through the window. The sorrow and grief hit me then. I never felt that in my life before. Immediately, I firmly believe I belong here and should be with these children. But how can I make their sad lives full of sunshine and joy? For that, I gave myself a question mark."
Trainee Chen Yanting chimed in, "I am only nineteen years old. I am so glad and honored to take part in this training, but I was a little nervous on the day we met the children. They live behind bars. They sleep together on a bare steel bed. They were dirty and smelled bad. And even though they smiled and waved through the bars, when we came close and tried to talk with them, they became frightened.
"I was assigned to Aoshi. She is already six but cannot walk. Her file says she has epilepsy, but no one has ever seen her seizures. It is said she cries all night. I was a bit worried but I knew I must try my best to help her. On the second day, I carried Aoshi in my arms to the preschool. She looked around and then she began to cry. I could see she was frightened in that new place. I put her on the mat. I tried to give her toys to comfort her. She barely touched them. But then, when I showed her some shoes, she stopped crying. I put them on her feet. I don't think she'd worn shoes before. I took her small hands and she let me help her. I could sense that she made much effort to stand up. I held her hands and helped her walk step by step. She was so happy when we walked together. Aoshi has the sweetest smile."
As the training came to a close, the new preschool was decorated with the children's first watercolor art. As our OneSky trainers visited each room, they were greeted by new nannies and teachers, all of them bursting to tell their tales of wonder. Of course, the true story was in the children's faces. In the preschool, Aoshi, bedecked in fairy wings from the dress-up box was casually munching an apple.
Jing, a child who, just a few weeks before, could not accept affection from her new teacher – who was afraid even to take her hand, was now sitting comfortably cuddling a tiny doll like a doting mother, cooing softly, "Baby, do you want some more milk?"
A New Hope for the Children
An orphanage worker who'd once told us that the children were not capable of learning, said: "This training gives me a feeling of being wanted and needed. Seeing the children who could not walk before learn how to walk, and seeing the babies who could not sit begin to learn to sit on the mat have been the most rewarding things in my life. Now I see we can bring children a different future by our positive actions."
OneSky trainer Li Daoxin said: "Now you know that if we open our eyes and our hearts, we can try to understand why children behave as they do, instead of making judgments about them. Understanding is more important than sympathy. If we understand, we can begin to help the children from a tender place in our hearts."