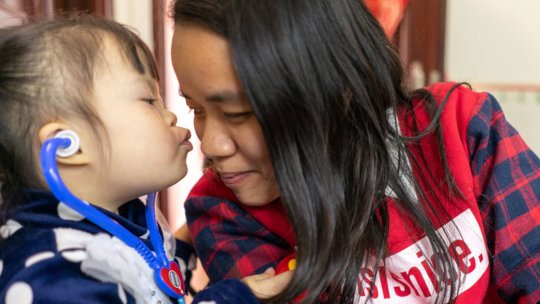 Thank you for your generous support of our work in China's orphanages. We hope you enjoy this story about a special young woman named Lili. Formerly helped by OneSky, Lili is now giving back by serving as a caregiver for abandoned children. Often, the children she helps become part of our Loving Families Program, providing permanent loving foster homes for children whose physical, emotional or cognitive challenges are likely to preclude their adoption. Until then, dedicated caregivers like Lili, using our OneSky Approach, are there for them…
When Lili was abandoned and sent to an orphanage as a baby 22 years ago, none of her devoted caregivers could ever have foreseen that one day she would grow up to be just like them.
Born with polio and given up by parents who were unable to care for her, Lili grew up in the Children's Welfare Institution located in a southern town of China. She still lives there today and works as a OneSky-trained volunteer, caring for infants who, similarly, have been given up by their parents. She also holds a part-time job teaching a handicraft class for the orphanage's Youth Program.
"If there weren't an adult taking care of me when I was a baby, I would not have survived today!" Lili said emotionally, adding: "I'm fine with doing more work and feeling tired, as long as I see those babies growing up knowing they are loved. Their situation reminds me of what I have been through. Now I am giving back and helping orphans like me."
Lili only discovered her natural ability to help hurt children after she entered OneSky's Youth Program and met her youth mentor, who has now become her life mentor.
"Lili was shy and did not talk much when I first met her. Then I discovered she couldn't speak Mandarin, only the local dialect, and was afraid to talk," recalled her mentor. "She was so eager to learn. I saw that desire in her eyes!"
The mentor taught Lili to write and speak Mandarin every day. She was a diligent student. Today, Lili is confident and speaks fluent Mandarin and is doing a great job of looking after the babies and very young children—instinctively knowing how to care for them and form a loving bond with them quickly. The mentor cited a child named Doudou as a good example of Lili's natural ability.
Lili recalled that when she first held Doudou, who was a premature baby and weighed less than 1.4 kilograms, she said: "Don't be afraid, sweetheart. I will feed you well and take good care of you."
For several months, Lili sacrificed her own sleep to feed Doudou every two hours around the clock. Thanks to her tremendous efforts, Doudou became stronger and took on a healthy, chubby appearance. In fact, Doudou improved so much that she was soon adopted out of the orphanage by a loving family.
The bittersweet happening caused Lili to miss Doudou terribly, but she was thrilled that the young girl finally had a family.
After saying goodbye to Doudou, Lili put her heart and soul into helping more children. Yuanyuan, a fragile and skinny little girl got sick frequently and seemed without joy.
Knowing that individual attention and nurturing care would benefit Yuanyuan most, Lili asked for the orphanage's permission to help watch over her. Once given the OK, she began to feed and touch the child lovingly every day. Months later, Yuanyuan's physical and emotional development has progressed and her cheeks have become rosy and lively. Today, she is studying in the OneSky Preschool Program.
As they watch Lili interact with children like Yuanyuan and Doudou, all of the orphanage staff marvel over her wonderful job of giving back to the institution she herself was raised in. They will readily concur that Lili has helped save many children's lives there. But, always humble, Lili simply calls it "her mission" to help such at-risk kids. Lili credits her mentor with serving as a role model, and giving her the tools to help as many vulnerable children as possible.
From being once cared for to now being a caregiver, Lili said she feels complete—and that she has, indeed, come full circle.
You can read more stories about the children we serve here: https://onesky.org/stories/