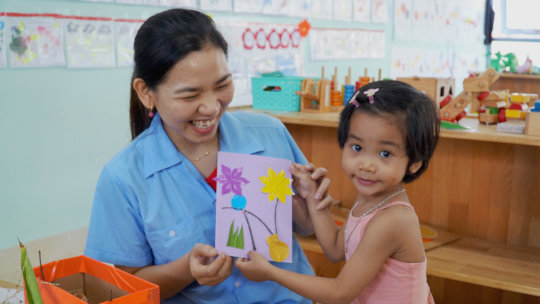 As the holiday season is nearly upon us, we would like to take this opportunity to thank you, our dedicated supporters, for your continued generosity on behalf of the children of factory workers in Vietnam. We hope you enjoy this special field report about a few of the women living in Vietnam whose lives have been impacted by our work.
Young women account for up to 70 percent of migrant workers in Vietnam's factories.
Their children lack residency status for public preschool or daycare. Where quality local private preschool is available, fees are usually higher than most can afford. Instead, they rely on home-based care (HBC)—many of which have untrained staff. In total, 1.2 million children live in Vietnam's industrial zones.
In 2017, OneSky opened an Early Learning Center (ELC) for the children of rural migrants in Da Nang's industrial zone. To help even more children, a year later OneSky provided training to 240 local home-based caregivers. Now, working with the Vietnamese government, OneSky is set to expand this service to 19 provinces across the country.
For this report, OneSky spoke to three women (and a young girl) whose lives have been changed by the ELC:
Anh, Headteacher at OneSky Early Learning Center in Da Nang
"OneSky has changed my own perspective. I used to work for a private kindergarten for 14 years, where moms worked regular nine to five jobs. The ELC moms work night shifts and irregular working hours. It impacts on the activities at the ELC and we always have to keep this in mind.
"They really love it when we do what we can to recognize their dedication and hard work. When they receive things like a little card from their children, they are so grateful. It makes me realize how hard their lives are and helps me appreciate how meaningful our work is here."
Thuy (mother) and Hong (daughter)
Thuy is a factory worker for a company producing fishing equipment. Her husband works as a truck driver. Thuy's daughter, Hong, is 3-years-old and started attending the ELC in September this year.
Before joining the ELC, her daughter Hong was looked after for two years by a home-based care center. The HBC she went to had 15 babies staffed by just two caregivers.
"We visited the school with Hong and she was the one who said she wanted to come here. She loved the garden! The whole family was delighted when she was accepted.
"Now, I see that my daughter is changing every day. She can feed and dress herself – things she wasn't able to do before. She is so much more confident. I'm very grateful that she was offered the place here. I can't wait to see how she develops in the next three years."
Tuyen, ELC Teacher
"Since I joined the ELC, I have found that working alongside female colleagues is a wonderful thing. We share so much in common and understand how best we can help each other. I get so much support from work colleagues.
"I also love that we are recognized as individuals and are encouraged to build on our own strengths."
Last month OneSky's Caregiver training was amongst the winners of the Solve MIT Innovation for Women Prize, funded by the Vodafone Americas Foundation.
* We look forward to bringing you future happenings from our work in Vietnam. To read more stories about how OneSky helps vulnerable kids, please visit the story page on our website!