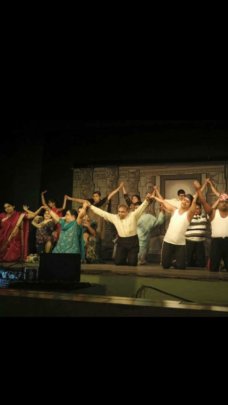 Thank you dear donors for your overwhelming support and generosity.

Indian Art and Culture truly belongs to each and everyone . It has been handed down over the years by our Gurus . They passed on their rich knowledge, creativity down to their Sishyas year after year.
RASA- Ramana Sunritya Aalaya Trust has been carrying the activities of reaching one and all- both people with normal needs, special needs, children with lower socio economic needs by educating them in the Indian Theatre Arts.
The specialty of RASA is that all this is done on a voluntary basis. There is no fee charged from the students. Whether is the daughter of a veteran film director or the daughter of one of the Helpers in RASA. No one is charged a fee for after all, Indian Theatre Arts has to reach everyone – the rich and the poor, the able bodied and the specially able, and the ones with average intelligence and those who are challenged.
Among all the activities of RASA, the one that is very special is the Theatre Arts Learning Centre.
There are three such centres specially dedicated to this section of RASA in Chennai.
One in Tiruvanmyur, Mandvalli and the other in Greenways Road.
Here is a brief write up on what happened at RASA's Mandaveli centre in the year 2016-17. This will give you a birds eye view on what happens in the centres.
The centre opened on 22nd June 2016. This centre has 22 students and a vibrant group of volunteers and staff.
Apart from the regular activities which use Music, Dance, Drama and Story telling as tools to help the specially able adults and kids reach their developmental goals, the centers students also participated in various celebrations and cultural activities.
They performed at various events like Shakti foundation, participated in Ramanya Lahiri for Sheela Unnikrishnans festival.
They took part in the Project day celebrations . the theme was "Say No to Drugs" The drama they had enacted was so good that all of us who viewed it had a few points to pick up from the same,
During Navarathri the students performed a Live Golu where they came dressed in various roles and also acted their part.
Every festival is celebrated at the Centre so that they understand and experience the spirit of it with their friends at RASA.
Apart from this , a few of our students went to the Redington office to paint their walls. Our students also assisted in some of the stalls of Anbudan at various venues .
Regular activities of theatre were conducted at the centre where the students learnt finger painting , leaf painting , collage , time concept , money concept , and various other developmental goals were met .
A few of our students are a part of the Foureeees special theatre group , and have performed at various places in the city . The "Ramayana Lahari" performed at the music , dance and drama season this year at Bapalal Bhavan , won them a lot of accolades .
The centre and its students also went for a walk around Mylapore one of the oldest and culturally rich places of Chennai.
Now all of them are getting geared up for our Mega Annual Event RASA DAY. On this day 250 students of special and normal needs come together to perform one single evening.
This show is one of its kind in Chennai and the performances by the special schools of Chennai is a treat for the body, mind and the soul.
Art and culture empowers. It empowers silently and beautifully without one even being aware of it.
Take the case of A, an adult with Cerebral Palsy who used to only gesture to communicate. Now over the years because of constant use of her voice in music sessions , and also training her voice during drama sessions, she combines her gestures with single words.
P an adult with Autism now is able to come on to the mike and recite shlokas . He used to be so shy that he would even refuse to get on to the stage at one point.
J an adult with Downs syndrome used to never be able to wait for her turn. Now with a deep passion and love for Bharatanatyam she has learnt to step to the right music at the right time.
These are some of our success stories as we continue to empower and be empowered by the use of Natya – Indian Theatre rts.