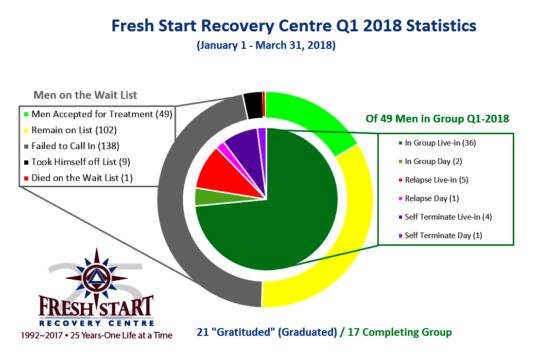 Thank YOU!
Your donation during the December 2017 GlobalGiving Accelerator has made a lasting impact on 38 of 49 men at Fresh Start during the first 90 days of 2018. These men were able to successfully practice their continuous pursuit of recovery.
For 21 of these men, your support has contributed towards the successful completion of their 12 Step program and reboot their lives to return to their families, get back to work, find a new job or enroll a program to further their education.
For the other 17 who were still in the program as of March 31st, your support has helped them progress in their program and will be a contributing factor to their anticipated success.
While each story is different - and it is pretty early to give you the long-term impact on these 38 men - here is one story that will serve to give you an idea of the power that YOU have.
My name is Chris and I am a recovering addict. I am also so much more than that! I am a son, a brother, a sponsor, a sponsee, and a student at a university.
When I was a child I suffered from an undiagnosed reading disability. I struggled in school and would act out in my frustration. This led to constant disciplinary actions; by grade six, I was suspended indefinitely. By grade eight, I was using marijuana daily and drinking whenever possible. This continued for another year until I left high school permanently and moved out of my parents' home. While working midnight shifts at sixteen years old, I met people who frequented the bars and I promptly made friends with them. This became my ticket into heavy partying and daily drug use –which lasted until I was twenty-five and my health finally failed.
My declining health was the catalyst for me to change. I wanted to return to school and retrain for a desk job. I attended Bow Valley College in Calgary and completed my high school diploma, then moved on to SAIT (Southern Alberta Institute of Technology) for accounting studies. I was able to get a great entry level job in accounting and things were starting to look up. Substances were no longer a part of my life. As my physical health started to improve, I returned to substances to deal with mental stressors. Within two years, I was back in declining health –this was the point my family helped me find the doors of Fresh Start.
Fresh Start has taught me how to "Live life on life's terms". I was guided through the 12-Steps of AA and met others like me. I am now in my third year of sobriety and things have never looked brighter. I have returned to University and this time I have been properly assessed and diagnosed for my learning disabilities. The accommodations I receive have allowed me to achieve the grades necessary to make the Dean's and President's lists for academic achievement in 2017.
It's kind of ironic but thanks to recovery the "Stupid kid" is now near the top of the class, helping others who are struggling with school.
"Thank you, Fresh Start, and you who took the step to help people like me get a second chance at a good life! I am forever grateful!"
This is #GratefulRecovery in action and your support is helping 38 others create their unique stories of Gratitude.
Early in May we will be sharing our 2017 Annual Report and a 25th Anniversary video ... we hope you enjoy both.
Until then,
The Staff at Fresh Start Recovery Centre and all we serve remain grateful for your support.
Kindest Regards,
Links: