Darius found that his life was unmanageable and wanted treatment for his disease so that he could be a better father to his children and partner for their mother. After completing the course, Darius has a renewed sense of confidence, commitment to family and appreciation for maintaining positive health and sobriety; he just recently celebrated the successful completion of his program (Gratitude). Now, Darius' kids have their dad back for good.
Thank you again for contributing to Fresh Start's GlobalGiving Campaign - "Your Gift delivers #GratefulRecovery to 18 Men" – this past December.
You helped cover just over 46% of the costs of one (1) man's recovery. This report gives you a snapshot of all the people Fresh Start served and saved in the first six months of 2018. (Men who entered the program on or after January 1st and left or remained prior to or on June 30th, 2018.
People Finding #GratefulRecovery
Since January 1st 484 unique individuals have contacted Fresh Start seeking treatment for their chronic illness of addiction. 81 (16.7%) of these men were welcomed into Fresh Start. 58 either completed, or are scheduled to complete, their program (completion rate above 70%, greater than the sector average between 5% and 10%).
During this period, more than half of the men are young (under 35), with the potential for a full, happy, productive life ahead of them. Approximately half reported alcohol as their "drug of choice"; this tends to fluctuate. Over 54% reported living in their own homes or with family or friends prior to coming to Fresh Start and 16% reported being First Nations, Innuit or Metis.
The cost of 16 weeks of treatment is $17,876.54 per person. The cost of successful program completion is effectively $24, 965 CDN per success (or $18,985 US * June 30th exchange rate).
See for Yourself
The video link below takes you on a tour through Fresh Start's program, introduces you to some men who have been through the program and now deliver it, lets you hear from those who have had their lives transformed by the program and shows you how Fresh Start began and evolved into one of Canada's most effective and most economical treatment centres.
Gratefully,
Mr. Stacey Petersen, RSW Wayne Steer
Executive Director Director of Fund Development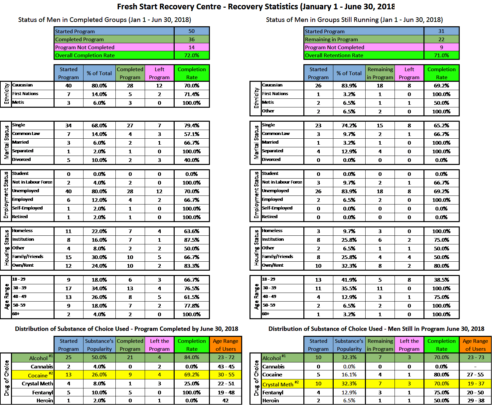 Links: