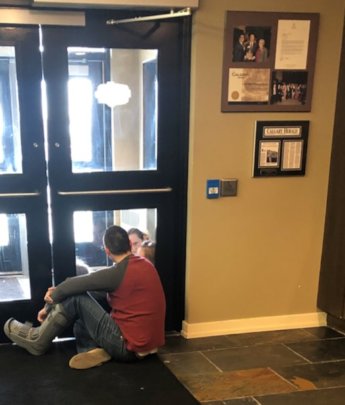 The picture above shows one of our men adhering to Alberta Health Services (AHS) regulations while he visits with his daughter through Fresh Start's front door during the COVID-19 pandemic.
This is just one sign of the dramatic changes that have taken place since our last report to you and we wanted to share with you the great work that you have helped Fresh Start complete to protect the men and their families during the COVID-19 pandemic.
We would also like you to invite you to consider joining some of our generous donors who are making it possible for you to make an even bigger difference to help man and family members - like the ones above - during the July Bonus Day on July 15th.
Safety First
On March 13th of this year Fresh Start immediately implemented AHS safety measures to protect against COVID-19 and keep men and family members safe. The plan was simple but not easy; it called for - among other things - increased cleaning of the facility, all staff who had contact with those in our care to wear personal protective equipment (masks and gloves) and sanitize frequently throughout the day as well as taking precautionary measures while away from Fresh Start.
Fresh Start's swift and decisive action paid off and we have experienced zero (0) cases of COVID-19.
Connection between Isolation and Addiction
Our Executive Director, Stacey Petersen, often quotes Johann Hari when he says, "The opposite of addiction is not sobriety; the opposite of addiction is connection" and "Addiction is a disease of isolation".
While physical distancing within Fresh Start has proven to be effective in keeping COVID-19 at bay, social distancing in our community and communities across Canada has done much to isolate people and promote increased alcohol and drug consumption.
Recent Notice from Alberta Health Services
Drug and Alcohol Use has gone UP in the last three months. Increased isolation leads to an increase in the use of drugs and alcohol. Fresh Start has been made aware of increased usage from a couple of sources. On June 4th 2020, Alberta Health Services informed Fresh Start that they had " … recently seen a higher than average number of opioid-related EMS responses in the Calgary Zone, particularly in the Local Geographic Area (LGA) of CALGARY – LOWER NE. At this time, there is no specific information available on the substance, its description, or the observed reactions. This information is being shared for awareness purposes only."
At the same time, sales of alcohol have shot up 30%.
The idea that Social distancing fuels increased alcohol and drug consumption is confirmed by the dramatic increase in demand for recovery.
Demand for Recovery is Up and Growing
Fresh Start has experienced a huge surge in the demand for recovery services through our wait list which usually sits at 120 men waiting for treatment that could save their lives. Recent wait list numbers have shot up 150% to 180, a number we have not seen since Calgary's last large-scale traumatic event - the 2013 "100 Year Flood".
Future Need for Treatment
Our experience tells thus that the need and demand are far greater than what they see on our wait list, but the size and growth of that wait list are good indicators of the magnitude of the problem in our community.
There is no doubt that Fresh Start will need more resources to handle the increased demand for services including treatment as well as post treatment housing and outreach support.
Dedicated Donors committed to leverage your donation by 100%
The Matt Rumpel Family Foundation (2019 Doc Seaman Individual Philanthropist Award sponsored by Calgary Foundation), the Sam Ousher Switzer Charitable Foundation (Calgary 2013 Lifetime Philanthropist), Lois and Dick Haskayne (Calgary 2004 Outstanding Lifetime Philanthropist) and The Alvin and Mona Libin Foundation understand this need and have collectively pledged $335,000 to match your donation dollar for dollar until August 31st so that recovery is accessible to those who need and want treatment but can't afford it.
(Note: All donors listed above have given permission for their names to be mentioned as they believe it can help inspire others like you to join them).
Your donation will go even further on July 15th through GlobalGiving's Bonus Day as follows:
Donations of

$100 - $499 USD

will be matched at

15% + 115% = 230%
Donations of

$500 - $749 USD

will be matched at

30% + 130% = 260%
Donations of

$750 - $1,000 USD

will be matched at

50% + 150% = 300%
Thank you for your consideration and as always, Thanks for you past support in making a difference in the lives of so many!
Gratefully,