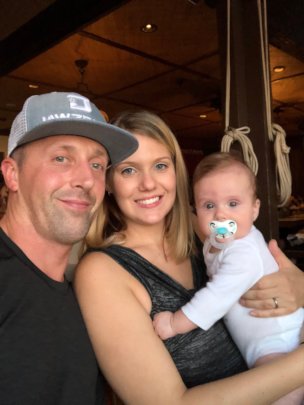 Your support makes miracles happen on a short term and over time.
Your donations help give hope to people seeking a second chance at life - a life free from the impact of their disease of addiction.
In the short term, your support helps us maintain our capable team of skilled and experienced counsellors so they can practice what they do best - giving people the tools and the inspiration to be stronger than their disease.
Through 2018, 859 men signed up to be on our wait list, seeking treatment for their disease of addiction. 134 of those men began the program and 66.4% of them successfully completed Fresh Start's 12-Step program, spread their wings and embarked on their journey of recovery with supports.
In the longer term, your generosity helps Fresh Start offer resources to the men and their families who have completed their program so that they can continue to do the work needed to maintain their journey of lifelong recovery.
Of the 135 men who started their program of recovery in 2017, 60% of them (81) have reached and surpassed the one-year milestone in 2018 on their continuous journey of recovery.
The recovery community has a saying that "just because you are further down the road doesn't mean you're any further from the ditch". Your support helps people stay "between the yellow lines" with their second chance ... one day at a time.
One story of a second chance at life is Chad's story of his new beginnings in his words:
"It's Thursday, November 15, 2018
Today I celebrate my 45th birthday and the many blessings that this year has given me. I became a dad. I celebrated my one-year anniversary with my amazing and supportive wife. I experienced my first Father's Day with our five-month old baby girl Zoey and we purchased a condo in Hawaii (yes Hawaii) where we moved a few months ago.
To say my life is a miracle is an understatement! With the gift of recovery I have an opportunity to share it with others in hopes of helping, inspiring, and perhaps showing them and you the joys of recovery.
If you are struggling - I get it. I did too … for most of my life. What I know is that you can't just need recovery, you have to want it. With a true desire to change your life, a support system and a higher power - you can and will get better. I offer you the gift of knowledge and experience; the knowledge of how I worked the steps, as you must also do to get better.
I celebrated my five-year milestone this year and I know from experience that working the steps, REALLY working the steps is a game changer.
Step 1, powerlessness and unmanageability; that was easy, and obvious if you know any part of my story.
Step 2, came easily as I was raised to believe in God and had never really stopped believing, I just fell out of practice.
Step 3, I began saying the third step prayer every day and praying for God to remove my obsession to use, and he did.
Step 4, my nemesis. I hated step four, and I still do. Make a moral inventory?! We bury all that pain for a reason, and the last thing I wanted to do was dig it all up again, so I made every excuse I could to avoid it. The only reason I was granted parole was due to my release plan, which was to come to Fresh Start for treatment. I gave it my all, I didn't want to have to do it again, so I knew I had to get it right the first time.
Step 5 involved holding poor Sister Mary hostage for 3½ hours as I shared everything with her and with God, even some things I didn't have the balls to write down. This was the most liberating feeling I've ever had. It just felt so good to let everything go.
I reviewed my Step 6 list, and said my Step 7 prayer, which I still say every night to this day. We work on the outside, and God works on the inside.
Step 8, I made a list of everyone I had harmed, and became willing to make amends to them all. This is not to say I was willing right away, but I became willing.
Step 9, I've only made a few amends so far, and all of them have gone well … better than I expected. I made amends to my parent's. I read them a list everything I had done to harm them throughout my addiction, and I apologized for all of it. By the end of it all we were crying tears of joy and relief. Today I have a better relationship with my parents then I can ever remember having before.
I can never make direct amends too all the people I sold meth to over the years. It's just not practical, and it would be dangerous. So, I found a way to make indirect amends for these actions.
With my "sponsee", Chris, I started Calgary's first Crystal Meth Anonymous (CMA) group, with the hope of helping others recover from their addiction to crystal meth. The meeting has exploded! This was long overdue in Calgary, and every time I see somebody there that I once used with getting help, it warms my heart.
Step 10, I'm really not looking forward to ever doing another step four again, so the way to avoid this is to stay vigilant with my step 10 by admitting my wrongs as soon as I realize I've made them, and not letting any resentments grow.
Step 11, I'm not really one for meditation just prayer and quiet reflection. I make a habit of praying every day and asking God for the knowledge of his will.
Step 12, I do a lot of service work for my home group in NA not to mention CMA, I stay connected to Fresh Start and help by donating my time to the alumni whenever possible. Of course, I make a conscious effort to practice all 12 spiritual principles in all my affairs. We practice Conscious Contact versus Conscious Comfort.
By following these steps, you can experience the miracles of recovery and I thank all of you for helping to make this possible.
With Deepest Gratitude and Respect,
Chad B.
*******************
Thank you for being part of the magic in making miracles like Chad's second chance happen!
If you are happy with the work you are doing with Fresh Start, please share with your friends and invite them to join you in supporting Fresh Start.
If you think there is more we can do, please share with us.
Gratefully,