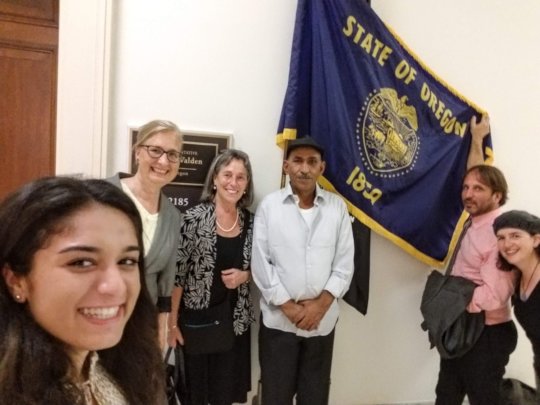 Dear Friend,

If you've ever wondered what it is like to 'walk the halls of Congress', here is Sara's report of our June visit to keep the Palestinian Bedouin village of Khan Al Ahmar standing. During our trip, we met with 29 offices in just 4 days' time. Eid Jahalin, spokesperson for Khan al Ahmar, presented the village's own master zoning plan and that has made all the difference. Just after our Washington DC visit, the village petitioned for approval of that plan — and the High Court agreed to reopen their case. Their petition will be heard on August 1, 2018.
Our next step is to bring Palestinian children to present their Pinwheels for Peace to Congress, Sep. 23-29th, for International Peace Day. Out of all our visits and briefings to Congress, bringing the children is by far the most effective advocacy to keep Palestinian villages standing. This will be our 4th such briefing and we need your help to make it happen.
This Wednesday, GlobalGiving will be matching all donations to this project by 50%.

Please give generously to support our work, and give early in the day. The Bonus Day starts at 9am EDT and matching funds will go fast.
Sincerely,
Donna

From Sara, a new staff member at Rebuilding Alliance whose first day on the job was the day she joined us in Washington DC :
From June 25th-28, alongside Eid Jahalian and planners from the Israeli human rights group BIMKOM: Planners for Planning Rights, Rebuilding Alliance walked up the halls of Congress to assure a future for the Palestinian Bedouin village Khan al-Ahmar. We were there because on May 24th, the High Court of Israel ordered that at any given moment Khan al-Ahmar could legally be demolished, without any viable alternative for its people. Our trip to Washington D.C took shape the moment Eid received his U.S. visa, just two days before his arrival. We were there to ask the Senators and Congresspeople of the United States of America to intervene.
Before I begin telling the story of our time in D.C, let me tell you more about why we were there. You see, any structure in Area C (where Khan al-Ahmar exists) is vulnerable to receiving a demolition order if it does not have an approved masterplan. Yet, there is a catch; Israel's Civil Administration, a branch of Israel's Army, is not approving Palestinian master plans.

The villagers have sent in several plans to avoid these demolition orders, which all have been either ignored or rejected. And on February 7, 2018 the High Courts of Israel executed demolition orders for 17,000 Bedouin structures. Following, on May 24, 2018 the Courts announced that the village of Khan al-Ahmar may be effectively demolished any day after June 1, 2018.
Khan al-Ahmar is home to 191 villagers as well as the home of the famous Tire School. In addition to the families that will be forced to leave, there are also 175 children that travel from nearby villages to attend the Tire School in Khan al-Ahmar. The humble school was made with tires, compressed earth, and falafel oil (really!), and was built with the help of an Italian non-governmental organization.

The idea of demoliting a village is unsettling in its own right. Yet, to demolish a village that provides education to so many young children is especially horrid. And although all the children will nevertheless experience the ramifications of losing their school, the young ladies of the village-communities will be most affected. In Bedouin culture, girls are not able to travel far from their families for any reason. Thus, once it was created, the Tire School was the first time these girls were able to get an education and they absolutely love it.

Before I go any further, I ought to introduce myself; my name is Sara Azmoudeh, I am Donna's personal assistant and my first day on the job was actually our first day in D.C. Before joining Rebuilding Alliance I was a student at UCLA, finishing my undergraduate degree in Philosophy. A week before graduation I accepted the position with Donna and before I knew it I was on a plane headed to D.C to learn about the chaos surrounding Khan al-Ahmar. It was some mild 'on the job training' to say the absolute least. Yet, it nevertheless turned to be one of the best experiences I have ever had in my life.
The second we landed, I could feel the energy of our team pulling together. Eid, Donna, Nava, Donna, Alon, and myself were all ready to convey our message to congressional members and allow for them to understand the severe condition of Khan al-Ahmar.
Our meetings began with Donna introducing the team and then Eid Jahalin, the spokesman from the village, telling his story. Eid speaks some English, but because he is fluent in Arabic and Hebrew, Alon, who is also fluent in Hebrew, would translate his story. Following, Alon and Nava would pull out their maps to show Congressional Staff the logistics of the planning problem. And all throughout, Donna would articulate the seriousness of the matter.
It was extremely powerful to hear the story of Khan al-Ahmar be spokesman from the village itself. There were moments where my eyes would even fill with tears as I considered the devastating fate that Khan al-Ahmar could experience. Every once in a while I would lean back in my chair and feel 'awed' by the nature of our meetings. We would sit in rooms with Americans, Israelis, and Palestinians to discuss a very tangible peace; and what a beautiful thing that is.
On Monday, June 25 we met with exclusively Democrats from the House of Representatives. We met with staff from Representative Debbie Dingell's office, Rep. Mark Pocan's, and many more. The staff members were engaged, concerned, and willing to hear the story of Khan al-Ahmar unfold through eye-witnesses and experts on the matter. By just the second meeting our team was fluid and able to send the message that two calls from their office would really make a difference.

On Tuesday, and Wednesday, we ran back and forth between Senate and the House of Representatives. One may assume that the two buildings would be fairly close to each other; yet, our team definitely got something along the lines of a cardio-workout jogging between the two. On this day, we also had the privilege of meeting with Republicans and were thrilled to get such positive feedback from them too.
In most cases, we were able to make the set of issues occuring in Khan al-Ahmar a non-partisan issue. And it was a really amazing thing to see how human beings are able to connect with each other on such a basic level. We all have families; we all come from somewhere, and having those values threatened was a concern to the staff members regardless of the nationality of these families.
Thursday, June 28th was our grand finale and the nature of our schedule proved that to be true. We were exclusively planned to meet in the Senate house on this day. Yet, we were not the only group fighting for a cause on this day. The protesters from the Women's March fille the ground floor atrium of the Hart Senate building and as we watched, they were arrested to the applause of the supporters who lined the balconies.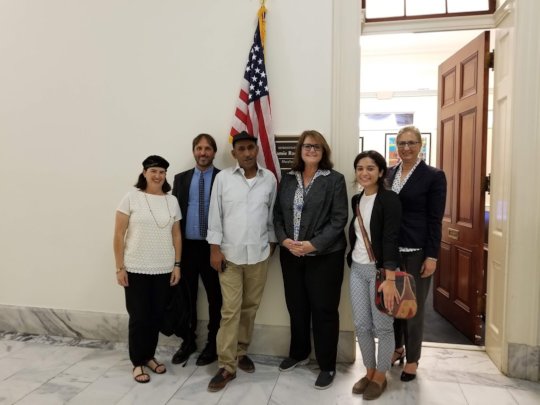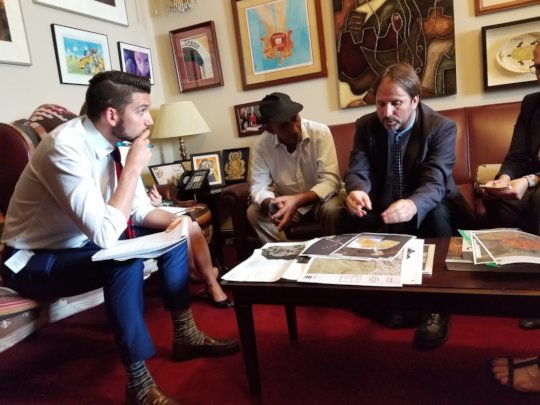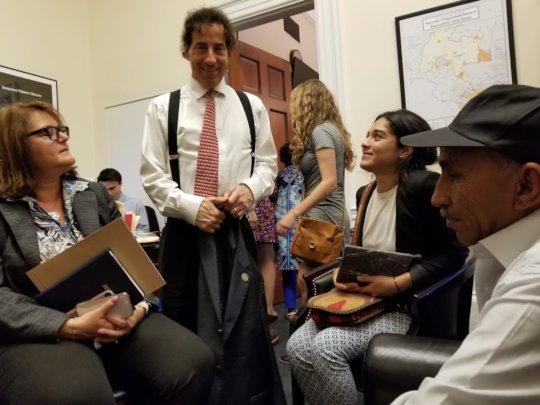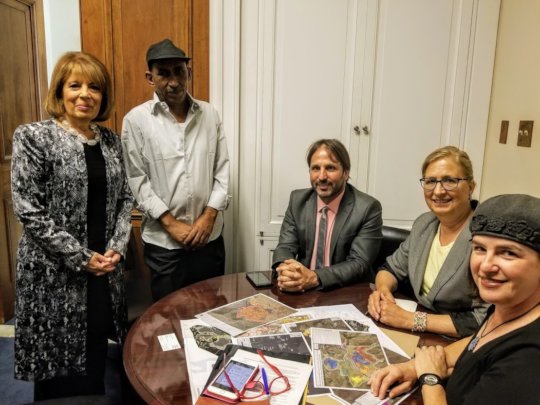 Links: