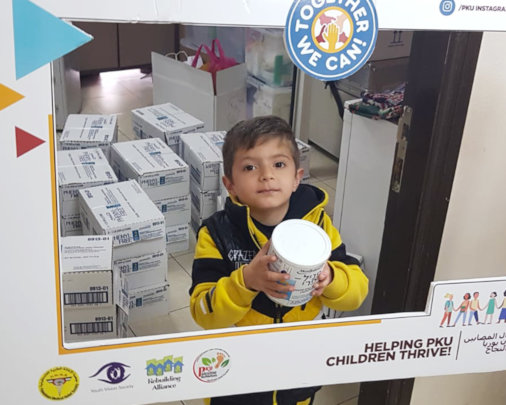 In this time of emergency in Gaza, I want to tell you that thanks to your support and a matching grant from OneDaysWages.org, we delivered a 2nd shipment of vital medical food to PKU children 3 years old and up in Gaza, with also made a small delivery to PKU children in the West Bank. Your donations purchased 860 cans for Gaza and 140 cans for the West Bank. Thank you!

We chose children over 3 years old because we understood that the PA Ministry of Health and Palestine Children's Relief Fund (PCRF) were guaranteeing medical food for babies 0-36 months. To our horror, just as we were making our 2nd shipment of medical food deliveries in February, we learned that the parents of PKU babies were being turned away because there was no Type 1 medical food available in Gaza at all.

We wrote and called the PA Ministry of Health who did not reply. A volunteer on our team, Dr. Kimberly, wrote an urgent message to PCRF. They promised to address this and explained that procurement would take a long time.

"If the babies don't get their medical food, they suffer irreversible brain damage. That's why Rebuilding Alliance took all the funds accruing for this project and sent our own emergency shipment of Mead Johnson Type 1 medical food which just arrived on Sunday, May 9th, 2021. The medical distributor was so dismayed by this crisis that they gave us a deep discount." — Donna Baranski-Walker, Exec.Dir. Rebuilding Alliance
WeI know our NGO partner, Youth Vision Society, will do their best to deliver — this is a huge challenge now, with the bombing of Gaza that's currently underway. Thankfully the shipment arrived before the borders were closed.
________________
Every Sunday from the time we started this project, Rebuilding Alliance staff and an international volunteer team meet to tackle the crisis of medical food for Palestine's PKU children and the related crisis: the lack of newborn screening for metabolic conditions including Phenylketonuria (PKU).
About newborn screening, we've learned that the immediate is resolved, the backlog is being cleared and the Ministry of Health lab in Gaza will have enough test kits to screen 6000 babies a month, through August 2021 at which time testing will stop. Rebuilding Alliance is hoping to apply for a Rotary Global Grant to provide an automated testing machine but this may be a long shot as the only metabolic testing lab in Gaza is a Gaza government lab and we as Americans are not allowed to provide material aid to that government. This will require careful diplomatic intervention.
To fully understand the depth of the problems faced by PKU families, Rebuilding Alliance created a comprehensive questionnaire in Arabic and English for parents and guardians of PKU children. The 36 questions range from: age of diagnosis, availability of medical food, the amount of medical care children are receiving (if any), history of PKU in the family, and more. More than 130 responses have already been collected from Gaza families, and the questionnaire will go to those in the West Bank next. When the PA Ministry of Health stopped delivering medical food in 2017, most of the families could not afford buy it on their own. As a result the chlidren suffered immensely and four died.
Recently Youth Vision Society held a small workshop led by nutritionists for a small group of parents. The nutritionists taught them about the proper diet for PKU children. Parents and guardians were enthusiastic about the workshop and are eager to attend more. Dr. Nadirah from Al Makassed Hospital in East Jerusalem, a specialist on Rebuilding Alliance's team, hopes to train nurses, nutritionists, and other medical professionals so they can provide expert advice to PKU families. Dr. Nadirah is the Consultant Clinical Geneticist and Consultant Clinical Biochemical Geneticist at Al-Makassed Hospital- Jerusalem, Caritas Baby Hospital- Bethlehem and the Specialized Pediatric Medical Center Ramallah.
If you've read all the way to the end of this report, you can see that the path forward is daunting. However, PKU children deserve to lead full, healthy lives and they are extremely lucky to have your support, and so are we, because you make our work possible. Thank you so much!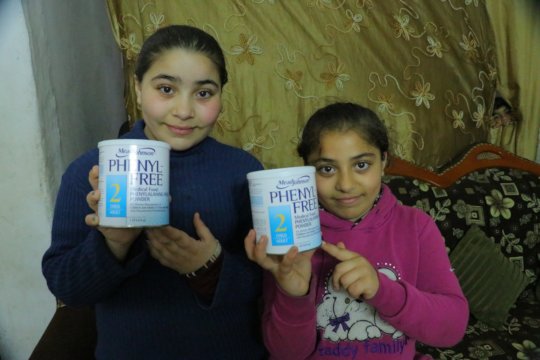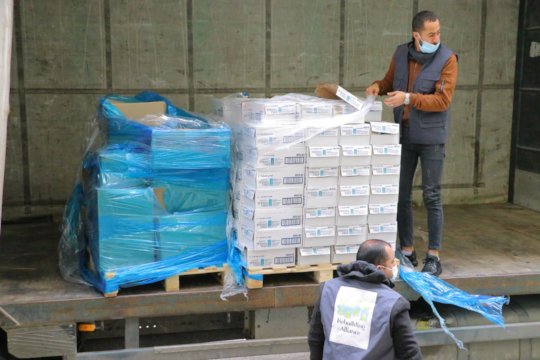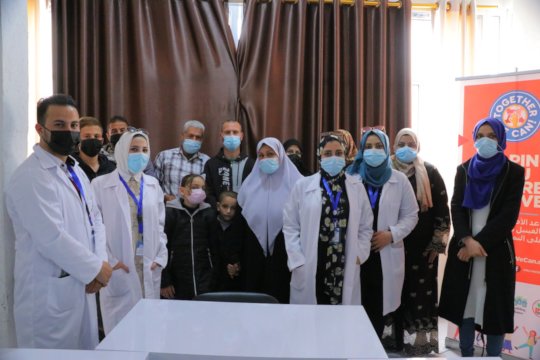 Attachments: