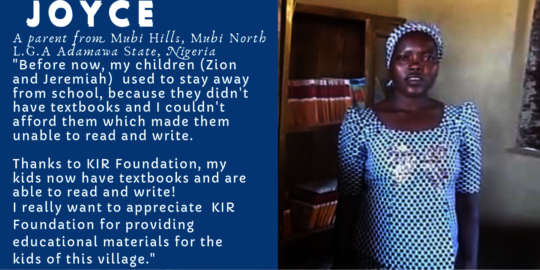 Mubi Hills is in North Eastern Nigeria and since 2017, Keeping It Real (KIR) Foundation has been working with our implementing partner CDM Foundation (CDM has been working with the communities in the Hills for 30 years) to provide educational support for children like Jeremiah and Zion. The focus of the project is to provide educational materials (text books, exercise books, writing materials, storybooks and teaching resources for the schools ), reading corners and four classrooms blocks that will enable 270 primary school children of poor rural peasant farmers in Northern Nigeria who have been traumatized by the Boko Haram insurgency (their school buildings have been damaged and education have been disrupted) to have safe and hygienic spaces to enrol, remain in school and learn.
In the remote village of Lila, one of the communities in Mubi Hills, the parents of our beneficiaries are poor illiterate peasant farmers who have the back breaking work of earning their livelihood in a very tough and hilly terrain. Thus, for families in these villages, the African Proverb; "Many hands make light work", is a lifestyle. The children assist their parents in the farm to help put food on the table and this limits the possibility of their going to school.
Yet, mothers like Joyce wanted nothing more than to give her children (Jeremiah and Zion) a chance at a better life. However, she could not send her children to school, because she could not afford to buy textbooks and writing materials and thus they were unable to read and write. However, with your investment in Jeremiah and Zion; dear donors, parents like Joyce can send and keep their children in school, because they now have textbooks and writing materials and are learning in a safe and healthy environment.
Joyce is really happy and grateful to you dear donors, because now her children have been given the opportunity she could not give to them and stand the chance of having the better life that she wished for. We know that with your sustained support, we can achieve permanent and positive change in the villages that we work in, as children like Jeremiah and Zion become educated and healthy adults that will lead their communities out of poverty and build resilient societies!

We especially thank our recurring donor whose relentless support has helped us to provide the textbooks and educational supplies! However, we still need $34,219 to ensure that the project continues and is completed. CDM Primary School Lainde still needs flooring, windows and desks. While the toddlers in CDM Nursery School Gilmari need our support, because they do not have desks to sit on and are presently sitting on the floor.

Kindly consider becoming a recurring donor and donate to the https://www.globalgiving.org/projects/educate-270-children-in-northern-nigeria/ and please encourage your friends, family, and colleagues to do the same. All donations are tax-deductible for U.S. taxpayers to the full extent permitted by the law. Your donations will help us break the cycle of poverty by providing quality education for our rural beneficiaries. Also visit our blog www.kirfoundation.blogspot.com to learn more about us.
Links: