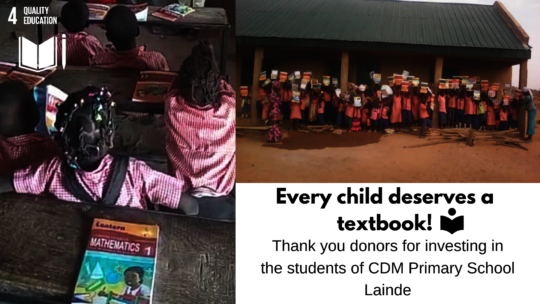 Textbooks are the most commonly used type of books in schools. Textbooks are especially important to improving learning outcomes in low income countries like Nigeria with large class sizes, a high proportion of unqualified teachers and a shortage of instructional time. Therefore, besides a committed and equipped teacher, well designed textbooks and instructional materials for the teachers and students in appropriate quantities are the most effective way to improve instruction and learning. According to a Global Education Monitoring Report; 'Textbooks are recognised as core for the new Sustainable Development Goal on education'.
However, in Nigeria, students at all levels either lack books completely or are required to share them expansively with others. Therefore, deprived of textbooks, children spend many of their school hours copying content from the blackboard, which drastically reduces time for engaged learning.The cost of textbooks is indeed a key barrier that prevents children from having access to the learning materials that they need.
This was the reality for children like Samuel, Alice and their classmates in CDM Primary School Lainde one of the remote villages in Mubi Hills in Adamawa State, who prior to your investment dear donors had never had access to textbooks. According to James, the Coordinator of CDM Primary Schools, it has been 12 years since the students in Lainde got textbooks and instructional materials. The fifty - two students in CDM Primary School Lainde all got textbooks and educational supplies, because of your generous donation.
The PTA Chairman of CDM Primary School Lainde Mr. Koji and one of the parents Mr. Markus, expressed their gratitude to you donors because in their poor rural community where all the parents are peasant farmers, it is extremely difficult for the parents to pay the school fees. Most of these poor families who are able to send their children to school, find it very hard to buy the textbooks and instructional materials, therefore affecting the chances of their children completing and succeeding in school.
Dear donors, your decision to invest in these children make it possible for children like Samuel, Alice and their classmates to stay in school, finish and pursue their dreams, just like your own children. We are enormously grateful to you that your giving has put textbooks in the hands of these poor children in the rural community of Lainde, thereby giving them an opportunity to break the cycle of poverty.
We especially thank our recurring donor whose relentless support has helped us to provide the textbooks! However, we still need $33,969 to ensure that the project continues and is completed. CDM Primary School Lainde and CDM Nursery School Gilmari still need flooring, windows and desks.


Kindly consider becoming a recurring donor and donate to the https://www.globalgiving.org/projects/educate-270-children-in-northern-nigeria/ and please encourage your friends, family, and colleagues to give during #GivingTuesday on the 3rd of December. All donations are tax-deductible for U.S. taxpayers to the full extent permitted by the law. Your donations will help us break the cycle of poverty by providing quality education for our rural beneficiaries.
Also visit our blog www.kirfoundation.blogspot.com to learn more about us.
Links: