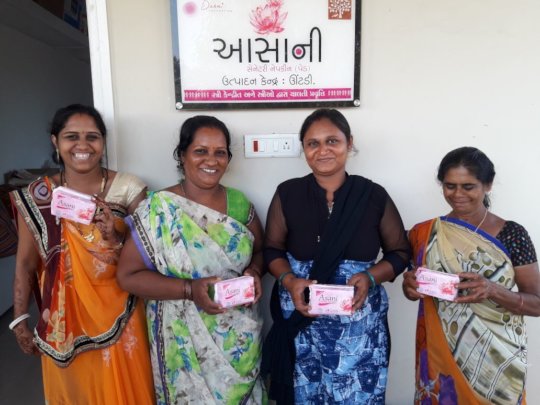 As we prepare for Menstrual Hygiene Day (May 28th), we are excited to share an update with our Global Giving community about our current initiatives and our progress with our new SWACHH machine. Since the purchase of this groundbreaking machine, we are pleased to report that we have improved the quality of our Asani products and have received positive initial feedback from our customers. With this machine, a new Asani technician was hired to help program the equipment and provide any maintenance support needed. Since transitioning to this upgraded machine, we are delighted that we have already been able to increase our sales team from seven to fifteen women, with each woman selling 100-200 pad packs per month.
Meanwhile, in the U.S., we have also made some progress! May 1st marked the launch of a new Desai Foundation advocacy campaign called #PledgeYourPeriod - which aims to get our U.S. community more deeply involved in supporting our work with Asani and exposing the reality of the issues around menstrual hygiene in India. Though this campaign is still underway, we have seen that this subject remains a controversial topic of discussion in the western world. The campaign encourages both men and women to share on social media why they believe this is subject is important to talk about. We have learned through this experience that a taboo still exists (in the U.S.) around openly talking about this topic. We have been affirmed that much work is still needed!
In the coming weeks, gearing up to Menstrual Hygiene Day and our 1 year Asani anniversary, we are planning events in both the U.S and India.
In New York City on May 30th, we are bringing men and women who have contributed to the #PledgeYourPeriod campaign together to share what they learned in this process and how it felt for each of them to speak publically about Menstrual Hygiene. Please let us know if you are in the area and are interested in joining us!
In India, we are holding two events in honor of MHM Day and are expecting approximately 300 women for each event. Like last year, this celebration is an important occasion for women and girls to come together from many different communities to ask questions about their periods, and learn from both medical professionals and their peers. We hope that through these events we will be able to help more women and girls to understand their bodies and rid themselves of the fear and cultural based shame around menstruation.
As we prepare for our 1 year Asani anniversary, we are humbled by all that we have accomplished this year with your support and hope that you will stay with us on our journey as we continue to spread Asani's message in new communities throughout the year to come.
Thank you for being a part of our team!
Sincerely,
Tess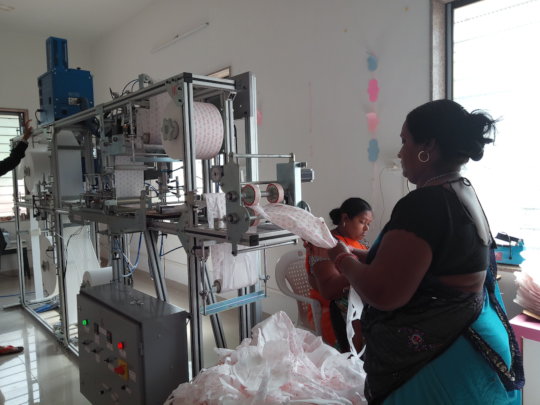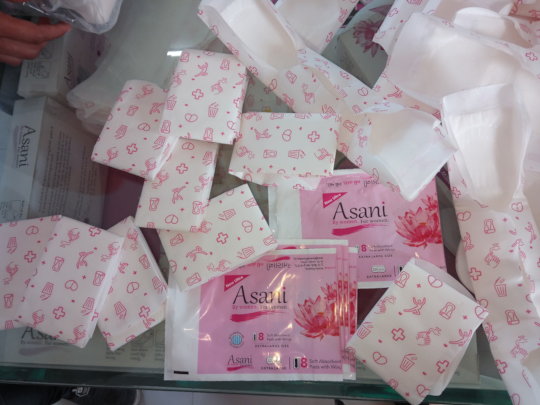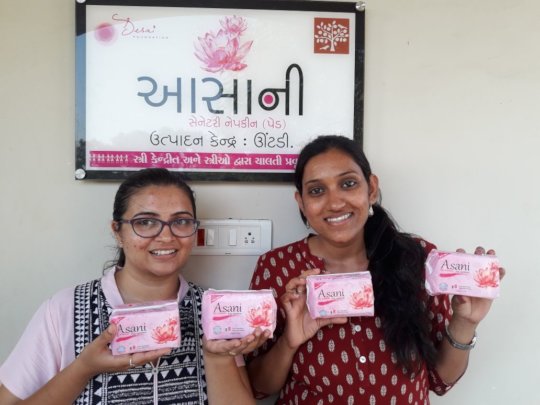 Links: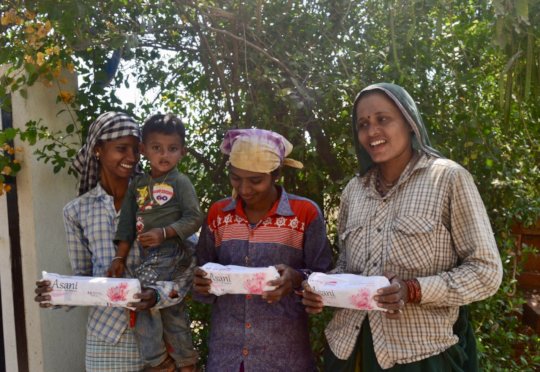 Thanks to your support of our #PowerofaPad campaign and your investment in providing women in rural India access to menstrual health and hygiene we are excited to announce a new chapter for Asani! The funding generated from your donations has enabled us to purchase a new groundbreaking machine that will increase our production speed to 16 sanitary napkins every minute, allowing us to improve the quality of our product and simultaneously hire more women to help us serve more communities.
Throughout the past ten months, we have been humbled to watch as bit by bit more women and girls have adopted sanitary menstrual health practices through our Asani products and programs. However, we learned through listening to our users that due to the hand made nature of our pads, some of our customers were experiencing a problem with the pads bunching or the adhesive being too strong. We listened and sought out a solution to improve these issue. Thanks to your support we have now secured a cutting-edge new machine that will: create pads which are even more sanitary, eliminate the issue of bunching and use a softer gel adhesive.
Since the inception of Asani, we have taken great pride in the program's ability to provide reliable employment and job-training for women, most of whom have never had formal employment, and are happy to share that this switch will enable us to dramatically elevate our job opportunities. With more efficient production, we will now be able to scale up our sales and distribution team and hire a female engineer while maintaining our current production team. We are thrilled to be able to offer more women the opportunity to become educators, entrepreneurs and ambassadors for menstrual health and hygiene; providing more rural women and girls with the basic needs to grow and thrive.
Our team looks at this new chapter as a super-boost in chipping away at the antiquated stigma around menstruation and as we prepare for spring are excited to share that menstrual health and hygiene will now be a part of our school curriculum! As we launch these new developments for Asani... we invite you to join us as a recurring donor and train more women in the principles and practices of MHM every month!
Sincerely,
Tess Fenn
Director or Partnerships and Development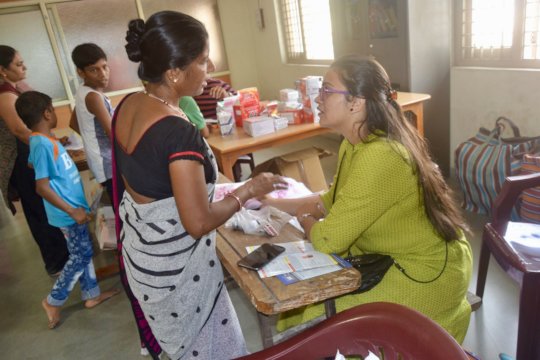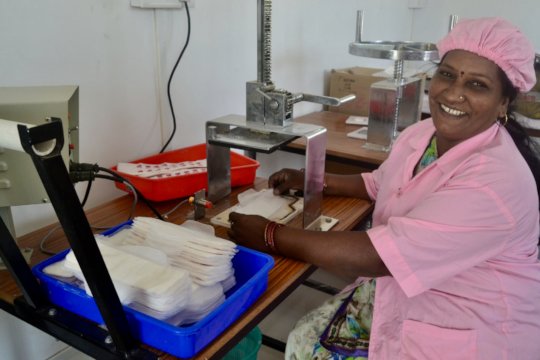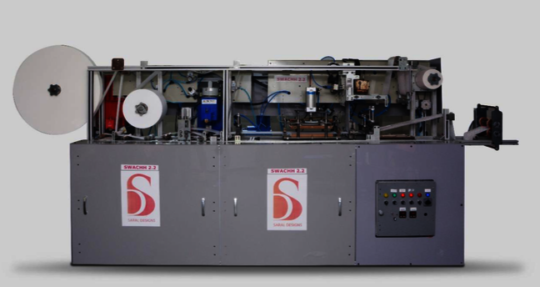 Links:
It is fitting that we share this update with our GlobalGiving community as those of us in the United States prepare to gather with our family and friends for Thanksgiving. This is the time of year we express gratitude for the many things that make us fortunate and recognize our ability to contribute to a more healthy and prosperous world.
At
The Desai Foundation
, we want to give thanks to our community of supporters which makes it possible for us to expand opportunity for women and children in rural Gujarat (India). Our goal has always been to empower communities to see that they have within themselves the power to dream and create better futures. There is no example more promising to us than our
Asani Sanitary Napkin program
.
Following the launch of our Asani program on
World Menstrual Hygiene Day
2017, we've seen the ripple effects that the introduction of a sanitary napkin, or rather a pad, has had on the individuals and communities that we serve throughout Gujarat. We want you to be the first to know what an incredible impact you are making.
In anticipation of
#GivingTuesday
(Nov. 28th) we are sharing stories from individuals the Asani program has impacted to show you
"The Power of The Pad."
The Power of The Pad in Numbers:
More than 1,500 women have been reached through our menstrual health and hygiene awareness program.
3,000+ pads have been distributed to women and girls.
11 women are now employed by our Asani Sanitary Napkin production jobs.
7 women are now employed through our Asani sales jobs and are serving the communities of Dungari, Dharasana, Daman, Sankar Talav, Khergam, Bilimora, Goyandi as Asani ambassadors. Our presence in these villages will enable us to reach another 5,000 women and girls.
Throughout the six months following our launch, we have seen the Asani Sanitary Napkin program: increase school attendance for girls, create open conversations surrounding the subject of menstrual hygiene and women's health across generations (including among boys and men), and empower women to earn a living wage. Each of these results is creating a sense of dignity in women and girls which ripples throughout the entire family. However, our work is not finished. Through qualitative field research we have received feedback from our clients that will help us to improve the comfort of our product and with your support, we plan to implement these adjustments.
Today we are grateful to share with you the stories of Rina, Sonal, Meet and Hansaben which have shown us the true depth and lasting power that a pad can enable.
We encourage you to read these stories, follow us on Facebook, Instagram, and Twitter to see more, and participate in the conversation surrounding #ThePowerofThePad.
Finally, I invite you to donate what you can to help us reach our GlobalGiving goal of $10,000 and join our team to inspire the continuation of stories like these for years to come.
Warmly,
Tess Fenn
Director of Partnerships & Development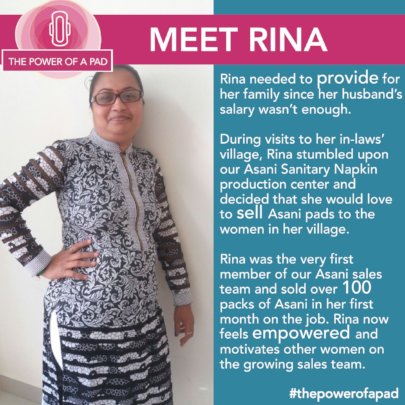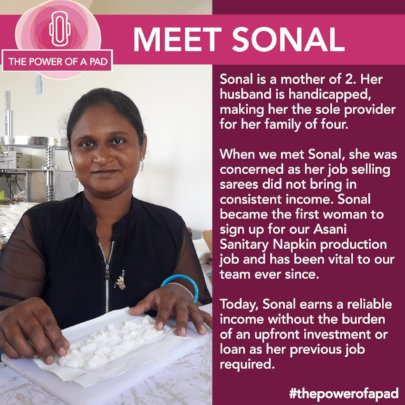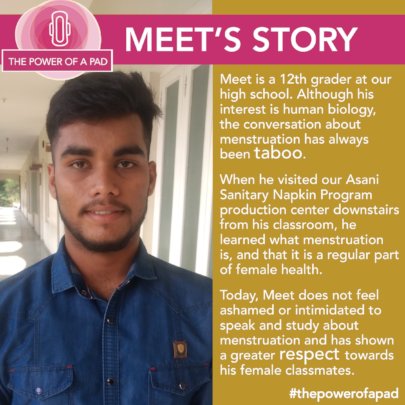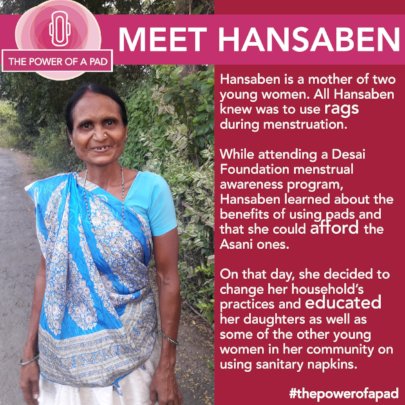 Links:
WARNING: Javascript is currently disabled or is not available in your browser. GlobalGiving makes extensive use of Javascript and will not function properly with Javascript disabled.
Please enable Javascript
and refresh this page.