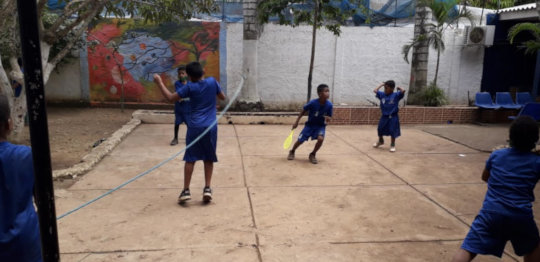 Hello Friends of GlobalGiving,
We hope that you and your families are staying safe, healthy, and together during this trying time. We would like to express our gratitude to those who have contributed through donations to help 24 children and adolescents and 44 elderly whose needs have been exacerbated during the COVID-19 pandemic with the support of 36 employed staff. In just a little over 3 months we have achieved our funding goal; however, due to the prolonged effects of COVID-19 we are maintaining this project.
Fundación Dones de Misericordia has been able to continue providing the children and elderly with safe homes where they receive the care and love they need especially during this time of uncertainty.
Your support has enabled Fundacion Dones de Misericordia to, not only, meet the additional health and safety needs but also to continue supporting the ongoing needs of the children and elderly whom prior to their arrival to the foundation lacked the care and love they needed.
We have been able to provide additional hygiene supplies (i.e. face masks, alcohol 80%, hand sanitizer, gloves, wipes, vitamin C, disposable cups, hydrogen peroxide solution), healthy meals and snacks (i.e. mandarins, watermelon, oranges, pineapple, fruits) provided in individual/labeled dish/cup/utensils, recreation (i.e. virtual story time, virtual dance classes, painting, exercising activities, etc.), behavioral health services (i.e. consultation and individual), medication management, services from medical staff (i.e. nurses) on site and on-call emergency health assistance 24 hours, and an additional room designated and equipped in case of having a rule-out COVID-19.
Children have continued receiving classes virtually and training to increase their self-care awareness including the importance of washing hands for 20 seconds, increased consumption of water, etc.
Due to the Quarantine mandated by the national and local governments, family and volunteer visits have been cancelled; however, family members are able to communicate with their children via phone, volunteers and health care professionals via Telehealth.
Additionally, caregivers/staff have received specialized training and provided with the supplies recommended by the health and government agencies. For example, health and safety protocols include adding a hands free/foot activated hand sanitizer dispenser located at the entrance of both homes for hand sanitizing prior entrance and exit, surgical masks, etc. to minimize risk of contamination.
Once again, Thank You. Your generosity these past few months have made a meaningful impact in the lives of the children and elderly but have also helped us focus on continuing to help them decrease their suffering by receiving love and strengthening the bond of the children who have been spending more time together. We hope the best for each and everyone of you, that you can also continue strengthening the bonds with your loved ones during this time and we will together overcome this pandemic.