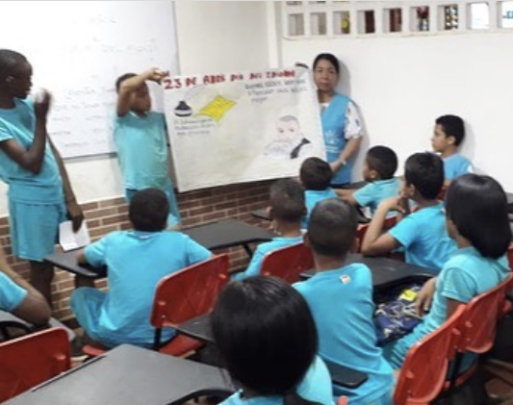 Dear GlobalGiving Friends and Family,
We hope this message finds you, your friends, and family well, as we continue staying strong and together to overcome this pandemic.
Thank you for continuing to take time to learn about the needs of the 27 children and 45 elderly since March 2020, for making the effort to donate, for our children and elderly in your hearts, and for sharing our mission with others especially during the Coronavirus pandemic.
Since July 2020, together we achieved the campaign's funding goal; however, as the world continues its efforts to overcome this pandemic and the winter months approaching there is an urgent need to maintain this project.
With your donations, Fundación Dones de Misericordia has been able to continue ensuring that our children and elderly stay healthy and cared for. Additionally, caregivers/staff continue with up-to-date health and safety measures recommended by the local and national government agencies. For example, only caregivers and staff are entering the homes and upon entrance they clean their shoes in a mat with solution of hypochlorite, soap, and ammonium, disinfecting hands with a free/foot activated hand sanitizer dispenser located at the entrance of both homes to minimize risk of contamination.
Our children continue to receive the protection they need by having their caregivers following all the health and safety protocols by having access to hygiene supplies (i.e. face masks, gloves, alcohol 80%, hand sanitizer), additional healthy meals and snacks (i.e. home made fruit juice, yogurt, fish, vegetables) recreational activities (i.e. soccer, virtual dance classes, agility training, arts & crafts) while they are homeschooled until schools resume in in-person classes, behavioral health services (i.e. positive reinforcement of appropriate/adaptive behaviors), and medication management. Our elderly also continue being protected with staff following strict health and safety protocols, nutritional supplements (i.e. Vitamin C), healthy meals and snacks (i.e. oranges, mandarins, watermelon, pineapple), leisure activities (i.e. coloring, arts & crafts), on site services from nurses, 24-hour on-call emergency health care, and additional space designated and equipped in case of having a rule-out COVID-19, in addition to continue fulfilling their ongoing needs.
The children continue communicating with their families and volunteers via phone and videoconference.
With immense gratitude, we send positive thoughts and prayers to you and your loved ones. Your kindness since the month of March 2020 continues making it possible to re-establish the rights of our children and elderly that one day were abandoned but that thanks to people like you, will never have to go through that inhumane suffering again. Today thanks to you they enjoy a loving environment that fulfills not only their physical needs but also their mental and emotional needs.