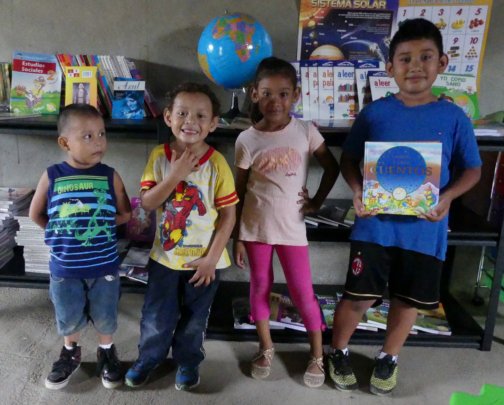 July 28th was day one for Biblioteca Paz y Vida, and From Books to Brilliance (FBTB) had no shortage of help. With books and materials purchased, and inventory completed, delivery day had come. Our long-term Nicaraguan partner, Indira Morales, worked her magic. Three enthusiastic young men appeared and carefully loaded our precious cargo onto a flat-bed truck. Boxes and boxes of books, games, globes, bookshelves, storage bins, tables, chairs, and more arrived in Paz Vida unscathed. Citizens also arrived, eager to put together a library, their library, in their own village.
Thank you, friends. You play a vital role in a magnificent story in which Paz y Vida is the latest chapter. A local women's cooperative, Casa de la Mujer, has created a movement. Nearly a thousand of Nicaragua's poorest families now live in standard houses…houses with flooring, running water, and with a door that locks. Adults are finally able to leave their house unattended to look for a job or to learn a trade. No longer needed to search for wood and water every morning, their children go to school. Indira, the cooperative's Project Manager, collaborates with organizations in Germany, France and Spain to fund this miracle. "FBTB's four village libraries have significantly changed their communities," says Indira. Now, when planning for the next housing project, the women and their global partners also plan for a library.
And so it came to be for Paz y Vida. Though the building is not quite finished, the floors need tile and the walls need paint, citizens young and old are already thrilled. As one of the four library volunteers explained, "As children, none of us ever had access to a library. Here our kids will be close to home. They won't have to ride their bike for miles to do their homework or to read a book." They thanked us profusely, and insisted that we thank all of you for this extraordinary gift.