When the Austrian Guatemalan Institute founded Instituto Privado Mixto Kajib' No'j almost twenty-five years ago, Mayan youth aspired to study for only two years. In Momostenango today Kajib' No'j offers ten years of classes, from pre-school through ninth grade. However, textbooks and educational materials are expensive and scarce.
Thank you, GlobalGiving supporters. Students and faculty alike now enjoy Biblioteca Kajib' No'j, a library that didn't exist just over a year ago. Beautiful bookshelves hold a variety of literature written by some of the world's great authors, delighting middle school students. Their younger siblings put puzzles together, play games and read charmingly-illustrated stories. The availability of high-quality Guatemalan textbooks facilitates both teaching and learning.
Much has changed in only fifteen months. According to teachers, these resources are redefining the quality of education at Kajib' No'j. We recently received a long list of their comments. "Writing is improving; imagination is developing; students are motivated to read a variety of books; they are evaluating culture; students' vocabularies are growing; they're becoming more pensive." Alicia, school secretary, thanks you all. "The books and materials have been of much benefit to both students and teachers."
Still, there is much to be done. At From Books to Brilliance, we plan to continue our partnership with the Kajib' No'j Private Institute for many years to come. Visit us at www.frombookstobrilliance.org to learn about the ongoing progress that your support enables! We thank you for your trust in us and this literacy mission.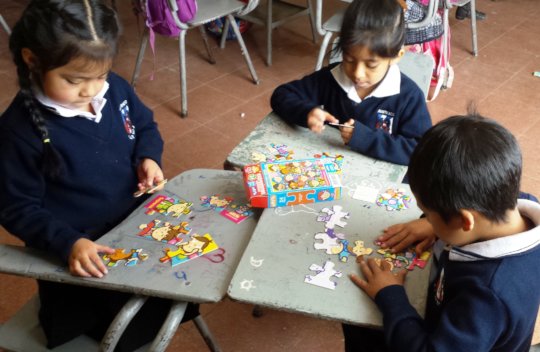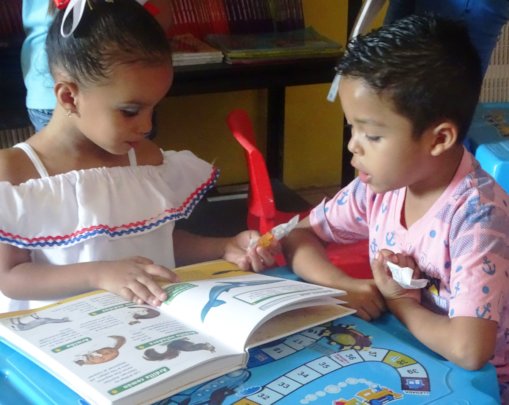 Five months ago citizens of Paz y Vida gathered for a ribbon-cutting ceremony at the grand opening of Biblioteca Paz y Vida. Representatives from the Frankfurt Granada Association, the German Embassy and Luisa Amanda Espinoza Association of Nicaraguan Women (AMNLAE) spoke in celebration of this tiny village library, and the future it would hold. After all, it was their ingenuity and resources that constructed the building. It was your begheartedness and From Books to Brilliance's energy that supplied it with books.
Unfortunately, in July we traveled to Guatemala only. Due to four months of political unrest our plans to visit Nicaragua are on hold. We will return to grow Paz y Vida's Library with your generous donations as soon as travel warnings are lifted and our small team of volunteers can travel safely. Nonetheless, this rural library continues to operate daily. For them the chaos of the big cities is distant.
Please note that lives of citizens young and old continue to improve dramatically. Just a few years ago all were homeless. Today in houses with running, potable water, standard flooring and electricity, they live "dignified" lives. Children no longer gather wood and fetch water every morning. They attend school and go to Peace and Life Library to do homework, read and play games with friends. Their future surely looks different from their past.
And so our plans in Paz y Vida are delayed. From Books to Brilliance's Board of Directors has decided to remove this project from GlobalGiving…for now. We thank you for your understanding, and pray that Nicaragua will return quickly to the peaceful country we love so much.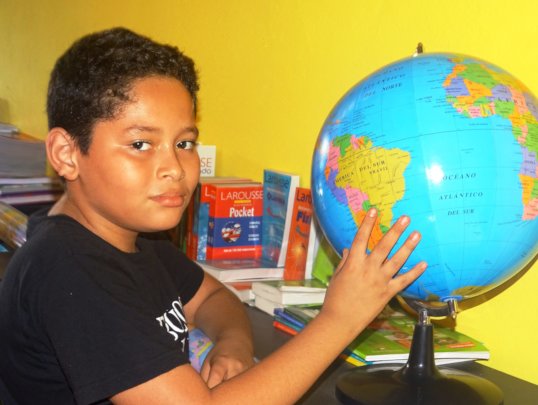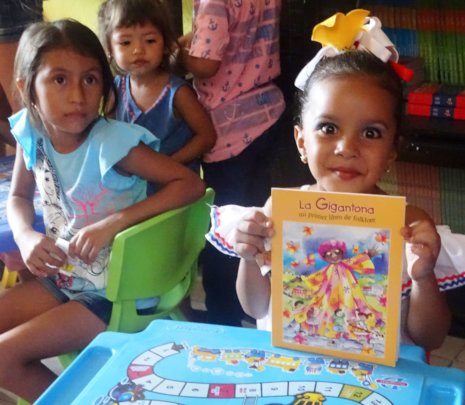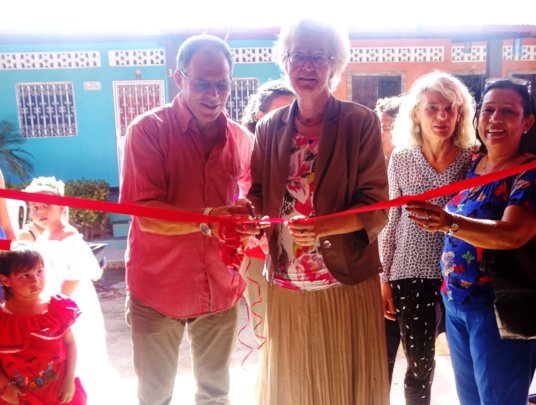 At Instituto Privado Mixto Kajib' No'j everybody helps. When our small team arrived in July, third graders were sweeping the garden area with adult-sized brooms. "They're here," they shouted in Spanish and K'iche', and quickly returned those oversized brooms to their proper container, one made of recycled water bottles. The kids' enthusiasm is contagious. Students, ages five to sixteen, know the opportunity that lies before them. Most of their parents went to school for two years. Kajib' No'j provides eleven years of education, preschool through ninth grade.
Thanks to you, GlobalGiving supporters, and to our partners at the Austrian Guatemalan Institute, Kajib' No'j now offers a school library as well. Here elementary teachers plan lessons while referencing Guatemalan-published textbooks, and middle school students read some of the world's great literature. In fact, the school recently celebrated their own Día del Libro, or Day of the Book. In the gymnasium parents browsed the literature that From Books to Brilliance provided. Students then acted out scenes from their favorite books.
Just a few weeks ago, our team added one hundred children's books, as well as dozens of games and puzzles to this new library. Class by class, the youngest students at Kajib' No'j filed in to see these exciting new resources. Preschoolers couldn't wait to put together the puzzle with the giraffes, monkeys and elephants. First-graders loved the Mayan alphabet book…G for Güipil and Q for Quetzal. In planning for the future, teachers requested class sets of textbooks for grades one through six.
Students are proud of their school that the Austrian Guatemalan Institute founded over twenty years ago. "The kids bring their own supplies," says Principal Pedro Euligio. They carry backpacks with pencils, erasers, scissors and rulers. They know that learning is a privilege that will lead to better opportunities for themselves, their families and their communities. The faculty and students at Kajib' No'j asked us to thank you all!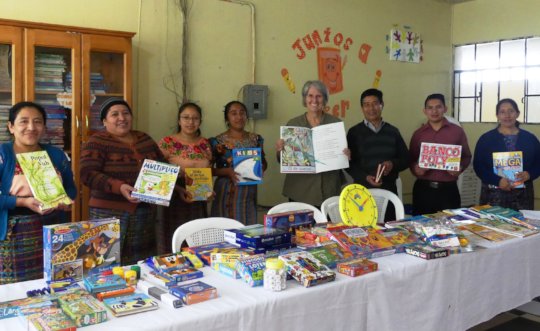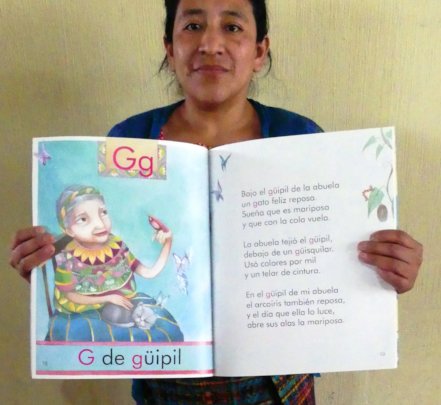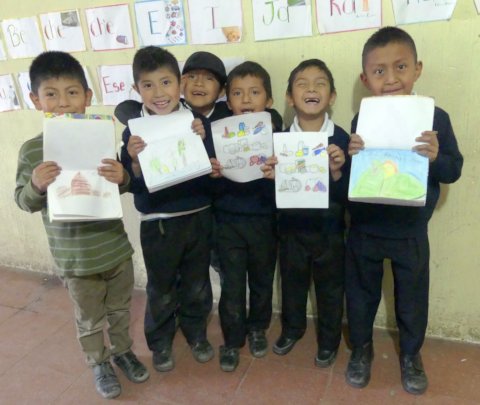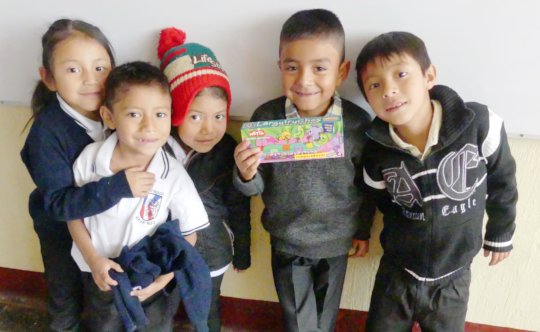 WARNING: Javascript is currently disabled or is not available in your browser. GlobalGiving makes extensive use of Javascript and will not function properly with Javascript disabled.
Please enable Javascript
and refresh this page.