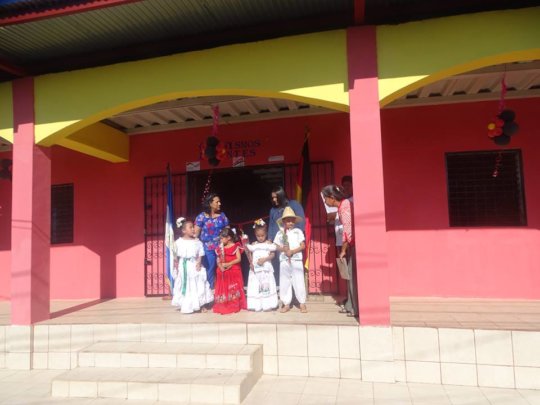 You definitely won't need directions. Just watch and listen for all the action…young readers coming and going, moms checking in on their kids, and from time to time the contagious and hilarious laughter of youth. You're now right in front of Biblioteca Paz y Vida. Meet Marbel, the little library's coordinator, who introduces its small patrons to so many educational resources. She manages them all…the books, puzzles, maps, globes, pencils, silly-looking erasers, and the pint-sized tables and chairs, so perfect for Paz y Vida's enthusiastic learners.
"Reading is education, and education is a gift to humanity," says Indira Morales, partner and project manager for the Luisa Amanda Espinoza Association of Nicaraguan Women (AMNLAE). In March citizens gathered to celebrate that gift at Biblioteca Paz y Vida's grand opening. In the spirit of "sisterhood" German ambassador, Ute Konig, congratulated the community. She spoke of the many individuals and organizations in Nicaragua, Germany and the United States that worked together to create this library.
Remarkable! Just a few years ago, all Paz y Vida citizens were homeless. Thanks to AMNLAE's vision and dedication, all now live in beautiful, small houses with standard flooring, running water and electricity. Children here no longer fetch water and wood every morning. They go to school, and to the library. They do homework and study. Many come just to read stories, color, or put puzzles together.
The Frankfurt Granada Association and the German Embassy funded the building construction. You, dear friends, supplied a plethora of books and educational materials. And GlobalGiving's platform allows us reach out to the world for help. Biblioteca Paz y Vida is a truly global initiative. Thank you!