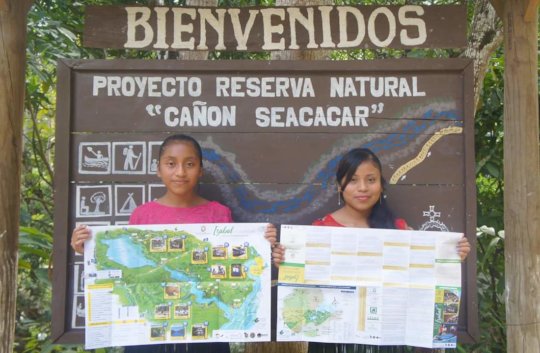 The tiny town of Seacacar has just put itself on the map! Only a few years ago, most Guatemalans had never even heard of this indigenous village, where seventy Q'eqchi'-speaking families still live-with no electricity or running water. Though its citizens became alarmed at the rate of deforestation in their forest home, neighboring communities continued cutting down trees to plant crops, and animals disappeared. Nevertheless, Seacacar parents continued working in the fields, aware that the young people needed opportunity and jobs. The town leaders knew that education was the way forward, but without any books or materials, that path seemed completely out of reach.
Now, after years of planning and back-breaking physical work, Seacacar's future is changing dramatically. Residents young and old have planted trees, created nature trails, built a lodge, and learned to cook for tourists. The upshot: Reserva Natural Cañón Seacacar was recently declared a nature preserve. It attracts eco-tourists as well as scientists. Educational Director Joaquín Emanuel Carrera Requeña reports that "the essence of this marvelous project is education." And because of your generosity, GlobalGivers, all middle-school pupils at the Instituto Básico Comunitario Ak' Tenamit learn from high-quality Guatemalan textbooks.
Citizens have every reason to be proud of their accomplishments. Seacacar's schools, with access to books and materials, are attracting youth from a dozen neighboring villages. According to Mr. Carrera the textbooks are helping to create "an atmosphere of better communication between the teacher and student." The school board recently voted to double the number of students for next year. Enthusiasm is high; hope has returned.
Yesterday we received nineteen thank-you letters from Seacacar middle-school teens. All the letters are titled Mi Historia. The students write of illiterate parents who had no opportunity to study. They remember how, as young children, they gathered wood, worked in cornfields, and washed clothes by hand. They learned basic reading and writing skills in one-room schools with no books or materials. It wasn't until third grade that teachers began to speak in Spanish. But in every one of their stories, a family member encouraged them to continue their studies in spite of all obstacles. Today those teens want to be doctors, teachers, and hotel managers. They want an education so they can help their families. They are so humble and very grateful. We thank you all.