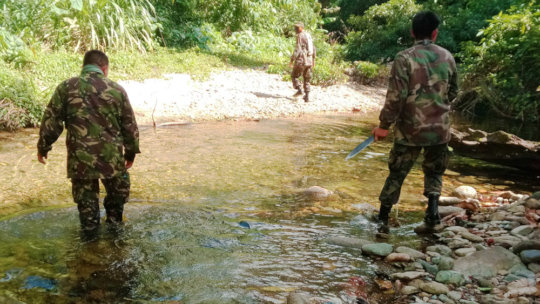 Ya'axche's dedicated and passionate rangers, along with support from the Belize Defence Force, the Belize Forest Department and the Special Branch Unit, have made another patrol into remote western Bladen Nature Reserve! In a reserve where only education and research is permitted, the team continue to discover signs of illegal activities.
Prior to departure, Ya'axche's rangers and members of the other enforcement teams reviewed the area where they would like to cover during this multi-agency patrol. Building on the safety protocols developed for and implemented during the last patrol, the team reviewed the protocols so as to ensure safety and to prevent any mishaps from patrolling these hostile areas.
No encounters were made during the patrol but incursions into western Bladen continue. On the last patrol, the freshly cut trails and campsites which were encountered are no longer in use; all campsites during the last patrol were destroyed. During this patrol, the team discovered 4 additional campsites with 2 sites having campfires. One of the campsites had the throat-remains of a game bird species known as Great Curassow (Crax rubra). Another campsite was located near an archaeological site believed to have been used by looters.
2 looted mounds were found on this patrol; one of the mounds was looted about 3 months ago while the other site was plundered at least 2 years ago. At both the sites several pieces of broken clay pottery were found. The team was unable to determine what and how much was taken from the culturally significant sites. As usual the compliance team left signs saying that the area is being patrolled and that entry is prohibited.
The multi-agency compliance team patrolled over 33 miles into the tropical forests of Bladen Nature Reserve including that of surrounding other areas of natural wonder, protected areas.
Ya'axche sincerely thanks each amazing international friend and family who has donated towards our campaign of increasing patrols in western Bladen Nature Reserve. Ya'axche is equally grateful for the enforcement partners who join our team on the expeditions. In order to protect this globally important area of natural wonder more presence is needed in the area.
Moving forward, Ya'axche will continue to look for more funding to send more rangers with support from enforcement professions to Bladen Nature Reserve so that our presence is felt and that we all continue to enjoy the services the protected area provides. Additionally we will continue to dialogue with the Government of Belize help address incursions.
Keep up to date on our work by visiting our website, signing up for our e-newsletter, follow us on Twitter, Facebook and Instagram!