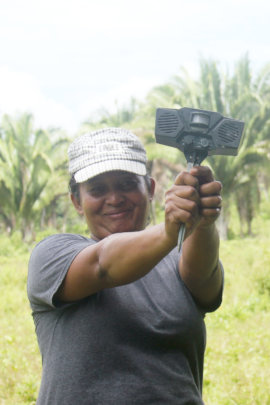 Our Human Jaguar Conflict team at Ya'axché Conservation Trust has dedicated the last two months to conducting in-depth assessments of the strategies we have employed to mitigate jaguar attacks on farms. This has included one-on-one visits with farmers to evaluate the effectiveness of the unique mitigation strategies used on each livestock farm. In this report, we would like to highlight a follow-up with a female cattle farmer, Agnis Ujan of Big Falls village, southern Belize.
Angis has dedicated her life to raising cattle and it is the only form of income to support her family. One of the major challenges she has faced is losing calves due to jaguar predation. With the help of Ya'axché's team, support from GlobalGiving donors, and funding from the U.S. Fish and Wildlife Service (USFWS), we followed up with Agnis about the effectiveness of mitigation measures employed on her farm.
Agnis has utilized a combination of camera traps surrounding her farm, installed motion lights to help protect her cattle, and improved her fencing and corrals. Agnis has revealed that since implementing these strategies last year, she has not lost a single calf. She was also appreciative of how much she has learned about wildlife monitoring through this initiative. Agnis not only changes SD cards monthly and self adjusts camera traps on her property, but she has also initiated checks around her property to note wildlife tracks. This allowed her to report the presence of wildcat tracks, which further reassures her and our team about the effectiveness of the mitigation strategies on her farm. Agnis thought it important to apprise our team of the worth of the time invested in maintaining her corral. She is now happy to report seeing other types of wildlife around her farm and it has made her feel a sense of stewardship to protect these wildlife species.
Ya'axché values these interactions with community farmers and we use each account to update our strategies. Our interview with Agnis and other farmers not only allowed us to see the value of investing in these mitigation strategies, but also to follow up with farmers and remind them of simple maintenance actions that can help improve their farm management effectiveness, such as keeping grass chopped, plan their breeding season, bring their cattle in at night especially the calves and repairing fences and corrals.
Our anticipated efforts involve identifying and equipping two new farms with conflict mitigation strategies. These two farms are in the village of Crique Sarco, and will join the seven other "jaguar friendly" farms that Ya'axché works with. In addition to this, we will be planning an upcoming workshop with our partners from the Toledo Livestock Association, the Belize Forest Department and the Ministry of Agriculture. This workshop will provide further information for these farmers on the coexistence of farmers and jaguars in Belize, including the work we are currently doing to provide mitigation options for farmers.
Since July, we have also responded to two separate reports of jaguar conflict. One of these in San Antonio village, and one in Cattle Landing village. We have assessed both these farms and placed camera traps in the area to monitor the presence of jaguars to provide information on how we can best address the situation and provide mitigation options. In addition, we have provided information of wildcat track identification so that farmers are better able to distinguish the wildcat species that visit their farms.
Ya'axché Conservation Trust extends a heartfelt thank you to each donor who has supported the efforts of our human jaguar conflict program. Your kind donations have made the coexistence of farmers and jaguars a tangible reality in rural Toledo, Belize. We still have more funds to raise, kindly share our fundraising campaign.