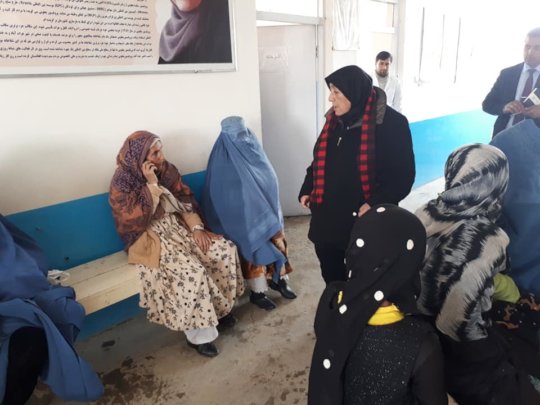 In the Herat area, AIL has 2 fixed health clinics, 4 clinics at Learning Centers, 2 at an orphanage and 1 at a street children facility. There are also two clinics in the Kabul area.
Here is a snapshot of one month's activity of the health program: In February, AIL treated 20,651 patients and provided health education to 13,962. Some of the most popular health education topics this month included: family planning, drinking water, drugs and influenza. There were 23 babies delivered at clinics. 4,864 patients were vaccinated. AIL monitors the health of children in the clinic areas by completing thorough health screenings and nutritional assessments –1,749 children were assessed for nutritional status and 175 were deemed malnourished.
AIL also gives reproductive health workshops throughout the year. Here are comments from one attendee, "I am Sohaila, an illiterate woman. I have some health problems and I am always afraid when I get pregnant because I face many difficulties. At this workshop I learned a lot. I didn't know before I had my daughter that child spacing is important and I should prevent pregnancy for at least 3 years to allow for the recovery of the mother and care of the baby. I have learned about ways to prevent pregnancy like natural calendar, condom, tablet taking and IUD."
Proper healthcare and health information education help women to stay healthy, survive childbirth and raise healthy children.
Thanks for your support.
News
Dr. Yacoobi joined with high level national and international delegates in the "Seville Commitment" - Supporting Localization Efforts for #SDGs. She said, "AIL has provided SDG services to the most marginalized and disadvantaged for 25 yrs. In my talk I emphasized it is essential to work with local governments and provide resources to local NGOs who are doing good work. Replicate excellent SDG focused programs so No One is Left Behind!"
AIL is working towards: SDG Goal 4 – Ensure inclusive and equitable quality education and promote lifelong learning opportunities for all.