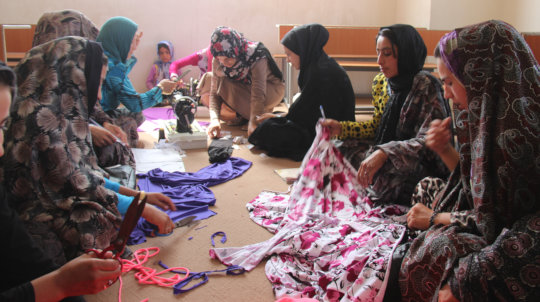 Today is Giving Tuesday! $150,000 in Matching funds are available for donations made to ALL our projects on GlobalGiving.

This campaign has proportional matching which ensures all projects receive some extra funds. New recurring donations set up today (active for 4 months) get up to US $200 per donor per organization matched at 100% (on the first month's gift).
Extra! Extra! The two projects below qualify for both TODAY'S proportional match and a 50% ADDITIONAL MATCH from the Safer World Fund at GG!! It's a Win-Win!

1155 Fast Track Education for Afghan Women and Girls
1073 Save Rural Afghan Women and Girls with Health care
AIL's Learning Centers (LCs) offer a variety of classes. One of the most popular classes offered is tailoring because women need a means to reduce household expenses and to earn money. They learn to make clothes for their own needs and can set up a small business. So far in 2018, 2,108 females have studied tailoring in Herat LCs and 851 in LCs in Kabul and other provinces. Many students go on to start small home businesses doing mending and making clothes for neighbors or even setting up stalls in their local market.
Halima is a graduate of the sewing class. "I am a young girl. My family are very poor. My father is the only one earning money for the family. But now with my sewing skills I can make clothes for our family. I can also earn money sewing for other people. I can help my father with household expenses. My life has come out of darkness because of AIL and the sewing class."
Thank you for your interest in Afghan women and the challenges they face.