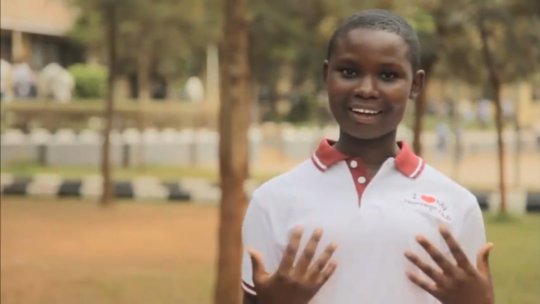 Our partners in Sierra Leone, Uganda and Zimbabwe have just launched their first video competition!
We all know how important it is to engage young people. Their passion and enthusiasm - combined with their savvy presentation skills and use of social media - can make all the difference.
This is Marie from Kampala. Marie attends a heritage club at her school. She is passionate about heritage and culture. "I want to tell you why people like me love culture: Culture is about many aspects of life. The way we build our houses, the way we behave, our historical sites - all have very precious values. Such as greeting and respecting our elders, but not forgetting the way we sing and dance. Culture defines who we are in society. I'm sure you all agree that as young people we need to preserve our culture or else it will die one day. So let's live and love our culture."
Our competition aims to harness the enthusiasm and technological know-how of young people in the celebration of cultural heritage. We are challenging them to create short clips or videos about elements of their cultural heritage, which they feel are important/exciting/worth sharing internationally.
The best entries will be shared on line and people will be able to vote for their favourites. There will be one overall winner from each country, who will receive a prize, thanks to your support!
Heritage can be seen as irrelevant and something to 'move on from'. And yet culture, historic buildings, landscapes and traditions are essential to shaping our future wherever we are in the world. As Marie says, they form a vital part of our identity and we must keep alive even the most hard-to-tell stories to avoid making the same mistakes.
Thank you again for supporting our 'Encourage African Youth to Embrace Their Heritage' project. It's really exciting that it's now underway and we look forward to sharing some of the video clips with you shortly!
Thanks also to those of you who made it to our World Heritage Day event in Cambridge on 18 April. You can find out more about the INTO 'Trust Kids' resource we launched, based in part on the experiences of our partners in Sierra Leone, Uganda and Zimbabwe.