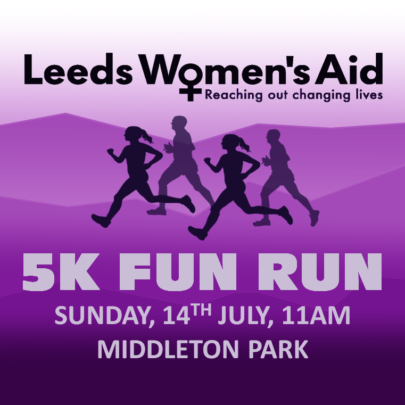 Hello all,
We would like to start by saying a big thank you for your generosity and support! Your ongoing support is vitally important in enabling us to help thousands of women and children get the support they need every year. This month we'd like to let you know about some exciting ways you can support our charity and help us raise essential funds.
We will be in touch again soon, for any further news, check out our website on www.leedswomensaid.org.uk and follow us on Twitter or Facebook on @LeedsWomensAid
There's still time to join the Leeds Women's Aid Fun Run
Leeds Women's Aid is delighted to be entering a team of staff, volunteers and supporters in the Big Fun Run, Leeds, on Sunday 14th July at 11am in Middleton Park.
There's still time to sign up so why not get together with friends, family or work colleagues to help raise vital funds for our domestic violence support services.
You can find out more details about how to sign up at: www.leedswomensaid.co.uk/join-the-big-fun-run/
Let us know you've signed up by contacting our Fundraising Team on
0113 244 2578 or fundraising@leedswomensaid.org.uk and we'll support you every step of the way.
Support Leeds Women's Aid on Amazon Smile
You can now support Leeds Women's Aid for free on Amazon Smile.
Amazon Smile allows you to raise money for your chosen charity every time you shop on Amazon at no extra cost to you.
All you need to do is, go to: smile.amazon.co.uk then type in Leeds Women's Aid and start shopping. It would be great if you could consider supporting our charity in this way and help us raise some extra funds for our domestic violence support services.
Volunteer at our Leeds Women's Aid Charity Shop
Our Charity Shop helps us raise vital funds to help fund our refuge and support services.
We are located at 102 New Road Side, Horsforth, LS18 4QB and we are open from 9am to 5pm Monday to Friday and 10am to 4pm on Saturdays.
As part of Volunteer Week 2019, we will be holding a special volunteer taster day at our shop on Wednesday 5th June 2019.
The drop in event, gives people interested in volunteering the opportunity to have a behind the scenes look at the shop and its daily operations and will give everyone a chance to experience key tasks such as stock merchandising, sorting of donations and serving on the till. There is no need to book a place, just pop in between 10am and 3pm.
Our taster day will also provide the perfect opportunity to learn more about the vital work of Leeds Women's Aid, supporting women and children affected by domestic violence and how volunteers play a key role within the organisation.
For more information please contact the shop on 0113 2584111 or LWACharityShop@leedswomensaid.org.uk
Partnership with John Lewis
We are delighted to be entering the next phase of our partnership with John Lewis and Partners, Leeds in welcoming two members of their staff who will be working for us on a six month secondment funded by John Lewis Golden Jubilee Trust fund.
Thank you for your support and I'll be in touch again soon,
Nik