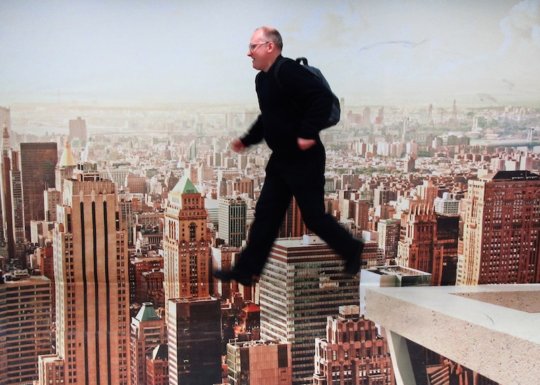 Andrew who is 46 now was born in the family where his father died early and mother suffered from schizophrenia and a few years ago died as well. At first his illness was rather mild, he finished the school, got a job, though he could not keep it for a long time. The illness didn't touch intellectual sphere and Andrew had a sharp analytical mind. He took care of himself. Regretfully at the age of 30 he had a crisis. It was a hard and painful experience. Long and frequent hospitalizations began. When Andrew got out of the psychiatric hospital he struggled with the whole world: distant relatives, neighbours and even people he met in the street. He especially was irritated by the neighbours who lived upstairs and had a child. He fought, burned the wallpaper on the ceiling, banged with the stick at night and went on fighting, fighting, fighting. His hate ate him from inside. And finally he fell into deep indifference. He didn't even have a will to go out for foodstuffs to the shop. And he could spend with no food for several days. To be more precise he lay in bed. He didn't have energy and will to live any more. And he decided to end the only thing he could end – to live. End of Andrew, end of story. He remembered an American film in which a hero committed a suicide by injecting gasoline in his vein. He decided to act in this way. He got gasoline, and injected it but not in the vein, he just couldn't find it because of the lack of experience. He didn't die, but was taken to hospital again. It was a turning point in his life. He realized that, despite everything, he wanted to live. And this meant he had to rebuild the pieces of himself and his shattered life. It happened to be rather difficult because his illness had progressed enormously by that time. He felt strong apathy to everything. But somewhere deep in his mind Andrew realized that if he gave up he would die. And there appeared to be a long way from the bottomless depth up. The doctors suggested him new schemes of curing, he took part in probing new medicines. The changes to the best were hardly visible but they did take place! After he was released from the hospital he realized that he needed support. And he wrote a letter to a woman whom he met in the rehabilitation program (Human Soul House) that he visited long before the crisis, a woman who established Russia House and became its director. Here are the words from that letter:
'Dear Tatiana, you remember we got acquainted at Human Soul House. Excuse me for taking your time. I am writing from hospital, I got here, as doctor said, with apathy depression. At home I stayed in bed for a long time and I couldn't make myself go out. I knew you had started a new Clubhouse rehabilitation center. Could you, please, take me to the Clubhouse? Any other rehabilitation programs I have tried recently can't be compared to the Clubhouse. I simply have to get up in the morning, push myself out of home and come to the place where I am waited for and needed and where possibly somebody will be glad to see me. I live alone. My father died in 1995 and my mother died in 2001. Other relatives are not interested in my problems, nobody would wake me up and give me any kind of help. I am shy to call you and afraid of negative reply, that's why I use mail. I knew your address from the City Address Inquiry. If I am not disturbing you, please send me your decision in the envelope I enclose. I will fully understand and respect any decision you will make. Meanwhile, perhaps, I will get up the courage to make a call to you'.
The next day Tatiana went to the hospital to see Andrew, they talked till evening and agreed that as soon as Andrew got out of the hospital he would come to Russia House. Andrew is a man of strong will and this helped him to follow that plan. The way to the Clubhouse took him an hour and a half. He started coming regularly, sometimes, not able to overcome the apathy, staying at home, sometimes getting himself out with great effort. Two years passed. And suddenly Andrew asked to help him organize and carry out renovation works in his two-room flat. "I just can't stay at home where long ago I tore the wallpaper and burnt a fire.' Relatives and the governmental social services rejected to help him with renovation. The Clubhouse attracted volunteers, fixed the price with workers, bought the materials, moved the furniture and helped to do everything that was necessary.
After the renovation Andrew disappeared. When people from Russia House called him to find out what the reason was, he replied. "I feel so good, in the morning I open my eyes and can see a beautiful room. The wallpaper is blue. And my first feeling is that I'm in heaven. I feel so good that I don't want to go out". People in Russia House only laughed, "There were times when Andrew did not come out because everything in his life was deadly bad and now there are times when Andrew does not come out because everything is great!" A few weeks passed, and with a new view of life Andrew got into the rehabilitation program. His way out of his illness is not finished yet, and there are many things he will have to overcome. But he is on the way to his recovery. Let's wish him good luck!