Autumn is a wonderful time that brings us healing days full of bright colours, tranquility and calm walks in the countryside. On October 2 active Clubhouse members and staff went to the Pafnuty-Borovsk abbey located in approximately 100 kilometers to the south of Moscow. The abbey is located in a beautiful forrested area within a 2-kilometer walk from the highway. It was founded in 1444 and has a long glorious history. We enjoyed a brilliant guided tour, warm synny day, silence and fantastic views. After the tour we had lunch in the abbey canteen and went for a walk. People with mental illness often pay no attention to physical activities and doing sports. So the trip provided us not only with an excellent cultural opportunity but also with a good walking exercise! The result: memorable impressions and a 5-kilometer walk! And a wondeful sense of community!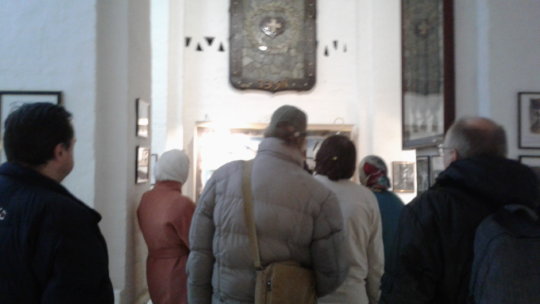 At the end of January Russian House started a course of oil painting for the Clubhouse members. Since then a professional fine artist Alexander Bobrov has delivered 10 classes. Our first lesson was devoted to copying a classic painting by a well known Russian artist Isaac Levitan. At the beginning of the fisrt class everybody sat in front of a blank canvas and felt deep loneless. Everybody was shy and not very confident and only our teacher repeated, "you can, you will do it!". And we could. By the end of the class everybody had their own small paintings finished! And, which is much more important - everybody got brilliant experience of success. Success is what every person needs. It helps us go ahead, step-by-step foster self-confedence and self-esteem. It gives us a sense of the future perspective and a sense of purpose. People suffering mental illness, perhaps, more than many others despirately need to feel success, regain self-confidence and self-esteem as well as get a perspective.
"Painting classes taught me that there was no 'right' and 'wrong". We should fear to reveal and express our individuality neither in painting nor in our life," said Katya, one of the Clubhouse members who actively participated in the classes.
After the first success people could not wait for the second class: they already knew that it would be another exciting experience. Since then Clubhouse members who took the classes have painted the sea and the seaside, mountains, lilac, beautiful flowers, snowy forest scenes... more than 60 wonderful paintings! The whole Clubhouse community is very proud of their success. On May 30 we open an art exhibition where displayed all the works at Russian House. In the autumn Clubhouse members will participate in the all-Russian festival of arts for people with mental health problems and show their paintings to a wide public. Let's wish good luck to them!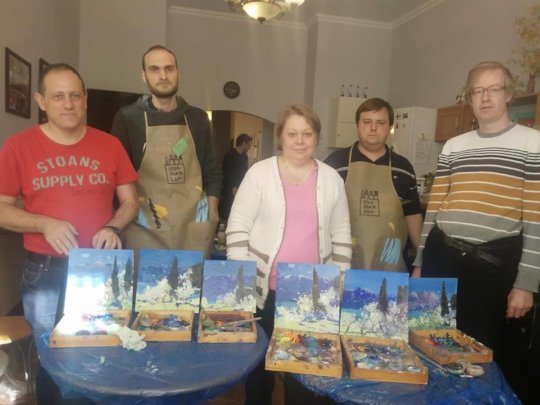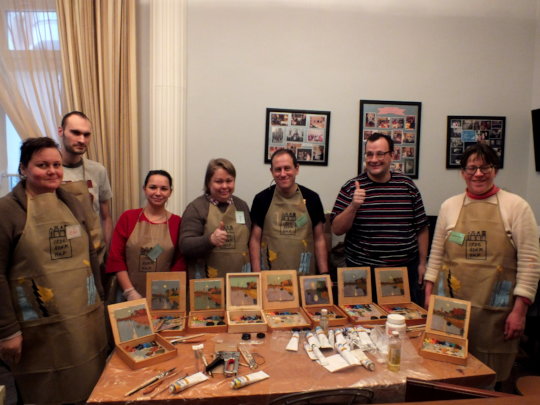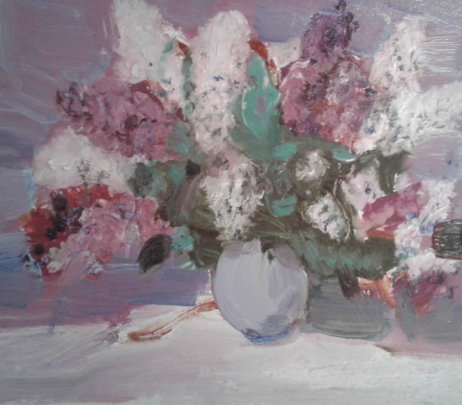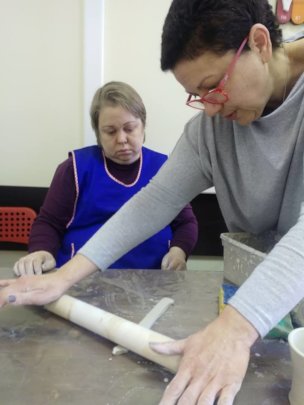 We always are happy to share achievements of our Clubhouse rehabilitation program participants. This time we would like to tell you a story of Tatiana. In October 2017 Russia House helped her to get a job at "Together" Ltd. and since then she has been working there doing very simple work: painted small boxes for the hand-made souvenirs that the compaby produces, did some cleaning work and performed a lot of not very qualified work. But she had a dream - to master work with clay and ceramics. These new skills could help her perform a lot of creative tasks at "Together" Ltd. Dreams should come true, do not you think? That is why we decided to pay for Tatiana's studying. We belive that it can be a good use of those donations you send Russia House. So, now Tatiana started studying and Russia House covers all the costs. There was another problem - Tatiana is very shy and had a lot of fears about her studying. It was a real challenge for her to take lessons. So Lisa, a Russia House staff, helps Tatiana and accompany her at the lessons. Tatiana has been studying for only 2 weeks but she has already learned a lot. Look at the first mug that Tatiana made on her own!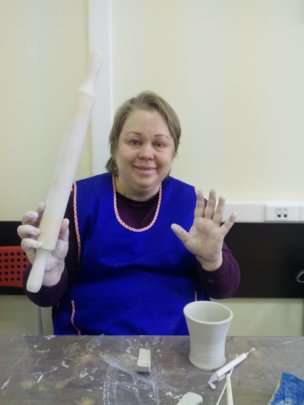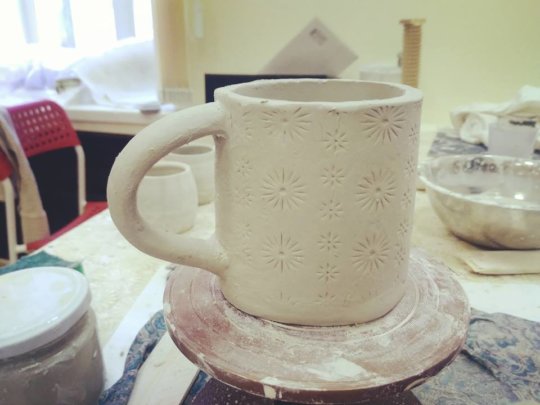 WARNING: Javascript is currently disabled or is not available in your browser. GlobalGiving makes extensive use of Javascript and will not function properly with Javascript disabled.
Please enable Javascript
and refresh this page.