We all know very well that physical health is no less important than mental health. For people with mental health problems physical activities are very important as they help them stabilaze the condition of their mental health. That is why our Clubhouse rehabilitation program for people with mental health problems pays substantial attention to promoting healthy lifestyles among the Clubhouse members. Russia House motivates members to cook healthy food, stop smoking and do sports. The most favorable activities - swimming and bowling. In addition, some members like Nordic walking and riding bycicles. Please, have a look at Ilya and Sasha and share their joy!
To get a job means to obtain independence. Rehabilitation can not be considered completed if a person who gets rehabilitation support is unemployed. Russia House struggles a lot to help the members of our rehabilitation program come back to paid employment. Employment of people with mental health disability is not an easy task in any country. We had experienced some stagnation in development of our employment program. We have been doing a lot of efforts but they all failed.
And in October, after almost a 2-year gap Russia House made a real breakthrough in development of the employment program. We got a group placement at which 4 Clubhouse members will work. The placement is located at a small socially-oriented firm "Together" Ltd. The firm works in the field of hand-made production and souvenirs and fulfill large orders from big corporations and businesses. Our guys had a 2-week probation or trial period and worked together with a social worker. The latter helped them master all necessary skills and establish productive working relationships with other staff of the firm. They all successfully completed the trial period and concluded labour contracts with the employer. It is the supported employment placement and Russia House will continue any support that these 4 members will need at their working place. Tanya, Andrew, Pavel and Vlad, Clubhouse members who started working in "Together" Ltd., consider this placement as the first step to their independent life and happy. Good Luck, guys!! We keep our fingers crossed!!!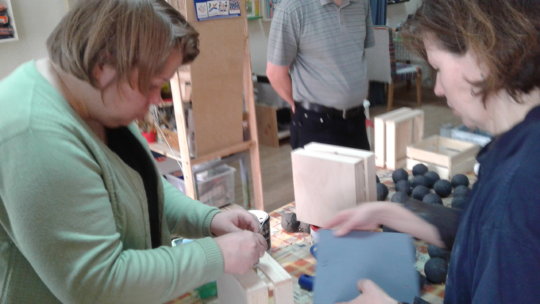 Every day Russia House provides all the participants (members) of the Clubhouse rehabilitation program with free lunch meals and a variety of snacks from the so-called Clubhouse Snack Bar. Also, members living alone can take food away. An important feature of the Clubhouse rehabilitation approach is that the Clubhouse members participate in all aspects of the program activities working shouler-by-shoulder with program staff. Food preparation is one of the important tasks that members and staff do every day. For the Clubhouse members lunch preparation is a way to learn how to cook delicious meals, to obtain or regain skills of cooking, to establish meaningful relationships with other people around. Everybody in the Clubhouse respects and appreciates those who cooked lunch. That is why this simple activity - cooking - helps people suffering severe mental illness feel themselves productive and needed. Participation in this "simple" activity helps them regain self-worth and self-confedence. That is why lunch at the Clubhouse is much more than lunch.
Dear Friends, thanks to your donations to Russia House made January to May 2017 we could provide 62 meals. And, as you know now, they were not only meals!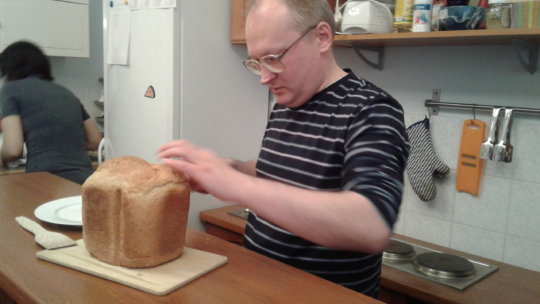 WARNING: Javascript is currently disabled or is not available in your browser. GlobalGiving makes extensive use of Javascript and will not function properly with Javascript disabled.
Please enable Javascript
and refresh this page.