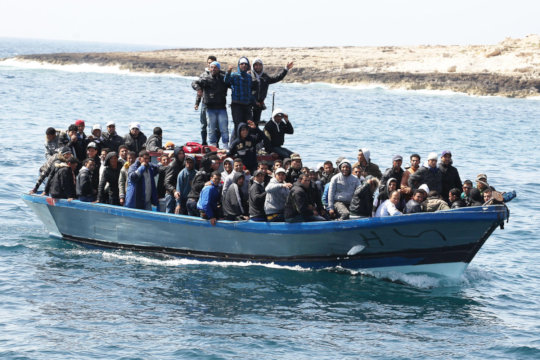 #EndPushbacks

Today, we wanted to update you on our ongoing campaign to end pushbacks and rights violations at borders across Europe.

These pushback operations, which have grown in recent years, lead to serious human rights violations against prospective asylum seekers, and breach multiple international and European laws.

Our campaign to end these illegal pushbacks is entering a new phase. We're gathering existing evidence in the sector, tracking news coverage, and sharing our policy recommendations so that we can collectively make the case for an end to pushbacks.

Have a look at the resources we've compiled on our website:
Pushbacks, detention and living conditions in Italy
Our new report looks at Italy's failure to implement its legal responsibilities around non-refoulement, detention conditions, and inhuman and degrading treatment.
We furthermore submitted evidence to the UN Committee against Torture ahead of its review of Italy, presenting our concerns over the country's implementation of Articles 3, 11 and 16 of the Convention.

In particular, we raised the alarm over Italy's worrying record including:
Its failure to uphold the principle of non-refoulement through summary pushbacks
Prolonged and arbitrary detention characterised by a lack of procedural and legal safeguards
Substandard living conditions for asylum seekers and displaced individuals in reception facilities and camps
New report: Access to asylum along the Balkan route
The formal closure of the "Balkan route" in 2016 was part of a strategy to hinder the movement of refugees through the Balkans and into Western Europe.

Despite this, over 65,000 people have entered the region since 2018, using alternative and often more dangerous routes.

Our latest report looks at access to asylum and the conditions for asylum seekers in Bosnia and Herzegovina, Kosovo, Montenegro, North Macedonia, and Serbia.
New on our blog
We challenge narratives that frame the arrival of prospective asylum seekers to the UK by boat as a "threat", and we ask what a more humane policy would look like. Read the blog.
Resuming evictions of refugees during the Covid-19 crisis is a major problem, writes Michael, a former Calais camp resident who now has refugee status in the UK. Read his blog.
Loraine Masiya Mponela, the chairperson of the Coventry Asylum and Refugee Action Group, reflects on the challenges faced by asylum seekers and undocumented migrants during the pandemic. Read her blog.
As always, none of this work would have been possible without the incredible support from donors like yourself. Thank you infinitely for all of your ongoing support, and please take care.