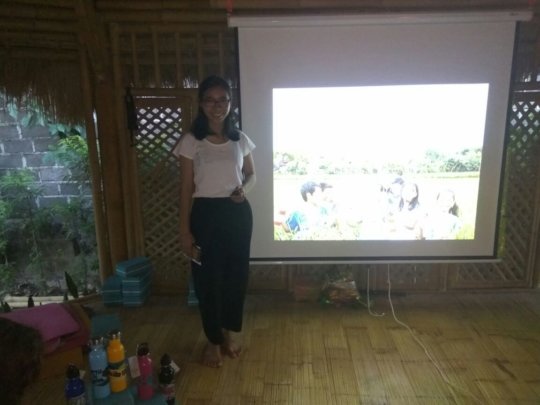 Thank you so much for your support for our plastic reduction project in Nusa Lembongan!
As you may or may not have heard, Mt Agung has been threatening to erupt since September, so we've been a little behind in getting this report out to you.
Indonesia runs on "Jam karet' (rubber time) and things have moved a little more slowly that anticipated in the last three months. We've had the volcano to contend with, school holidays, and each primary school has been undergoing an accreditation process with the Indonesian government.
One of the big issues that organisations face in Indonesia, is communication and technological difficulties, and we are no different. Even though Dode Gargitha, School Communications Officer, contacts the teachers on a weekly basis, because our team is based in Bali (a boat ride away from Lembongan) we've had a little trouble in getting information from schools as often as we'd like.
But we do our best!
In September our Research Officer, Rai Ayu Saraswati (Saras), travelled to Lembongan to undertake marine research with Marine Megafauna Foundation. While there, she gave a presentation to divers, researchers and tourists on our work, and the issues facing marine life in Lembongan and Indonesia. Saras visited each school, checked in with the teachers, and collected fifty-five student booklets from two schools who had completed their lessons. Unfortunately she fell ill with food poisoning and had to return home early so wasn't able to revisit the schools while on the island.
The good news is that all three of our primary school groups have now completed their eight lesson environmental education program!
Herni Frilia, our Environmental Education Coordinator, has marked the booklets from the two schools. She gave each booklet a grade out of A, B, C and D. SDN 1 Lembongan did very well and averaged a B mark, we have a little more work to do with SDN 3 Lembongan who received an average of a C mark. We are still working on collecting booklets from SDN 2 Lembongan.
We're waiting for reports from each school about how the program went, what worked well and what didn't and then our team will pop over for a visit. Hopefully the next time you hear from us we've donated our reusable, stainless-steel, BPA-free bottles to the amazing students in Lembongan!