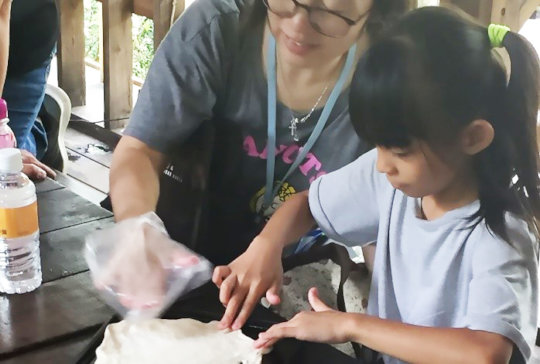 I am a social worker in the Mustard Seed Mission. After working here, the biggest change is that I start to value family and living environment seriously.
The impact of the mother's death
Miao's case impressed me the most. She studied in the 3rd grade in elementary school. She was close to her mother, but her mother passed away last year. It was hard for Miao to accept the tragedy. She missed her mother a lot.
Miao's father is a manual worker and seldom goes home because he has to work in other cities; besides, Miao's eldest siblings also study in other cities. In her hometown, her sixth-grade elder brother and her live in a budokan which belongs to a friend of Miao's father. Her father gives living expense every month and asks his friend to take care of his two children. The father and his children are in a good relationship although they cannot meet often. He always tries his best to spare some time to meet them.
Environment Full of Love and Security
Miao is skinny and always eats junk foods. She feels insecure without her parents' accompany, so she stays with her brother everyday. She is introverted. With my accompany and hand-written letters from her sponsor, Miao realized that even though her parents are not beside her, there is still someone who cares about her and loves her in the world and it makes her feel like she is a loved one.
Miao seems to gradually realize that there are many people caring about her, so she wears a smile on her face more often and also be more extroverted. Miao comes and shares with me that she hopes she can help others like what we are doing to her now.
Every time, I am so touched after visiting our sponsored children's families. I want to share to children who encounter difficulties, "Don't let the bad situation make you frustrated. There is still someone willing to give you a hand. When you grow up, hope that you can help others!"
This project is to provide immediate and holistic support to needy families in the community. Through the program of talent learning and self-affirmation growth camps, financial assistance, and various multi-service programs, we aim to provide more opportunities for vulnerable children or youth to learn and well-develop!
----
Our Projects:
*Challenge Camp http://bit.ly/2NKscIM - Help community underprivileged children in Taiwan are able to have the chance to see and learn more!
*Sprout Up Project http://bit.ly/2NJk0bV - Help Vulnerable Children's Life Have Bright Future.
*Diversified Learning Project for Children http://bit.ly/2NJoPC7 - Help Children in Agape Children's Home and Mustard Seed Youth Home are able to explore more through learning.
*End Hunger http://bit.ly/2NM41Kj - Build a Food Bank Distribution Center - Sharing food to community needy people and families!
*Indonesia Tsunami Post-Disaster Recover Project http://bit.ly/2RAApke
----
The Mustard Seed Mission
Website: http://www.mustard.org.tw/locale/en
Facebook: https://www.facebook.com/mustard.tw/Donation Information: https://www.mustard.org.tw/locale/en/tab/898E-Newsletter: https://goo.gl/e8EUBoMSM - the 1st registered Social Welfare Organization in Taiwan - https://youtu.be/qyTAv0L5Sz0